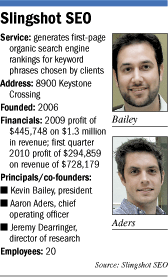 Never mind, for the moment, what Slingshot SEO does.
What it doesn't do might be as interesting.
For instance, while fellow tech upstarts hold out cups like the legions of beggars in San Francisco, 3-year-old Slingshot generates ample cash to fund its own growth. Venture capitalists salivating for a juicy cut and management's adoration can kindly move along.
Oh, and Slingshot doesn't take just anyone as a customer. It turns away roughly half of its prospective clients, all of whom want to get their websites to pop up high on the first page of Google search results.
Firms from around the world "have offered us enormous contracts, and we've turned them down because they don't deserve to be on page one" of a web search, said Daren Tomey, Slingshot's vice president of sales since January and a former sales superstar at Indianapolis tech firms ExactTarget and Compendium Blogware.
"A half-million-dollar contract," he says matter-of-factly, "and we're telling them 'no.'"
But then one would be hard-pressed to challenge the results racked up by Slingshot, which, between its founding in 2007 and 2009, grew sales from $128,602 to $1.3 million.
The self-described "natural search-engine-optimization company" made a profit of $12,979 in its first year. Profit soared to $87,545 in 2008 and to $444,748 last year.
"We've grown extremely quickly," said president and co-founder Kevin Bailey, one of three former Zionsville High School buddies in their late 20s who founded Slingshot. "Our profit has [more than] quadrupled" from 2008.
What's perhaps more remarkable is that the company, until hiring Tomey in January to launch its outbound marketing effort, had generated most of its business from referrals.
SEO mania
Search-engine optimization, or SEO, is the cat's meow of marketing. Companies yearn to have their websites show up on the top of the first page on Google or other prominent search engines.
Bailey cites industry metrics that show why. For example, if there are 1.8 million searches on Google per month for the keyword "car insurance," and your website pops up second, third or fourth on the results page, you could wind up selling at least 1,556 policies a month—based on the so-called click-through rate of 8.5 percent.
That calculation was based on another factor, as well, known as a conversion rate. It's the percentage of visits to a website that turn into a lead or sale. A conversion rate of 1 percent—considered low—would net the 1,556 insurance policies.
But multiply the click-throughs by 5 percent—considered the top end—and one might wind up selling 7,778 policies a month, based on the metric.
Slingshot's goal is to get a client's website at the "top of the fold"—or near the top—of the first page of search-engine results.
The ranks of SEO firms have grown so fast that it's hard to tally their number. Such firms use any number of approaches, including blogging. Indianapolis-based Compendium Blogware, for example, develops software that allows a client's employees to blog in a way that generates keywords that land a firm high on the search-results page.
Slingshot's approach is more direct—reworking a website's architecture so that it's optimal for search-engine "spiders," including target keywords in tags and content, and building external links that search engines are likely to pick up on. Much of the work by Slingshot involves researching and reverse-engineering the algorithms that search engines are running. Those search engines are ever developing more complex algorithms as SEOs seek increase organic—or natural—rankings for marketing purposes.
"SEO expertise is extremely complicated," Bailey said.
He lets on to some tricks of the trade, however. Computationally intense search engines will look at things such as inbound links from other sites and compare the quality of those links. It's like having a good resume with strong references. "Your website is your resume and your inbound links are your references," said Bailey.
A Facebook link would be like getting your mother's recommendation. "A link to CNN would be like a reference from Bill Gates," Bailey said.
The downside is that some arguably unworthy, tiny firms wind up high on web-search results, in effect cheapening the search product of Google or other search engines.
The SEO industry has started to feel a backlash for helping what one might consider unworthy firms look like giants.
"These clients typically make horrible products and don't deserve traffic—that's why they're not getting it organically, so they hire the slime buckets (SEO firms) to game the system for them," Jason Calacanis, former general manager of Netscape and founder of human search engine Mahalo.com, complains on his blog.
Bailey said Slingshot decided early on to make it a policy to work for "only those clients that deserve to be there," he said of the first page of a web search engine.
Among them is call-center software maker Interactive Intelligence. The Indianapolis company, a leader in its field, had previously hired three SEO firms to get it more attention on search-engine results, said Joe Staples, marketing chief at Interactive Intelligence.
"Two were market leaders—some of the biggest names in the space," he said.
The results were disappointing. In fact, Interactive Intelligence even shelled out cash to show up on the paid portion of web search engines, but still failed to achieve its goals.
Within 12 months, Interactive Intelligence hit pay dirt with Slingshot. It showed up at the top of web search results when web searchers typed in any one of 10 keywords (try "call center software" or "IT contact center" on Google, for example).
"SEO is constantly changing. It's part science, part art," Staples said.
Wrecks to riches
For Slingshot, the endeavor came courtesy of one-part motorcycle accident, one-part boredom.
In the late 1990s Zionsville High School student Bailey punctured his lung during a motorbike accident and was laid up at home for a month. Bored, he set up his own website on his AOL page for fellow Dodge Viper enthusiasts.
He schemed how to get more web traffic to the site, studying the coding that more popular sites had used to pop up high on search engines of the time, such as Lycos. Before he knew it he had 2,500 unique visitors to the site. He put up a few banner advertisements, which meant cash for him every time someone clicked on an ad.
"I was sitting in chemistry class next to Kevin. He reached over and handed me this check for $800," Jeremy Dearringer, co-founder of Slingshot, recalled of the days after Bailey returned to school.
"He said, 'I get this every month and I don't have to do anything for it,''' recalled Dearringer, who was delivering pizzas as his high school income. "I said, Kevin, you need to show us what you're doing."
Soon Dearringer and Aaron Aders, another high school friend of Bailey's, tried their own car enthusiast sites and also brought in cash. Aders set up a Ford Mustang site. "The second I got on the Yahoo site it just went crazy," bringing in $1,500 a month, he said.
They expanded their concept, creating sites for real estate agents who wanted attention on web search engines. "When I got my first check my parents didn't believe it was going to cash," Bailey said.
The trio split to go away to college amid the ashes of the 2000 tech bubble. Dearringer graduated from Purdue University in just three years and then went to work at his father's firm, Zionsville-based NewPro Containers, an importer and distributor of plant containers.
At the time NewPro and competitors were suffering from the post-9/11 economic slump. Dearringer started to apply ideas that the high school trio had for maximizing web hits to NewPro's website. Visits to the site exploded, and soon his father was adding 80,000 feet of warehouse space.
Bailey was away in Chicago, making good money at a technology firm. "I came to the conclusion that the expectations of the 1990s were occurring in the mid-2000s," said Bailey. "We got our band together" to form Slingshot, he said of Dearringer and Aders—who'd been admitted to med school.
The company, now with about 20 full-time employees, plans to add at least one full-time employee per month. It has about 83 active clients. They pay anywhere between $4,500 a month to as much as $65,000 a month.
Other clients include Community Health Network, Family Leisure (formerly Watson's) and Finish Line.•
Please enable JavaScript to view this content.