When it comes to turning around the historic Indianapolis City Market, it's a matter of supply and demand. Will vendors
sign up to offer the goods? And if so, will patrons come back to buy them?
Among the new vendors on board is Cindy Hawkins, owner of Circle City Sweets. Hawkins, whose stand sells fresh baked goods,
opened last month, undaunted by the market's recent history.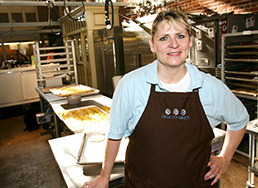 Cindy Hawkins built Circle City Sweets for several years before opening a stand in the historic market downtown.(IBJ Photo/
Perry Reichanadter)
Hawkins started Circle City Sweets 3-1/2 years ago. For most of that time, she shared space in a catering kitchen, slowly
building up a clientele of restaurants, weddings, farmers' markets and wholesale customers. A graduate of French pastry
school in Chicago, she initially worked other jobs on the side to support herself.
Now, Circle City Sweets is her full-time gig, and the 700 square feet of space she's renting in the market's
southwest corner allows her to sell Circle City Sweets' cookies, tarts, pastries and tiramisu to individual customers.
She invested $15,000 of her own money to expand the business. Her mom and a friend are her only employees.
So far, Hawkins said, some days have been great, while others were slow. There's a noticeable rise in the market's
foot traffic on Wednesdays, connected to the popular farmer's market. But Thursdays see an inevitable lull.
Hawkins isn't waiting for the City Market's just-announced $4 million renovation to produce customers. She's
actively marketing Circle City Sweets via Facebook, an e-mail distribution list and word of mouth, emphasizing the taste of
her desserts, which she gets up at 4:30 every morning to bake from scratch.
"Part of the reason I wasn't leery about coming here, we do a lot of marketing on our own," she said. "Others
have been scared to do that in the past, or just didn't do that."
She has high hopes that the City Market has turned the corner and will soon attract more small businesses like Circle City
Sweets. Her husband, for example, is exploring opening a fresh soup stand there.
 
Please enable JavaScript to view this content.