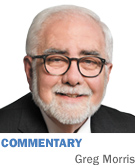 I attended the final Indianapolis Symphony Orchestra pops series concert of the season recently at the Hilbert Circle Theatre. It was a memorable performance by a talented young man, Michael Cavanaugh, his band and the ISO, conducted by Jack Everly. As a first-year subscriber to an Indianapolis Symphony series, I've been transformed. I'm now a raving fan.

Regrettably, I was a holdout for years. I would joke about the fact that I didn't have any cultural leanings, but was always ready for the next Doobie Brothers concert to come back to town. Rock 'n' roll forever! But last summer I wanted to do something nice for my wife. I felt the symphony experience would bring some calm to her inner soul.

I was hooked by the symphony's offer of a discount for first-year subscribers, and I thought the pop series would be a good way to stick my toe in the water. It was a good plan. As suburbanites who work downtown, we enjoyed coming back to Indy on a Saturday evening, having a nice pre-concert dining experience, and taking in a great performance. It was a date night we always looked forward to. To my surprise, this thing I did for my wife also ended up being a gift to me.

I bring this story to your attention because the ISO needs your support now more than ever. IBJ reporter Scott Olson, in a recent story, pointed out the operating projection for fiscal 2010 of ISO's parent organization, the Indianapolis Symphony Society, is a shortfall of $1.3 million. This is a better result than fiscal 2009, but the point is we need a healthy Indianapolis Symphony performing at the Hilbert Circle Theatre downtown to have a healthy regional arts presence. I didn't choose the word regional by accident.

The Center for Performing Arts in Carmel, with its 1,600-seat Palladium, is scheduled for a grand opening in January. This facility will provide more competition for the entertainment dollar as the symphony and every other arts organization fight to maintain and grow their subscriber base. While many consumers of the arts are excited about the additional choices the new Carmel venue will offer, we have to be mindful of protecting the center of our arts region, and that is downtown Indianapolis. By the way, the ISO will play a few concerts at the Palladium, which I hope will expose these fine musicians to a number of folks who may be drawn to the downtown venue as future subscribers.

I have always tried to operate from the philosophy that one entity's success does not necessarily have to be at the expense of another. But there are only so many dollars to go around.

ISO CEO Simon Crookall and the entire organization do a wonderful job producing more than 100 first-rate concerts annually. I've already renewed my subscription for the 2010-2011 pops season at full price this year, along with two extra shows, including Liza Minnelli's first ISO appearance.

So, I would simply ask that, as you are approached by co-chairs Herb Simon and Jim Irsay or any member of the ISO's capital campaign committee, you say yes and help fund the $100 million goal of the Indianapolis Symphony Foundation. To current subscribers, please renew. To potential new subscribers, like I was this year, investigate the many and varied subscription options and go for the first-year discount. In short, support your Indianapolis Symphony.

By the way, on the rock 'n' roll front, the Doobie Brothers are in town, along with the group Chicago, in July. I haven't given up my roots completely. I'm going. But I found out this year it's also cool to go to the symphony. In fact, I just saw an advertisement for the music of Michael Jackson in August at Symphony on the Prairie. It's the best of both worlds. I'm ordering tickets now.•

__________

Morris is publisher of IBJ. His column appears every other week. To comment on this column, send e-mail to gmorris@ibj.com.