I wasn't really aware of The Four Seasons when the musical foursome dominated the charts circa 1962-1965.
Yes, I am an actual Jersey boy. And I happen to have been born in late December back in '63. But those facts didn't
predispose me to being a fan of the band. By the time I was aware of them, they seemed to my teen ears like just another Vegas-y
act of yesteryear. Sure, their songs were catchy, but these guys weren't groundbreakers like the Beatles or The Who.
They were slick and smooth and, to be honest, I had trouble keeping straight the difference between Frankie Valli and Frankie
Avalon.
Am I alone in this? Before "Jersey Boys" took Broadway by storm, can you recall a single time when the Four Seasons
came up in musical conversation?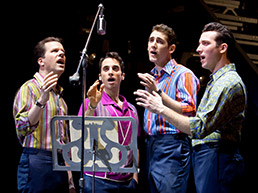 "Jersey
Boys" is much more than just a tribute show. It delivers the musical goods with impeccable showmanship and style. (Photo
courtesy Joan Marcus)
I bring this up not as a put-down of the band, but to underscore how amazing it is that the group's story has so successfully
been translated to the stage. Audiences who might balk at a pair of free tickets to see the actual Four Seasons perform are
paying top dollar for tickets to see the same guys' lives and songs re-created on stage.
To be clear, "Jersey Boys" (through July 3 at the Murat Theatre) is much more than just a tribute show. It delivers
the musical goods with impeccable showmanship and style, but it also makes us care about the boys doing the singing. In the
able hands of writers Marshall Brickman and Rick Elice, troublesome Tommy DeVito (Matt Bailey), pragmatic boy genius Bob Gaudio
(Ryan Jesse), cryptic regular guy Nick Massi (Steve Gouveia) and, of course, Frankie Valli (Joseph Leo Bwarie) come across
as flawed, talented guys who earn the audience's interest even when they aren't telling Dawn to go away or encouraging
big girls not to cry.
The cast is uniformly fine (I've accepted that I won't see another "Jersey Boys" performance as indelibly
edgy as Jeremy Kushnier's Tommy in the Chicago company) and the tech side handles the fast-moving show with superhuman
smoothness. I question whether this music needs the sort of "Rock of Ages" sound amplification it gets here, but
that seems to be the ways things are going with musical theater tours.
This, my third viewing of the show, didn't reveal
any nuances missed in previous encounters—"Jersey Boys" isn't a show that's going to dislcose
more layers on repeat viewings. But it is the kind of show I'd happily watch again and again. The appeal is obvious
for Four Seasons fans (who will be happy to hear that Frankie Valli himself, along with the latest permutation of the Four
Seasons, will be performing on the same stage Oct. 21), but it extends well beyond that. By offering three-dimensional portraits
of guys we never thought we wanted to know, "Jersey Boys" transcends the jukebox musical label to become a solid
piece of musical theater.
____________
As with "Jersey Boys," this was my third time seeing "Disney's High School Musical" on stage,
although with this pre-teen favorite, they were from three different production companies.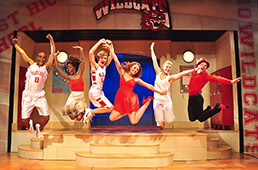 Jessica
Ann Murphy, center, ably leads the cast of "Disney's High School Musical" at Beef & Boards Dinner Theatre.
(Photo Courtesy Julie Curry)
Not that there's much room for creativity. Its primary purpose, after all, is to put on stage a replica of the blockbuster
hit TV movie. Criticizing "High School Musical" for being "High School Musical" is unreasonable and
unfair. It's perfectly understandable why theaters see it as a boon to their bottom line and it's perfectly understandable
why parents hoping to introduce their kids to theater take them to see it.
It is, in a word, harmless.
And while Beef & Boards' production (through July 18 at Beef & Boards Dinner Theatre) doesn't bring anything
special to the cafeteria table, it avoids the overblown nature of the national tour. It also has the benefit of featuring
the same two leads (Jessica Ann Murphy and Tim Barsten) who, closer to high school age, appeared in American Cabaret Theatre's
production three years ago. Both prove charming in limiting roles.•
__________
This column appears weekly. Send information on upcoming A&E events to lharry@ibj.com. Visit www.ibj.com/arts for
more review, previews and blog posts. Twitter: IBJarts
Please enable JavaScript to view this content.