Legends District SoDo failed to escape the recession. Ralston Square stalled. Penn Centre sputtered. Will the latest ambitious
downtown development proposal finally master the formula for transforming a downtown surface parking lot?
Veteran local developer Buckingham Cos. is proposing a mixed-use project with three to four midrise buildings on about
10 acres southeast of Conseco Fieldhouse—a parcel more than double the size of the land where Market Square Arena once
stood. The project likely would cost more than $100 million.
The development, tentatively dubbed North of South, would add a hotel, apartments, retail space and a fitness center to a
parking lot north of South Street between Delaware Street and Virginia Avenue. The land's owner, Eli Lilly and Co.,
would be a "significant user" of amenities in the new development, said Buckingham CEO Brad Chambers.
And Lilly isn't the only corporate campus that would be served by the project, in the works for about a year. Indiana
Farm Bureau and WellPoint Inc. also would provide a customer base for apartments, a hotel/conference center and retail space.
"This project will enhance this area of the downtown immediately and serve as a catalyst for further development for
many years to come," Chambers said in a statement.
Preliminary plans, designed by an in-house contract architect, call for several buildings, four to six stories each, with
street-front retail and concealed, shared parking, said Scott Travis, a Buckingham senior development executive.
Travis declined to provide a site plan, rendering or estimate of the project cost. The $100 million figure is an estimate
based on the scope of the proposal. He said ideally the project would be done in time for the Super Bowl in 2012, but that
would be a tough timetable to meet. The company has not yet landed financing.
"We want to create a destination of uses that are market-driven and provide a great infill for the city," Travis
said. "From a scale and location perspective, 10 acres of the [central business district], this should be a transformational
project that links the three corporate campuses. It's a great piece of property and a great opportunity to bridge that
gap that's been there so long."
It's an ambitious project but one that could make a lot of sense in the area, said Jamie Browning, vice president of
development for locally based Browning Investments Inc.
"If anybody can do it, Buckingham can," Browning said. "That's their kind of project."
Buckingham, one of the largest apartment developer/owners in the Midwest, has branched out in Indianapolis with mixed-use
properties. The company is developing several properties surrounding its headquarters in the restored Stokely Building along
North Meridian Street, and is shepherding a $20.5 million redevelopment of a former YMCA branch near IUPUI.
The latest proposal will be even more of a challenge, as other developers who have tried ambitious mixed-use downtown projects
can attest.
A proposal from Indianapolis-based Allen Commercial for a mix of hotels, condos and restaurants in a project called Penn
Centre across from Conseco Fieldhouse remains in limbo, though Allen still controls the land it needs for the project. The
story is the same for Ralston Square, a $60 million proposal by Urban Space Commercial for a parking lot north of South Street
between Meridian and Pennsylvania streets.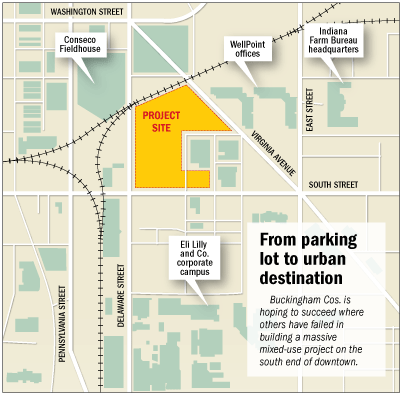 On the other hand, Legends District SoDo is a definite no-go. A team led by broker
Ryan Zickler had proposed a $480 million mix of hotels, a theater and retail space on 11 acres south of South Street. Zickler,
who lost several hundred thousand dollars on the ill-fated deal, still owns the southeast corner of Meridian and South streets
but is looking for a buyer.
He said Buckingham's project could work if they figure out parking—neither fitness nor grocery users will bite
without convenient on-site spaces. Another challenge will be overcoming the walking distance between the project and the Indiana
Convention Center. Lilly's participation, something Zickler could not secure, would help.
"My hat's off to Buckingham—they've developed some amazing projects, and they carefully evaluate
before moving," Zickler said. "I hope they can deliver."
The city's role could include investments in infrastructure including streetscapes and sidewalks, said Deputy Mayor
Michael Huber.
Huber said he's seen early renderings that show a hotel, apartments, community green space and street-level retail,
mostly along Delaware Street. The Cultural Trail will pass within about half a block east of the project.
He described the plans as potentially "transformational."
"The location is obviously strategic to downtown, and has the potential to connect Lucas Oil Stadium, the Lilly campus,
Conseco Fieldhouse" and to help make the city more friendly to walkers and bicyclists, Huber said. "The concept
is very exciting."•
Please enable JavaScript to view this content.