It may take some time to trickle down to Indiana. But the American gambling industry is starting to show early signs of recovery. Moody's Investors Service has upgraded its industry outlook for the U.S. gambling sector from negative to stable.

"The stable outlook reflects Moody's belief that the overall credit conditions of the U.S. gaming industry will neither erode nor improve materially during the next 12 to 18 months," wrote Moody's Senior Vice President Keith Foley in a June 22 report.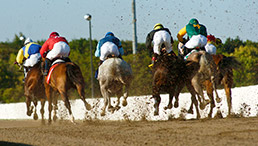 Bankrupt Centaur Inc., owner of Hoosier Park racino in Anderson, is attempting to restructure $680 million in debt. (IBJ File Photo)
"Although monthly gaming revenue by jurisdiction varies considerably, overall, U.S. gaming revenue was flat year-over-year in March and April 2010, and it appears the trend will hold for May," he wrote. "While not a stellar performance, it's a marked improvement over the consistent—and often substantial—declines of 2008 and 2009. It also has favorable implications for gaming company operating profits, a majority of which come directly from slot machines and table game revenue."

Indiana's riverboat casinos, located near its borders, and its pair of horse track casinos based outside Indianapolis have all struggled in the recession, enduring repeated credit downgrades and, in some cases, bankruptcy. Locally based Centaur Inc., which owns Anderson's Hoosier Park racino, filed for Chapter 11 reorganization bankruptcy in March, hoping to restructure debt totaling $680 million.

The gambling industry's fortunes have huge implications for Indiana, since the taxes that riverboats and racinos pay are the state's fourth-largest source of tax revenue: $608.2 million worth in fiscal 2009. Despite the industry stabilization, Moody's warns that some gambling companies will continue to see near-term profit declines, and not every firm will recover.