The Children's Museum of Indianapolis launched a new logo and rebranding initiative this summer.

Officials say the images reflect the Children's Museum's status as the nationwide leader among its peers. The Indianapolis museum counted 1.3 million visitors in 2009, and it boasts 31,000 member households.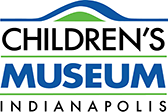 The new logo will appear on out-of-state billboards and television commercials this summer. Later in the season, the material will appear in local advertising and on museum signs.

Meanwhile, the Eiteljorg Museum of American Indians and Western Art wants to polish its image.

In a recent request for proposals, Eiteljorg officials say they're looking for a "new creative direction," which the museum can "execute with existing resources." Firms who want to submit proposals should provide "examples of successes on limited budgets."

The museum is holding information sessions on June 29 at 4:30 p.m. and June 30 at 8:30 a.m. Those interested in attending should contact tharris@eiteljorg.org.