100 Acres, a new art and nature park, opened behind the Indianapolis Museum of Art this month. This major addition to the
city's cultural and social landscape seemed worthy of at least 100 thoughts.
1.  Its full name: 100 Acres: The Virginia B. Fairbanks Art & Nature Park.
2  The lake takes up 35 acres of that total.
3  The new entrance to 100 Acres is off 38th Street, west of the IMA.
4  Its full name is the Edgar and Dorothy Fehnel Entrance.
5  But you'll be forgiven for calling it "the entrance by the basketball court."
6  The basketball court is actually called "Free Basket."
7  If a betting pool is forming, I'm picking July 26 as the first reporting of a 38th Street
automobile accident happening resulting from a driver's gaping at the striking piece.
8  With a perfect fit of theme and place—and its playful memorability—"Free Basket"
should become our town's signature artwork.
9  It's amazing that it took artists from Cuba to come up with the best work of art celebrating
basketball since "Hoosiers."
10  Less effectively, the arcs also invoke Red State-Blue State thinking.
11  You are allowed to play hoops on "Free Basket."
12  Although it's much easier to try Horse than it is to play a full-court game.
13  This new entrance has its own small parking lot.
14  Good luck finding a spot on summer weekends.
15  Visitors can also come in via the towpath or cross over the bridge from the main building of the
IMA.
16  No matter how you enter, you could completely miss architect Marlon Blackwell's Ruth Lilly
Visitors Pavilion.
17  Which isn't a problem, unless you are looking for a restroom.
18  The sharply angled shape of the pavilion is meant to suggest a fallen, dried-out leaf.
19  If the water tastes a little old, that could be because the pavilion's environmentally sensitive
design uses on-site well water.
20  Unlike, say, the Frederick Meijer Gardens & Sculpture Park in Grand Rapids, Mich. (one of the
nearest comparable parks), 100 Acres doesn't push a directed path.
21  There is a map available.
22 But you shouldn't have any trouble finding the eight artworks on your own and free-associating
between them.
23  And that's part of the fun.
24  Shadows from the two high-in-the-air 30-foot-wide metal rings that make up "Team Building
(Align)" are designed to overlap on the summer solstice.
25  At the park's opening weekend, Koosh-like balls were available to throw in an effort to lodge
them on one of the rings.
26  This practice is likely to continue with objects that aren't Koosh-like balls.
27  But please keep your old sneakers off of the art.
28  "Team Building (Align)" was developed in part by the arts group Type A in collaboration
over a two-year period with IMA staff members.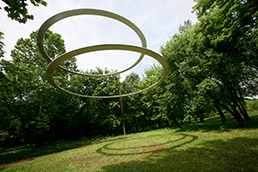 "Team Building (Align)" (IBJ Photo/ Perry Reichanadter)
29  The fact may get in the way of appreciating it for its elegant simplicity.
30  "Team Building (Align)" benefits greatly by its unobtrusive supports.
31  Many a worthy piece of art is diminished by the distracting structural needs.
32  The next summer solstice is June 21, 2011, at 5:16 p.m. See you there.
33  The Meadow (which has yet to have a sponsor name attached), is the most likely place at 100 Acres
for picnicking and Frisbee-throwing.
34  It's next to Marsh Cove.
35  That space's full name is the Nina Mason Pulliam Charitable Trust Marsh Cove.
36  That's NMPCTMC for short. OK, maybe not.
37  Marsh Cove will more likely be known as "over there by the yellow bench."
38  That yellow bench is actually part of Jeppe Hein's "Bench Around the Lake."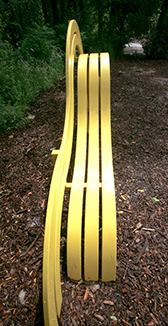 "Bench
Around the Lake" (IBJ Photo/ Perry Reichanadter)
39  The name is singular, even though there are actually 15 pieces to it.
40  Many of these whimsical benches are wildly impractical.
41  Which makes them even more fun.
42  The artist envisioned them as a single bench snaking in and out of the ground.
43  Kids need an activity to keep them busy? Send them in search of all 15.
44  The Meadow is home to Atelier Van Lieshout's "Funky Bones."
45  A.k.a. the 100 Acres artwork most likely to appear on Google Earth.
46  If "Funky Bones" had been placed at Holliday Park rather than the IMA, it would seem
like a cute playground accessory.
47  That doesn't diminish its value as art.
48  Or its resemblance, from the side, to giant marshmallows just waiting for even larger graham crackers.
49  If "Funky Bones" is meant to pay tribute to those who once lived here, well, the fact
that kids are running and jumping on them is kind of disturbing.
50  The leap from the spinal cord to the skull is more difficult than from the femur to the tibia.
51  Johnny Carson said of jokes that, "If you explain 'em, you drain 'em."
The same can often be said for contemporary artists, who can do damage to their work by attaching too much specific meaning.
52  Case in point: Tea Makipaa's "Eden II," an imaginary ghost-like ship that is
saddled with the description that it is "displaced by rising sea levels and the ecological impact of climate change."
53  The piece is much more evocative without knowing that intent.
54  Sorry to have ruined it for you.
55  If a betting pool is forming, I'm picking July 26 as the first day someone is arrested for
attempting to swim out to "Eden II."
56  Fishing is permitted on the lake, by the way, but without live bait.
57  The fictional passengers of "Eden II" can be seen on video monitors in the guard house
on the shore.
58  Newcomers might be confused if they've heard that there are people living on the lake but
encounter "Eden II" before "Indianapolis Island," which is floating on another part of the lake.
59  Andrea Zittel's "Indianapolis Island" is more interesting as an "experimental
living structure" than as an esthetic object unto itself.
60  The 20-foot-in-diameter "island" resembles an igloo. Kind of.
61  It's inhabited, for the time being, by artists Jessica Dunn and Michael Runge.
62  No, I don't know their relationship status and I'm not going to ask.
63  Their living arts experiment is called "Give and Take."
64  I can take it or leave it.
65  You can actually take part of it. If the flag is up, you can signal the residents, who will row
you out to their floating digs. There, you can trade whatever you brought for something that someone else brought.
66  They weren't available on either of my visits.
67  Alfredo Jaar's "Park of the Laments" would be a great place for weddings and
other parties …
68  … if the artist didn't describe it as a place for purging the global atrocities of
the 20th and 21st centuries.
69  Nonetheless, it's a striking, "Secret Garden"-like space.
70  As with the rest of the inaugural work at 100 Acres, "Park of the Laments" should seem
like a dramatically different work in February than it is in June.
71  Those transformative possibilities are part of what makes the park exciting.
72  Visitors enter "Park of the Laments" through an underground tunnel.
73  Kids will want to test the echo. You might, too. Give in to the temptation.
74  Once out of the tunnel and up the stairs into the park-within-the-park, there's a dramatic
sense of both openness and protection.
75  I was reminded of some of the contemplative artwork in New Harmony.
76  Those wire creations that hold the limestone in place and give the piece structure are called "Gabion
baskets."
77  The name "Gabion" comes from the Italian gabbione, meaning "big cage" (thanks,
Wikipedia).
78  The fact that these cages have been used for military operations give "Park of the Laments"
yet another layer of meaning.
79  The least memorable of the park's works of art is also the most useful.
80  That's Kendall Buster's "Stratum Pier."
81  The bird's-eye view of "Stratum Pier" makes for a great T-shirt design.
82  Unfortunately, visitors to 100 Acres can't get a bird's eye view of the pier.
83  Instead, they just get to walk on the green fiberglass.
84  The crisscross pattern of "Stratum Pier" work against the idea of the organic and the
inorganic merging together.
85  But it's a nice place to stand while you look out on the lake.
86  Bicycles are, of course, allowed on the Central Canal Towpath …
87  … but not on the trails in the park itself.
88  The IMA hasn't really developed an exit strategy. So don't panic as you drive out of
the park and can't get your bearings. You'll eventually hit 30th Street.
89  In all the attention to 100 Acres, let's not forget that the Indianapolis Art Center also
has a sculpture garden, Artspark, in its Broad Ripple back yard.
90  Or that the main grounds of the IMA include many, more traditional sculptures.
91  As well as the formal gardens by the Lilly House.
92  Like most of the Indianapolis Museum of Art, 100 Acres is free to the public.
93  Which is truly outstanding.
94  While I didn't quite connect with some of the work, that in no way diminishes my appreciation
for the park itself.
95  This is a great, borderline amazing addition to the Indianapolis art scene.
96  I'm not surprised that The New York Times and others have checked it out.
97  I expect to be revisiting it again …
98  … and again …
99  … and again.
100  See you there.•
__________
This column appears weekly. Send information on upcoming arts and entertainment events to lharry@ibj.com.
Please enable JavaScript to view this content.