Navigating the complexities of federal health care reform is challenging enough for any company.
But for a small business such as Caregivers Inc., which provides health care for people in their homes, the difficulties
are particularly daunting.
That's because President and CEO Claudia Chavis will be slammed by the forthcoming changes in more ways than one—both
as an employer and as a health care provider.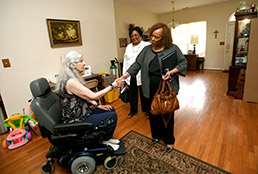 Caregivers President Claudia Chavis, right, and nurse Linda Henderson greet Maryann Sparrow, who is served by the Indianapolis
firm. (IBJ Photo/ Perry Reichanadter)
Her predicament: how to afford the cost of offering insurance benefits to every employee while juggling Medicare reimbursement
cuts that could reduce revenue.
Chavis, who co-founded Caregivers in 1990, already is preparing to fend off the threats.
"We'll figure out how to make it work," she said. "I'm not a doomsday type of person."
Most of her 200 employees are part-time, certified home-health aides who visit 300 clients in Indianapolis, Bloomington and
Fort Wayne. The company provides health insurance only to full-time care givers and office staff at its Washington Boulevard
location south of 38th Street.
Though Chavis supports universal health care, she said small-business owners need to be given the support to offer insurance
benefits.
Chavis is beginning to prepare for the challenge by expanding marketing, forging partnerships with hospitals and assisted-living
centers, and offering new programs.
Her strategy calls for doubling revenue within three years. Though Chavis declined to divulge company financials, she said
Caregivers already is three-fourths of the way toward accomplishing the goal.
Setting the tone for growth was a 2006 merger with Indianapolis-based Best Home Care, which specialized in rehabilitation
services. The deal brought the total number of owners of Caregivers to six, with Chavis maintaining majority ownership, though
retirements have whittled the total to four.
Three of the current owners are female, enabling the company to be certified as both a minority- and woman-owned business.
Many home health care providers are owned or operated by women, said Todd Stallings, executive director of the 235-member
Indiana Association
for Home & Hospice Care. But few in the state are led by minorities.
"She was really a pioneer [in the industry]," Stallings said. "She was one of the earliest."
Chavis, 65, has no plan to retire anytime soon.
Small, but able
The Texas native earned a bachelor's degree in medical technology from Indiana University in 1969. While there,
she met her future husband, Patrick Chavis, an Indianapolis attorney who maintains a downtown practice. Their children, Patrick
and Natalie, are lawyers, as well.
Chavis received her master's degree in health administration in 1978 from IU and completed an internship at Methodist
Hospital that ultimately led her to direct its emergency department. She left to raise her two children and later spent four
years as director of the health clinic at the Atterbury Job Corps Center near Edinburgh. Chavis readily acknowledges her fondness
of the students enrolled in the technical training program but realized she really wanted to start her own business.
Her research led to studies that even more than 20 years ago began warning of the country's aging population. Chavis
recalled that "it just kind of made sense" to start a home health care company.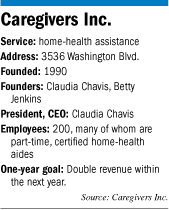 She paired with registered nurse Betty Jenkins, who since has retired from the company. The
two received their first big break six months later by snaring a $30,000 grant from the Central Indiana Council on Aging,
now known as CICOA Aging & In-Home Solutions, to provide homemaking and home health services.
A few years later, they received a $100,000 grant from CICOA that enabled the pair to grow their clientele to about 100 patients.
Chavis credited the early successes to Caregivers' diminutive stature, which enabled it to provide more attention than
larger competitors could to more difficult clients. Besides, Jenkins' "charming" personality helped open
a few doors, Chavis recalled.
Caregivers opened the Bloomington branch in 2004 and the Fort Wayne office in 2006.
Two years ago, the company was split in two: Caregivers to focus on skilled nursing, and Caregivers II for non-skilled care.
Caregivers II is on Kingsway Drive between North Keystone Avenue and Allisonville Road. That's the former home of Caregivers,
which moved to 3536 Washington Blvd. in November.
The owners established a limited liability corporation and received a U.S. Small Business Administration loan to purchase
the building. It formerly housed the not-for-profit Center for Leadership Development Inc.
Indianapolis business owner Bill Mays, whom Chavis has known since their days at IU, assisted her with the purchase. The
founder of Mays Chemical Co. Inc., one of the city's largest minority-owned businesses, has periodically mentored Chavis.
Mays realizes that MBE and WBE certifications help companies build business, but he's no fan of the designations.
"Those just happen to be labels that folks put on you," Mays said. "If you put her accomplishments on a
piece of paper without labeling who she is, she would stack up against anyone in the city, period."
New initiatives abound
Chavis, like many of her small-business brethren, has taken a few lumps along the way, particularly in the early
years.
Convincing banks to lend money initially proved more difficult than expected. And Chavis declined a salary the first three
years until Caregivers gained its footing.
Part of the ongoing challenge is the competitiveness of the home health care industry. Scores of providers exist, and Chavis
estimates that Caregivers commands about 4 percent of the Indianapolis market. More than doubling its share to 10 percent
is a goal she'd like to reach. A slew of new programs and initiatives could help her hit the goal.
Caregivers has partnered with Louisiana-based LiveAbility to offer HomeSight, a program that helps people with low vision
adjust to loss of eyesight. Caregivers also hopes within the next few years to unveil a hospice program.
It also is getting patients from assisted-living facilities and has a contract with the Richard L. Roudebush VA Medical Center
to provide services for some of its patients.
On top of that, the company is saving money and becoming more efficient through a $100,000 investment in a paperless medical
records program.
The real key, though, is attracting more clients with private insurance who don't rely as heavily on Medicare or Medicaid
benefits. About 50 percent of Caregivers' clientele is covered by the federal program, which will be cut by $39 billion
in 2014, said Stallings of the state home and hospice care association.
"Smart businesses like hers have a diversified portfolio and don't depend completely on government programs,"
he said.
Belt-tightening at the state level is threatening home health care providers as well.
Indiana Family and Social Services said on June 17 that a 15-percent cut in funding the program known as CHOICE will take
effect with the start of the new state fiscal year July 1.
CHOICE stands for the Community and Home Options to Institutional Care for the Elderly and Disabled. The state-funded program
served 9,225 people last year.
Yet, Chavis is certain Caregivers will prevail. After all, it's managed to survive the past 20 years.
"I've never felt like there wasn't enough business," she said. "We just had to figure out how
to get it."•
Please enable JavaScript to view this content.