All the attention paid to this year's World Cup brings into focus what's at stake as the city bids to bring the high-profile soccer competition—held every four years—to Lucas Oil Stadium in either 2018 or 2022.

But the bid, which faces its next hurdle late this year, is inviting comparisons to another worldwide competition held here that was a bust financially: the 2002 World Basketball Championships.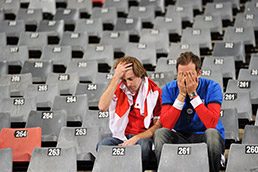 This year's World Cup match between England and Germany cleared out quickly after it ended. Attendance has been less than stellar at the matches held this year in South Africa.(Photo Courtesy Press Association via AP Images)
The basketball championships cost the city $10 million to host, and the host organization—the Indiana Sports Corp.—ended up with a $2.69 million debt. That caused the ISC to scrap a capital campaign and sell its headquarters building to cover the shortfall.

Though officials for the ISC—which would be the lead agency in hosting the World Cup here—don't yet have an estimate of what it would cost to host, sports business experts said the World Cup would cost at least as much as hosting the World Basketball Championships.

That might be where the similarities end. Most agree the World Cup's importance to the international community vastly exceeds that of the basketball championships.

"I think in the U.S., it's difficult for us to understand the international impact of this event," said Dale Neuburger, who was president of the ISC when the basketball championships were held here.

"I was in London and Portugal recently on business, and at every restaurant and every airport I was in, people were just packed around the TVs watching the World Cup," said Neuburger, now director of the U.S. division of TSE Consulting, an international sports-operations and event-hosting consultancy.



Indianapolis would be one of 12 U.S. host cities where games would be played. Lucas Oil Stadium, which holds 70,000, would likely host five games.

Though soccer fans travel to follow their teams, locals would be counted on to buy a portion of the tickets—which for this year's World Cup matches started at $80.

"Ticket revenue will be a key component—probably the most critical component—to paying the city's expenses," said Andrew Zimbalist, a noted sports economist and professor at Smith College in Northampton, Mass. "While soccer is very popular globally, that revenue stream is not guaranteed. So, sure, there's risk."

Neuburger thinks the risk is slim.

"There's no doubt that every ticket in every stadium—including Lucas Oil Stadium—will be sold if the U.S. wins the bid," he said. "This event would have an impact on this city that is difficult to measure."

According to FIFA, the global soccer sanctioning body, U.S. stadiums—including one in Chicago—were just more than 97 percent filled when the United States hosted the World Cup in 1994.

FIFA officials said revenue from ticket sales was more than sufficient to cover event operating expenses. The 1994 World Cup averaged 69,000 fans per match, breaking an attendance mark that had stood since 1950. The 1994 record still stands.

This year in South Africa, the risks of hosting the World Cup have been underscored. Venues have not been full and traffic jams on poorly engineered roadways have exacerbated the problem. Crowds for many preliminary pool play matches were between 30,000 and 38,000.

Some of the attendance woes this year can be attributed to poor travel infrastructure in South Africa, the country's relatively remote location, security concerns and the swooning worldwide economy, said Nick Webster, who is covering the event for Fox Sports.

Zimbalist, the sports economist, said the economy is probably the only one of those factors that could come into play here.

"Who can look eight or 10 years into the future?" Zimbalist said. "That's just a risk you have to take if you want to play on this global stage."

With more than 3 billion people watching the month-long World Cup on television and hundreds of thousands of global soccer fans coming to the matches, Jerry Yeagley, former Indiana University soccer coach, thinks the risk is worth taking.

"This is a once-in-a-lifetime opportunity for this city, state and region," said Yeagley, who has attended several World Cup matches. "This is bigger than [Formula One] and even more watched on a global level than a Super Bowl."

The potential economic impact is undeniable. A study conducted by the Pasadena Convention and Visitor's Bureau concluded that 1,700 jobs became available during the preparation and duration of the event, and that the Los Angeles region felt a $623 million economic impact during the 1994 World Cup. That impact was enhanced because L.A. hosted the final.

Chicago officials said the impact to their city was at least as great as a Super Bowl, which is estimated above $400 million.

Before Indianapolis can start counting its coins, it still has to be a part of the winning bid. Pete Kapsalis, who played for Yeagley at IU from 1983 to 1987 and is now one of the ISC's point people in trying to secure the games, said the goal is a long way from realized.

Kapsalis has been busy lobbying FIFA officials, lining up the five training facilities that would be needed here, securing support from 25,000 people on an online petition, and working out other details for the bid.

On Dec. 2 in Switzerland, 24 FIFA board members will vote on the host countries for the 2018 and 2022 World Cup. The United States is up against Australia, England, Holland-Belgium, Japan, Russia, South Korea, Spain-Portugal and Qatar.

England has surfaced as a front-runner for the 2018 World Cup, while the United States and Australia have emerged as front-runners for the 2022 event.

Even if the U.S. bid succeeds, it isn't guaranteed that Indianapolis will be a host city. Indianapolis is one of 18 cities in the bid. The number of host cities will be trimmed to 12 by 2014.

"We feel good about our position within the bid," said ISC spokesman John Dedman. "World Cup organizers like the fact that Lucas Oil Stadium is a new NFL-sized stadium with a retractable roof. And we think our experience hosting big events definitely plays in our favor."•