Conner Prairie will have a new exhibit next spring, and it could move the history park into the 20th century.
Work is starting at the former site of Liberty Corner on a new exhibit that will be announced in late summer or early fall,
spokeswoman Angela Tuell said. She declined to offer any hints, except to say it will represent a different time period. Liberty
Corner, which closed June 7, represented 1886, 50 years after Prairietown, Conner Prairie's flagship exhibit.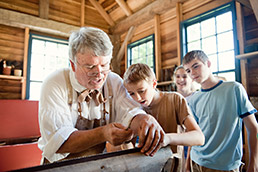 New
exhibit will bring a different time period to life at Conner Prairie. (Photo Courtesy Conner Prairie)

The new exhibit could be less antiquated. Asked whether it might be set in the 20th century, Tuell noted that Conner Prairie's
mission is simply to portray Indiana history.
Visitors can still see some favorite features from Liberty Corner. Milk cows and the chicken coop are now near the Golden
Eagle Inn at Prairietown. Theater performances are in a tent outside Clowes Common.
Please enable JavaScript to view this content.