The new digs for former downtowner The Red Eye (1904 Broad Ripple Ave., 602-5500) may be a tad too far to stumble for the after-last-call crowd on Broad Ripple Avenue, but getting there requires only a short ride with a designated driver.

Taking over the former site of the Tin Star, The Red Eye acknowledges its roots with a hand-breaded tenderloin ($6.99, grilled or breaded) that the menu calls "huge." This one, though, was a kid's meal compared to others that boast of their bigness. Not every tenderloin has to be a plate-tipper, of course, but this relatively diminutive one got lost in the crunchy fried coating. The onion rings (a $1.99 upgrade to any sandwich), however, were stellar, ranging from single-bite end pieces to handcuff-sized monsters, all tempura battered.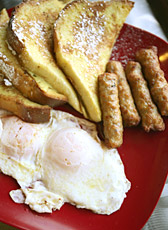 Breakfast is an ample highlight anytime at the 24-hour Red Eye. (IBJ Photo/ Perry Reichanadter)
Thick French toast—on bread from nearby Breadsmith—was a highlight of the No. 4 Breakfast Combo ($5.99, including bacon, sausage, eggs). All the omelets, including the well-loaded Red Eye Chili Omelet ($6.99), come sided with flavorful home fries. Our only complaint was the lack of a good juice selection.

The best of both worlds may be the Breakfast Burger with egg, bacon and cheese ($3.49 for a single). The Red Eye wisely bucked the trend for bigger and bigger burgers—and bigger and bigger price points—and, instead, offers a smaller disc with the option to double ($4.49) or triple ($4.99).

Ordering takes place at the counter, but if you are feeling wobbly, take a paper menu to a table and figure things out from there.•

—Lou Harry

__________

Second in a month-long series of reviews of red, white and blue eateries.