The small but venerable landscape architecture firm now known as Landstory has been involved in some of the city's largest building projects, including the $450 million JW Marriott hotel complex under construction downtown.
The outdoor designs that complement new structures are likely to leave more of an impression than its former moniker, the mundane CBA Inc., short for Claire Bennett Associates.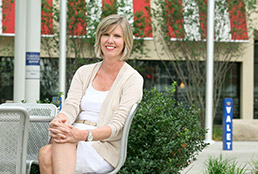 Joann Green's firm handled landscaping for the new JW Marriott hotel. (IBJ Photo/ Perry Reichanadter)
Bennett, who founded the firm in 1974, retired in 1997. So for current owner Joann Green, who often was asked what CBA stood for, a name change seemed long overdue.
"If we're going to do this, now's the time," Green, 55, recalled. "Claire had been gone for 12 years."
The transition to Landstory, completed in March, coincided with the firm's involvement in the high-profile JW Marriott project.
Landstory's credentials include landscape architecture at Lucas Oil Stadium and the Indiana University Melvin and Bren Simon Cancer Center. The cancer center project is the firm's most lucrative, although Green declined to discuss financials. But Landstory's contribution to the 1,005-room JW Marriott could be its most visible.
Architects recommended the firm to developers White Lodging of Merrillville and Indianapolis-based REI Investments to design the outdoor plaza area that came to include a 36-foot-tall sculpture of a cardinal designed by Jeff Laramore of locally based 2nd Globe Studios. 2nd Globe is a division of his locally based advertising agency Young & Laramore.
The four-hotel complex along West Washington Street that is anchored by the JW Marriott features a public plaza filled with artwork depicting the state bird, state tree and state flower.
From above, the cardinal appears to be perched on a tulip tree branch created from stonework on the plaza. A nearby 60-foot-long water wall features granite murals in the shape of peony flowers.
Landstory and 2nd Globe each have sought the other to assist on various projects. But the JW Marriott work is unusual, because developers hired each firm independently, said Paul Knapp, a principal at 2nd Globe.
"That was easy for both of us because we've worked with each other for 10 years," he said. "That was a true collaboration."
Their relationship extends even further, however. David Young of Young & Laramore and 2nd Globe coined the Landstory name, which Green said reflects the firm's commitment to help clients use their outdoor space to tell a story.
Landstory occupies space in a one-story office building at East 12th and Alabama streets near downtown. Counting Green, the firm has three registered landscape architects.
Green, an Indianapolis native and 1977 graduate of Purdue University, arrived at the firm in 1992 and assumed ownership upon Bennett's departure. Her resume includes jobs at local architectural firms Odle McGuire Shook and CSO Architects Inc., as well as a five-year run leading the Indianapolis office of the landscape architecture department of Kansas City, Mo.-based engineering firm HNTB Corp.
She was bitten by the construction bug as a child when her father, John J. Koenig, would take her to downtown job sites involving his company, St. Louis-based Ben Hur Construction Co. Moreover, her brother is a construction manager and her husband, Steve, was one.
Green ultimately decided to leave HNTB and join Bennett, whose small firm would afford her more freedom and flexibility to raise the couple's twins.
"I made a decision when I watched [my father] breathe his last breath that I would spend more time with my family," she said.
Green had done some side work for Bennett, who floated a proposition she couldn't refuse. Bennett had been offered the landscape architecture contract for the former United Airlines maintenance hub at Indianapolis International Airport. The additional work prompted Bennett to recruit Green to join her as a part owner.
Landstory, certified by the state as a women's business enterprise, has a satellite office in the Nashville, Tenn., suburb of Franklin and also has done work in Kentucky and Illinois. It recently received WBE status in Ohio, which it couldn't earlier because Ohio formerly required firms to have a state address to obtain minority- or women-owned status.
Yet, Landstory is somewhat familiar with the Ohio market due to an affiliation with the Columbus-based KKG Studios architectural firm in which the two firms assisted on each other's projects and shared some staff.
Although they still partner on projects, the official, four-year relationship ended last year after Green rejected an offer to acquire the firm.
"One thing I can provide to clients is my involvement in every project," she said. "I can only do that by staying small, and I saw where that was going to be a challenge."
The slumbering economy and the toll it's taken on the construction industry have affected Green. She temporarily reduced work hours but avoided layoffs.
Signs are beginning to emerge, however, that a turnaround might be imminent. Landstory has responded within the past three months to 22 bid requests, which Green deemed "unheard of."
The firm has been selected for a project at Indiana University, which Green said she couldn't divulge yet, and another involving the Dunes Kankakee Trail in northwestern Indiana.
Said Green: "We're on the path to having a very good second half of the year."•
Please enable JavaScript to view this content.