Usually, I'm a traditionalist when it comes to dessert: After a meal, if I'm not already stuffed—and if I've eaten my veggies—I might consider a sweet treat to top off the tank.

But at Blu Moon Café (200 S. Rangeline Road, Carmel; 844-8310), the pastry case is right inside the front door. And there are house-made Ding Dongs.

Need I say more?

I pushed my self-control to its limits and walked past the goodies to order my "real" lunch, but I have to admit to asking for a doggy bag so I'd be sure to have room for the chocolate-covered, cream-filled chocolate cake.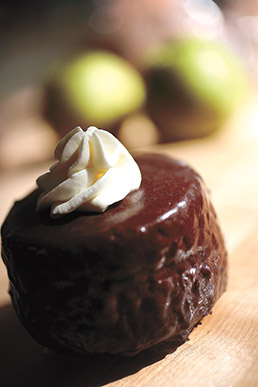 Blu Moon's house-made Ding Dongs are worth saving room for. (IBJ Photo/ Perry Reichanadter)
First things first. As you'd expect from a cafe, the menu is heavy on sandwiches, wraps and salads—including a deli case full of less-typical offerings like Mexican cole slaw and a bacon, blue cheese and tomato pasta salad (ask for the BBT).

I opted for the Grinder Panini ($6.50), which featured hearty helpings of salami, ham and provolone cheese along with onion, tomato, mayo and a fiery giardiniera mix (think spicy pepper relish) between slices of grilled sourdough bread. The result was a moist, flavorful sandwich that I'm happy to report was still good eaten cold straight out of the fridge later that night.

No sides come with the sandwiches, but I was intrigued enough by the unusual Route 11 potato chip flavors—Dill Pickle and Chesapeake Crab, for example—that I took home a bag of habanero pepper-dusted Mama Zuma's Revenge to eat with my leftovers. The specialty chips set my taste buds on fire, but they left me wanting more.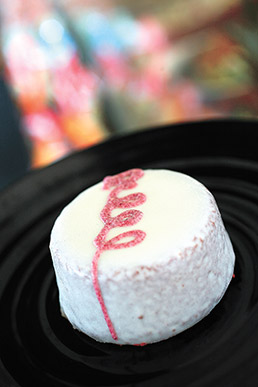 The Pink Lady features red velvet cake and raspberry filling. (IBJ Photo/ Perry Reichanadter)
My companion tried the Half Sandwich Special ($6.50), choosing chicken salad on nine-grain bread and the BBT pasta salad as the "non-meat" side (soup is another option). The chicken salad was decent, if a bit messy, but the generously portioned side dish stole the spotlight. The pasta shells were perfectly prepared and provided a nice base for the creamy dressing, which had grape tomatoes, huge chunks of blue cheese and big-enough-to-be identifiable bacon—no bac-o-bits here—in every bite.

Then we were ready for dessert. The Ding Dong ($2.75) was everything I'd hoped it would be: Sweet cream filling marks the middle of the Hostess-inspired moist chocolate cake, which is coated in chocolate. It's really hard to go wrong with that combination.

Same goes for its sister pastry, the Pink Lady (also $2.75), which features red velvet cake and raspberry filling. Oh. My. Goodness.

And a good thing I didn't finish my meal.•

—Andrea Muirragui Davis

__________

Last in a month-long series of reviews of red, white and blu(e) eateries.