Local bed-and-breakfast operators squeezed by the economy claim they could be doing better if they got some support from the Indianapolis Convention and Visitors Association.

Though bed-and-breakfasts have seen revenue plummet 25 percent or more since the economy began to tank in 2008, local operators' beef with the ICVA goes back much further.

Gary Hofmeister's lament is representative. A dues-paying ICVA member "off and on" since he began operating the Old Northside Bed & Breakfast in 1994, Hofmeister said he finally dropped his membership because the organization did nothing to promote his business.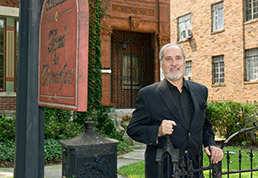 Gary Hofmeister, who owns Old Northside Bed & Breakfast downtown, says his ICVA membership has produced few bookings. (IBJ Photo/ Perry Eric Learned)
"In the years I was an ICVA member, I can put my finger on one reservation I've gotten from the ICVA," he said.

Local bed-and-breakfast operators contend association officials systematically direct leisure travelers and convention-goers to the city's larger hotels.

"I understand the big hotels bring in the big business, and we're the ugly stepchild," Hofmeister

said, "but we feel we deserve an opportunity to compete for the business."

While the conflict between the ICVA and local bed-and-breakfast operators has been ongoing for the better part of a decade, tensions increased as the economy tanked.

The hotel industry has been rocked nationwide the last two years. Occupancy rates at hotels across the United States are down more than 20 percent and revenue per available room, a key measurement of the industry's health, has plummeted to $44 from $55 in 2007, according to Nashville, Tenn.-based Smith Travel Research.

Hotel experts expected a slight rebound to begin this year, but the most optimistic forecasts now call for flat occupancy rates, and hotel revenue isn't predicted to climb back to 2007 levels until 2014.

Hotel industry experts say bed-and-breakfasts have been hit harder than most.

One Indianapolis operator—Jeneane Life, owner of the Looking Glass Inn, Stone Soup Inn and The Villa—said her occupancy rate has dropped from 60 percent to 20 percent.

Diane Callahan, executive director of the Indiana Bed & Breakfast Association, said the ICVA is a particularly essential marketing arm for local bed-and-breakfasts when times are tough.

"While our offerings are unique, a bed-and-breakfast in most cases is a luxury, not a necessity," Callahan said.

Local bed-and-breakfast operators claim the ICVA uses an in-house hotel room reservations system that tilts toward larger hotels. Making matters worse, the ICVA signed a deal this year with Expedia that raises booking commissions to levels they can't afford and, B&B operators say, doesn't include B&Bs in its marketing pitches and literature.

ICVA CEO Don Welsh explained that Expedia is handling leisure bookings because the ICVA was losing more than $100,000 annually handling the bookings itself.

Small consolation to the operators. The ICVA system charged local hotels an 8-percent commission plus a $4 booking fee; Expedia charges commissions of 25 percent to 30 percent with no booking fee.

"That's a huge cut for a small business," said Life, whose bed-and-breakfasts have 21 rooms and employ 35 people. "That's triple what we used to pay."

Constricted mission?

But local operators' larger beef revolves around how the ICVA handles convention business and marketing.

Life, a 15-year ICVA member, said there's a clear mission to fill the large convention hotels, but no such ICVA mission to do likewise for smaller operators, including bed-and-breakfasts.

Hofmeister said, "We're an important part of the mosaic here. Bed-and-breakfast operators are some of the best tourism and hospitality ambassadors this city has."

Welsh, who has sat down with local bed-and-breakfast operators twice in recent weeks for what he called "emotionally charged" meetings, said his organization is doing all it can to assist all area hoteliers.

"Regardless of opinions, we try to treat all of our partners in an equal manner," said Welsh, who replaced Bob Bedell as ICVA chief in August 2008. "We pulled together our entire senior staff for two meetings with the local bed-and-breakfast operators. We're wide open to doing what we can."

Part of the rub, he said, is that many meeting planners prefer to deal with a few hotels that can provide large blocks of rooms.

"We can't make decisions for meeting planners," Welsh said. "We want to sell everyone, but in the end, meeting planners are going to do what's best for the convention they represent. And the trend for many conventions is they want fewer hotels with more rooms."

Life and other local bed-and-breakfast operators say that even when they sign deals with meeting planners holding events here, ICVA routes room requests to the larger hotels—hotels that happen to pay bigger dues to ICVA than the B&Bs.

"What I can tell you is, when the ICVA was involved, we simply didn't get any reservations," Hofmeister said.

Pay-to-play?

The ICVA has about 700 members. While most bed-and-breakfasts pay about $750 in annual dues, the larger hotels pay thousands. Local bed-and-breakfast operators claim the ICVA is merely protecting its biggest clients.

Welsh calls the assertion of the ICVA steering business away from smaller operators "categorically false."

"The hotels that are requested by the convention and meeting planners are the ones loaded into the system without prejudice," Welsh said.

Debbie Locklear, president and owner of locally based Meeting Services Unlimited Inc., confirmed that some meeting planners dealing with larger events are shying away from smaller hoteliers.

Locklear, whose firm represents some of the nation's largest trade shows, including the Custom Electronic Design & Installation Association's annual show in Atlanta and several in Indianapolis, said the ICVA has never steered her firm from any particular hotel.

"While some larger conventions want to use fewer, large hotels to consolidate things, I think there's still a place for bed-and-breakfasts in the mix," Locklear said. "A certain number of our clients really like them, so of course, you want to offer them.

"What it comes down to is what the convention organizer wants."

Uncertain future

But even if convention planners request them to be a part of the mix, local bed-and-breakfast operators point out that the ICVA is the one in many cases handling the booking, which is often done out of sight of meeting planners.

"If these two groups can't come together, everyone loses out in the long run as the city risks losing an important form of alternative lodging that a lot of business and leisure travelers seek," said Callahan of the Bed & Breakfast Association.

Callahan noted that some regions have boosted their tourism business by making themselves a bed-and-breakfast destination. She said Indianapolis hasn't done a particularly good job of that.

Welsh said ICVA has spent $1.5 million this year on marketing the city in an effort to bolster all its partners. The ICVA also has bolstered its website—which has seen a 70-percent increase in traffic this year—where information for all member hotels is listed, Welsh said.

In addition, he said, the ICVA has agreed to print a special brochure highlighting the city's bed-and-breakfasts, and is waiting for local operators to submit information on their establishments so this can be done. ICVA sales staffers will distribute the brochures along with other city tourism literature.

"We need to resolve this issue, and we want to," Welsh said. "The ball is in their court."

Life applauds the effort, but wonders what has taken so long to get to this point. Life added that she is happy to compile information for her own properties, but thinks someone within the ICVA needs to help coordinate the effort of gathering information for all the city's bed-and-breakfasts.

Welsh said the ICVA wants to help bed-and-breakfasts, but cautioned that his organization can't be fully responsible for marketing their properties.

"We are fortunate to have these bed-and-breakfasts in our city, and we want them to succeed," Welsh said. "We want to help our partners whether they have four rooms or a thousand rooms.

"But it's important to remember, we should be supplementing the sales efforts, not be the core of those efforts."•