Gary Schahet is chairman of Indianapolis-based Schahet Hotels Inc., a franchisee of Hilton, Marriott and Intercontinental brands. Eight of the company's hotels are in Indianapolis and two are in upstate New York.

In an interview, Schahet said some parts of the Indianapolis area are doing better than others, and that he doesn't expect the industry to experience a big upswing anytime soon.

IBJ: How would you describe the health of the Indianapolis-area hotel industry?

Schahet: Generally better than last year, but last year was poor, at best. Downtown fared better. But with all the new rooms opening in the downtown area and with the expanded convention center, there is a tentative optimism. The airport area has improved, as has the north—in other words, Carmel—but the northwest side is overbuilt and down from last year. There don't seem to be real, long-term growth trends. This recession will take longer to fully recover from than others we have been through.

IBJ: How long until growth comes back?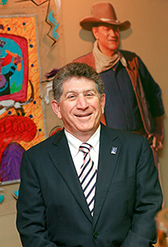 "Real growth" in demand won't materialize until another three years pass, Schahet says. (IBJ Photo/ Perry Reichanadter)
Schahet: Growth in supply, I'd say real growth, maybe three years. A lot depends on the lenders. Now the underwriting has become more difficult. I think that we still have a long way to go with our lenders. Many commercial loans were made through the securitized route. This means that when their balloon [payment] comes due in the next few years, they are going to want to be paid off, and the borrowers may not have or want to put in more equity to refinance. On new deals, lenders are requiring more equity up front. And in addition, with the costs to develop, the returns are less. Growth in the business may also be three years or so away, as previously addressed.

IBJ: What's needed for growth to resume?

Schahet: There is no single solution. We have to absorb the new rooms that are opening downtown and those that opened in the last 18 months throughout central Indiana. This means bringing more groups and conventions to our area, expansion of local businesses, attracting more new business, and help from our state in promoting Indianapolis as a destination. Our city and central Indiana have lots to see and do, but I believe that we can use some help in letting our neighbors—such as Illinois, Kentucky, Ohio, Michigan and Wisconsin—know what we have to offer. Those states spend considerably more on promoting tourism than Indiana, and our tourism budget has been cut due to the recession, which does not help.

IBJ: How is Schahet Hotels hanging on? Anything unusual you're doing to survive?

Schahet: Watching everything—following up on every lead, watching payroll, expenses. It's really not unique to our business. Above all, making sure that we take care of our guests. The comment cards we get back and our inspections are a top priority. Our scores have actually gone up.

IBJ: Are guests expecting more for their money?

Schahet: Depends. All travelers are looking to make their dollar go as far as possible. The business traveler, because rates have become more competitive, gets a better value because in many cases that traveler can move up. Leisure travelers are still looking for the best bang for the buck. Groups oftentimes know that they can push a little harder for group business, since there is more competition for their business. Properties that might not have been interested a few years ago, now are.

IBJ: Indianapolis Convention & Visitors Association Executive Director Don Welsh raised eyebrows early this year when he said that so much additional convention business will book downtown that the downtown would need another 1,000-room hotel after the J.W. Marriott is finished. What are your thoughts?

Schahet: Don Welsh is a real pro. But I am a bit more conservative. Let's fill up what we have first. Remember, we have the other properties downtown that have opened as well as the new 1,000-room [Marriott] property.•