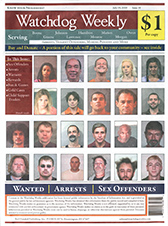 A new tabloid that's hitting convenience-store racks in central and southern
Indiana relies entirely on arrestee mug shots.
Upstart Publisher Randy Hobbs hopes Watchdog Weekly will help fight and deter crime, but he said it's the
14-page gallery of convicted sex offenders and recent arrestees that drives sales. Buyers want to see whether people they
know are in trouble with the law.
"We are really gaining a lot of momentum," said Hobbs, a Bloomington entrepreneur who started the paper this
spring after closing his travel business. Hobbs said he's already covering his costs and paying himself a small salary
on the sale of 5,000 to 6,000 copies a week with very little advertising so far.
Like similar papers in other cities, Watchdog sells off the rack for $1 per copy.
The fact that mug-shot tabloids appear to be thriving speaks to the enduring appeal of print publications; unique or local
content; and colorful, if low-brow, photos, said Mark Fitzgerald, editor of Editor & Publisher magazine.
"The print stuff has survived even as you might think Internet photo galleries would replace publications like this,"
Fitzgerald said.
Hobbs started Watchdog after a friend showed him a similar tabloid from Chattanooga, Tenn.
"It was interesting," he said. "We looked at it for a couple of hours, actually."
Hobbs was on the lookout for a new business with low barriers to entry. Startup costs were under $20,000, he said. "We
did some math and figured out it could be very profitable."
Hobbs declined to give his age or much personal background because he worries about retaliation from people featured in his
paper.
"It's not like owning an ice cream shop," he said.
The tabloid relies on the same open-records laws that give mainstream news outlets access to information about arrests, including
photos. Watchdog runs the photos, name and stated charge or offense.
The publication includes a disclaimer on nearly every page stating that arrestees are innocent until proven guilty. Watchdog
also offers to publicize dropped charges, if that can be verified.
Indianapolis media lawyer Daniel Byron, a senior partner at Bingham McHale, said Watchdog faces no more legal liability
than any of the mainstream media outlets that routinely report on arrests—and occasionally make errors.
Unhappy subjects might sue, Byron said. But the legal standard for plaintiffs is so high, "it's almost impossible
to win a defamation action in the state of Indiana."
Uncooperative law enforcement agencies have been one obstacle to growth. The Monroe County sheriff and Indianapolis Metropolitan
Police Department are not releasing mug shots, Hobbs said. The July 19 issue included just 16 photos of Indianapolis arrestees—all
Indianapolis residents who were arrested and charged in other counties.
IMPD spokesman Lt. Jeffrey Duhamell confirmed he turned down Hobbs' request. The department's policy is to release
only those photos that aren't being used in an ongoing investigation, he said. He added that IMPD processes hundreds
of arrests a day, and he wasn't sure how the agency would fulfill a request for such a large volume.
Mug-shot tabloids elsewhere appear to be thriving. The Slammer began in Charlotte, N.C., in 2007 and now has a presence
in Florida as well as Phoenix, Cincinnati and Columbus, Ohio, and Little Rock, Ark..
Isaac Cornetti, publisher of The Slammer, declined to disclose financial information, but he said the business model
is much different from that of mainstream newspapers. For starters, costs are low. He produces all editions in Raleigh, N.C.,
then uses local distributors in each market.
The Slammer, which also costs $1 per copy, derives more of its revenue from rack sales than advertising, Cornetti
said.
"This is a successful business on a small scale," he said, adding that one of his distributors might earn six
figures.
"That wouldn't pay one vice president at McClatchy," he said, referring to the country's third-largest
newspaper company.•
Please enable JavaScript to view this content.