This week, a new company ambitiously brings back the summer musical. And a teen crew does justice to a musical theater masterpiece.

____________
In most productions of the raucous musical comedy "A Funny Thing Happened on the Way to the Forum," the lead
character, Pseudolus, is a just-this-side-of desperate middle-age guy with an overactive libido who could break out in a major
sweat at any moment.
In the original production of "Forum," he was played by Zero Mostel. The most recent Broadway revival opened
with Nathan Lane in the part. With that casting mind-set, local acting vet Mark Fishback would be perfect for the role.
Fishback is featured in the production currently running at the Athenaeum (through Aug. 7)—and he's very good
in it. But he's playing Roman procurer—and gentleman—Marcus Lycus, not Pseudolus.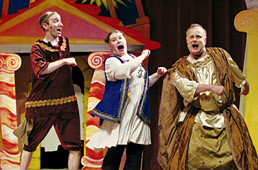 The cast of "A Funny Thing Happened on the Way to the Forum" includes Scot Greenwell,
Claire Wilcher and Paul Hansen. The show was built around Wilcher, although the lead is normally played by a man. (Photo Courtesy
Bobdirex)
That part is being played not by someone in the Zero mold, but by a young woman.
Feminizing the role does have precedent—Whoopi Goldberg was one of the Nathan Lane replacements—but in most situations
I'd say, "Why bother?" There's nothing inherently gained by the gender switch except for a very funny
upskirt sight gag and the chance to have dancing boys added to Marcus Lycus' stable of women.
But there are times when you cast because a person is right for the show and there are other times when you create a show
because it's right for a performer.
It's clear that Bob Harbin, producer/director of this production, wanted to craft a "Forum" around a particular
leading lady.
That's Claire Wilcher, who has been steadily building a reputation as a funny,
funny lady (thanks to work with Comedy Sportz and the sketch group Three Dollar Bill) and as a singer who has brought down
houses from Footlite Musicals to Clowes Hall. If you combine the voice and force of Ethel Merman with the improvisational
smarts of Amy Pohler, your imagination is on the right track.
Wilcher (who, full disclosure, was featured in a play of mine a few years back) is terrific throughout, finding laughs in
both the verbal and physical comedy, and gloriously singing Stephen Sondheim's potentially tongue-tripping lyrics ("the
bong in the bell in the buoy in the bay," indeed). Harbin's faith was clearly well placed.
The show, which was created in part as a celebration of vaudeville humor, demands that its performers use every schtick in
the bundle to entertain. But there needs to be a core of heart at the center and Wilcher finds it in the early number "Free,"
in which Pseudolus outlines what she would do when emancipated. It's, to use the title of another of the show's
songs, "Lovely."
This is not a one-woman show, though, and Bob Harbin has rounded up a strong company, particularly on the male side. The
aforementioned Fishback is fine as Lycus, especially when he joins in on the gloriously silly "Everybody Ought to Have
a Maid" number. Scot Greenwell is hysterical as hysteric Hysterium. Matt Peterson is a strong-voiced Hero. And Paul
Hansen is spot-on as amorous husband Senex—particularly in the father and son duet "Impossible."
On opening night, the second act pacing wasn't what it could be. And the "That Dirty Old Man" number had
a stare-at-the-floor awkwardness. But overall, there's much musical comedy joy here.
As for the bigger picture, thanks to the hard work of Harbin, an Indy native who spent years as a casting director in Los
Angeles, and his company, Bobdirex, we've got the makings of a downtown musical theater that I hope produces many, many
more shows in the coming years.
So what's next, guys (and gals)?
____________
Speaking of musicals, attention should be paid to the outstanding work done by the teen company of Summer Stock Stage, which
recently offered a weekend of performances of "Ragtime."
I'm a big fan of the show—I'd comfortably say it's the greatest piece of musical theater created
in the last 20 years—and under the guidance of director Emily Ristine Holloway and her staff, they've more than
just done the show justice.
Sure, there were a few missed lines and cracked notes. But there were also dramatic discoveries and heartbreakingly human
moments that I have not seen in previous productions (and I've seen a few, including the original Broadway company).
Of particular note were recent North Central High School graduate Peyton Conners, as Sarah, and current North Central student
Patrick Dinnisen as the desperate searching Younger Brother. Judging from the mature, detailed, heartfelt work from both (not
to mention their outstanding voices), I expect big, big things from them in the future.•
__________
This column appears weekly. Send information on upcoming A&E events to lharry@ibj.com. Visit www.ibj.com/arts for
more reviews, previews and blog posts. Twitter: IBJarts
Please enable JavaScript to view this content.