Summer on the Central Canal is like a beachfront boardwalk, teeming with life. People push strollers, hold hands and walk their dogs.
There are boats and bikes and Segways for rent. And steps away from the water, four museums open their doors to the public. Yet most of them capture few of the passersby.
"The canal is a destination for a certain type of activity, which is to walk the canal," said John Herbst, CEO of the Indiana Historical Society.
Tom King of the Indiana State Museum says it's not easy luring passersby inside. "Somebody that just came down for a casual stroll probably isn't going to walk in and pay seven bucks." (IBJ Photo/ Perry Reichanadter)
But one museum leader is more optimistic and is taking steps to draw in some of the thousands of people who pass by along the canal.
"It still has a lot of untapped potential," said John Vanausdall, president of the Eiteljorg Museum of American Indians and Western Art.
The museum plans to make over its entrances on the canal and White River State Park in hopes of attracting more visitors. The effort is part of a larger museum campaign to boost visitation after total attendance dipped below 100,000 in 2009.
The canal runs below street level from 11th Street to a basin on the south side of Ohio Street, where it extends west to White River State Park.
The historical society, Eiteljorg, Indiana State Museum and NCAA Hall of Champions don't track the number of visitors coming directly from the canal. All of them think they net some impromptu visits, but are divided on whether it's worthwhile to troll those waters more aggressively, especially as they try to recover from a recession that hit multiple sources of revenue—attendance, donations and endowment income.
Seeking to diversify its revenue stream, the historical society on March 20 opened its first ticketed attraction, Indiana Experience, in its headquarters that fronts West Ohio Street and backs up to the canal. The interactive exhibits, which cost $3.3 million, are part of a larger $17 million renovation.
Through July 24, the exhibits had drawn modest numbers: 7,606 paying visitors and another 1,079 historical society members, who are admitted free.
The Indiana Experience wasn't designed for herds of people, Herbst said. Rather, he expects it to be supported by corporate sponsorships and grants.
"We're doing very, very well as far as we're concerned," he said.
Executives at the State Museum and Eiteljorg aren't so satisfied.
"Attendance is down and trending down," said Tom King, interim CEO at the state museum. "Part of what I'm supposed to be doing is getting all that turned around."
The number of paying attendees hit 148,005 in the fiscal year ended June 30, a 3.6-percent decline over the previous year. Total attendance, which includes visits to the Imax theater, café and private events, fell 10 percent to 369,274.
The numbers would have been worse if it weren't for two successful Lincoln exhibits in the spring, King said.
The Eiteljorg, which does not release figures on ticket sales, saw total attendance of 99,127 in 2009, an 11-percent drop from 2008. A well-attended show on pistol-engraving this spring gave attendance a boost so far this year.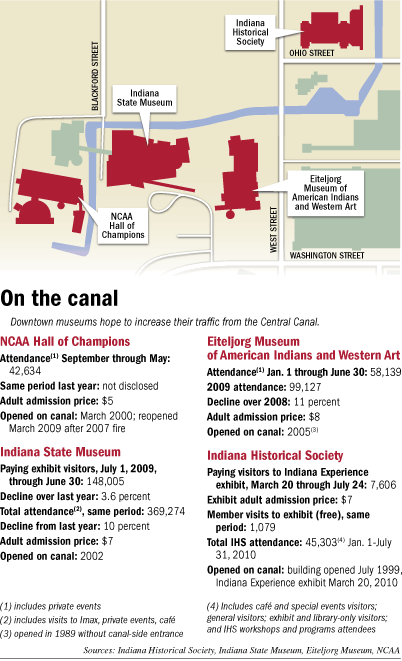 The NCAA's Hall of Champions reopened in March 2009 after a fire and subsequent renovation closed it in November 2007. Total attendance from September through May was 42,634. Thanks to a spike in attendance during the Final Four, the hall probably will end the fiscal year on par with pre-renovation years, said Damon Schoening, director of brand strategies and events.
After the renovation, the NCAA focused the hall's marketing effort on meetings and events, but Schoening believes it still nets a healthy amount of walk-up traffic.
"I would attribute a good number of our daily visitors to the traffic that comes about as a result of being in the park, especially in the warmer months," he said. "We've had a very busy summer."
The combined attendance of all the canal-side museums still doesn't top the powerhouse on the west side of the White River, the Indianapolis Zoo, which nets 1 million people a year.
Missed opportunity?
Could the museums do better, given their highly visible locations?
"Part of the challenge is that there isn't massive overlap between state park visitation and museum visitation," said museum consultant James Chung, president of Reach Advisors in Albany, N.Y. "Different audiences, different purposes."
Museum leaders have to ask, "Is it part of their strategy to broaden their audience, or not?" Chung said.
The Eiteljorg is aiming squarely at the outdoor crowd. Vanausdall even has spent time people-watching on the canal, which seems busier every year.
"It's clear there are a lot of tourists out there, looking for things to do," he said.
The Eiteljorg, which sits at the corner of West and Washington streets, has been in White River State Park since 1989. An expansion in 2005 connected its rear entrance directly to the canal.
Vanausdall, who has led the museum since 1996, said he always hoped to capitalize on the location, but now realizes the museum needs to roll out the welcome mat.
For starters, the Eiteljorg will have its name on the Washington Street side of the building, making signage visible to pedestrians from a greater distance. The Eiteljorg's expansive front lawn will get benches and new landscaping.
The canal front, which leads to the museum's café, is scheduled for a makeover in September with seating, music and an electronic kiosk, so people can stop and learn about what's going on inside.
Summer is the Eiteljorg's peak season, so major exhibits in 2011 will be scheduled with that in mind, spokesman Anthony Scott said.
Finally, the museum's advertising will play up the fact that visitors—whether to the cafe, gift shop or galleries—get free parking.
The state museum, which opened in the park in 2002, has struggled under a quasi-public governance, high turnover in the CEO's office, and budget cuts. To boost attendance, the museum is hosting traveling exhibits with broad appeal, such as "Titanic: The Artifact Exhibition," which opens Sept. 25.
King doesn't see the canal crowd as an easy sell.
"People come to a museum to see something and to learn something," he said. "Somebody that just came down for a casual stroll probably isn't going to walk in and pay seven bucks and see what's there."
Lance Chrisman of Zionsville and his visitors from Dallas seemed to support that notion. On a recent Thursday, the group of four adults and several boys made a burning trek through downtown. They climbed the Soldiers and Sailors Monument and walked to Conseco Fieldhouse, Lucas Oil Stadium and Victory Field.
They finished the day renting a paddle boat on the canal.
"We talked about the museums a lot, but we didn't go in them," Chrisman said. He added, however, that he has visited almost all the downtown museums on past occasions. "I will say the museums down here are great."
Urban park
The state of Indiana began digging the canal in the 1830s as part of a massive infrastructure project that ultimately bankrupted the state, leaving the waterway and other elements of the project unfinished.
In the 1980s, the city launched efforts to redevelop the area, a vision inspired by the success of San Antonio's River Walk. But Indianapolis' canal turned out as more of a park than a night spot.
The city zoned the canal-level buildings for retail use, but most of the storefronts were rented to office tenants.
The city has tried to encourage restaurants, such as the two that operate inside Buggs Temple, but the market knows better what will work on the canal, Metropolitan Development Director Maury Plambeck said. Retail tenants have hesitated because the storefronts lack street-level visibility and parking, he said.
"We would like to see more restaurants on there because the citizens want more restaurants," he said. "It's probably going to be an evolution."
The latest business owner to test the canal is Richard Lobdell, who opened Left Bank Café on the ground floor of the new Cosmopolitan condominium building in May. Observing the throngs of people alongside the water, Lobdell figured 70 percent of his business would come from canal walkers stopping for a drink or bite to eat.
That hasn't been the case, Lobdell said.
"Mostly it's a destination," he said of the café. "Everybody makes a comparison to San Antonio," he said of the canal. "We're not going to be there."
Before opening Indiana Experience, Herbst said, he saw the canal's potential as a marketing tool, rather than driving traffic.
People walking by might see the signs and come back later. "It's a locator for us," he said. "Downtown, on the canal, people know where that is."
In a previous CEO role at Conner Prairie history park in Fishers, Herbst said he learned how difficult it can be to create a detour through a museum. Conner Prairie targeted the Symphony on the Prairie concert series crowds with various tactics: free admission, later hours, historical interpreters walking around.
None of it worked, Herbst said.
"You could not really blast them out of that route," he said. "I think this is a little bit similar."
But other downtown developments might help the cultural attractions, Schoening at the NCAA said. Three new hotels overlook White River State Park. Tourists who stayed downtown for the Final Four last spring definitely made side trips to the Hall of Champions, which had 10,000 visitors on one weekend, he said.
Schoening predicted the benefits will extend to other museums.
"The park as a whole is evolving," he said. He added that the Final Four showed that visitor traffic is moving west. "This part of the city really became the epicenter."•
Please enable JavaScript to view this content.