Purdue University will join the quest for cheap solar-generated electricity with a new initiative aimed at speeding up research
across the industry.
The Network for Photovoltaic Technology will launch this fall with a grant from the Semiconductor Research Corp., an industry-funded
consortium based in Durham, N.C. Professors Ashraf Alam and Mark Lundstrom will lead the center, focused on creating computer
models to eliminate costly and slow trial-and-error research in the solar industry.
The professors say their center will be the only one in the United States focused on computational models for solar cells.
Computer-aided design, adopted by the chip industry in the 1980s, allowed for rapid technological advances. Alam hopes to
propel the solar field in the same way.
"Because of its uniqueness, this can become a center of gravity of all the efforts in place," said Alam, a professor
of electrical and computer engineering who studies photovoltaic materials. "It could be a small but highly influential
center in terms of defining research direction in the field."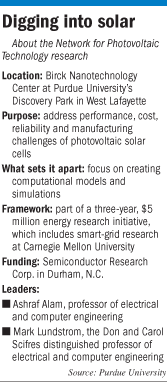 Both computer chips and solar cells are made of semiconductor material, namely silicon, but the industries
are further intertwined, said Jim Hines, research director for solar at Gartner, a technology research firm based in Stamford,
Conn. Texas Instruments, for example, sells chips that are used in solar array inverters, which turn the direct current of
solar into usable electricity.
Hines said it makes sense for the semiconductor industry to back research in photovoltaics.
"It's very small right now compared to what it could be," he said of the industry. "Even if it ends
up being 10 to 20 percent of total electricity production in the future, that's up from less than 1 percent today. That
represents a very, very large growth opportunity."
The Semiconductor Research Corp. is putting up a relatively small amount, $5 million over three years, for its energy initiative.
The money will be divided—the exact split is not yet determined—between Purdue and Pittsburgh's Carnegie
Mellon University, which was chosen to work on smart grids.
Bob Havemann, director of SRC's energy initiative, said he hopes to land a $25 million U.S. Department of Energy grant
for photovoltaic manufacturing, or a large grant from another federal source.
"We have plans to grow this considerably," he said.
One of the energy initiative's backers is Arizona-based First Solar, the world's largest panel maker, which has
a manufacturing plant in Ohio. The company that suggested the consortium and wanted Purdue to lead the research was Applied
Materials, based in Santa Clara, Calif., Havemann said. Applied Materials makes the massive high-tech machines that go in
chip factories, as well as equipment for turning out solar panels.
Purdue is known for its contributions to the semiconductor industry through the Network for Computational Nanotechnology,
which Lundstrom founded. The website NanoHub.org allows engineers around the world to feed data into simulators developed
by one of six universities. The site draws 130,000 users a year, about two-thirds of them from outside the United States,
Lundstrom said.
It's not Facebook by any means, he said, but "for a scientific engineering effort, it's pretty big."
The photovoltaic network is "very much a seed effort," Lundstrom said. The first partner Purdue has lined up
is the National Centre for Photovoltaic Research and Education at the Indian Institute of Technology in Bombay.
Purdue's photovoltaic work won't have much spin-off effect on the Indiana economy unless there's an industry
for students to work in after graduation, Alam said.
Indiana's first major presence in solar cell manufacturing will likely be Abound Solar. The Colorado-based company
this year announced plans to buy the unused Getrag transmission plant in Tipton and start producing panels in 2012.
Abound's technology is an example of the sort of thing Alam and Lundstrom would like to study. Like First Solar, Abound
uses cadmium telluride, rather than silicon, as a base material. Cadmium telluride, or CdTe, makes a cheaper panel, about
80 cents per kilowatt produced, but it's also less efficient in converting sunlight to electricity.
One question the industry has not answered, Alam said, is how crystal formation defines a solar cell's overall performance.
"Very little work has been done on the material properties," he said of cadmium telluride. "It is essentially
black magic."
Lundstrom believes the solar industry is too small and fragmented according to various materials to solve big-picture problems.
But Alam's recent findings at Purdue suggest there are more similarities among the various technologies than people
in the industry recognize, he said.
With those similarities in mind, Purdue will develop computer models that can be used to answer questions such as how many
years solar cells will last under various conditions.
Efficiency and reliability are two major issues that ultimately affect the cost of producing solar power, which in most places
continues to exceed conventional power, Hines at Gartner said.
Costs have come down rapidly in recent years because First Solar and smaller startup manufacturers, backed by venture capital,
entered the game, Hines said. He predicts those startups will consolidate over the next two to three years.
Hines isn't looking for one big technological breakthrough to make solar an affordable alternative to fossil fuels.
"The reality of it is, there's a lot of little things that have to be done that add up to some significant improvements,"
he said.
Purdue's work on solar energy in the 1970s is what attracted Lundstrom to the university as a doctoral candidate in
1977. Then the energy crisis faded, and he turned toward work on integrated circuits.
Lundstrom hopes a new high-profile solar program will attract top engineering students, as well as encourage Indiana students
who might not otherwise commit to engineering.
"This field is very attractive to students," he said, and he knows the reason. "You look at the challenges
humanity faces. If you have an opportunity to contribute to that, it's very exciting."•
Please enable JavaScript to view this content.