Peyton Manning, one of the biggest sports stars Indianapolis has ever known, is sitting on a contract that expires at the end of the upcoming season. And a dispute about compensation in the National Football League is complicating efforts to keep him here.

Colts owner Jim Irsay reiterated at training camp this month that in retaining Manning he wants to make him the highest-paid player in the NFL. To do that, he'll have to pay him about $20 million annually over five years, $6 million a year more than Manning earns now.

The problem is, the collective-bargaining agreement between players and owners is in limbo. The owners opted out of the current deal in 2008, meaning there is no salary cap this year and no agreement in place to determine the cap in subsequent years.

"There's just no framework right now to get a deal of this magnitude done," said Marc Ganis, president of Chicago-based Sportscorp Ltd., which consults for several NFL teams. "Even if Jim Irsay wants to be generous to the point of giving himself night sweats, he'd be taking an enormous risk by doing this deal before the collective bargaining agreement gets worked out."

Manning's current deal pays him $98 million over seven years. Re-signing big-money players like Manning without a salary cap is tricky because their salaries are often arrived at using the cap as a guide. The percentage of the cap gobbled up by star players determines what's left for the rest of the team.

NFL owners have promised to lock out players and cancel games if a new labor contract isn't in hand by this time next year. With each passing day, the sides become more entrenched, making a timely agreement more remote and the task of signing a marquee player like Manning more difficult.

Right after the Colts' Super Bowl loss in February, Irsay said a deal with Manning "is going to get done." Irsay has a solid track record of doing what he says.

"I think that shows how serious this situation is," Ganis said. "When an owner like Jim Irsay can't get a deal done with a player like Manning, who can? The situation is that difficult.

"All the other players' salaries are based on what Manning gets and what the salary cap is," Ganis said. "With no salary cap in place, at best [Polian and Irsay] are forced to make an educated guess. It's a huge gamble. A real tricky roll of the dice."

People who care about the Colts aren't the only ones watching how this plays out. It's likely Polian and Irsay are getting pressure from other owners not to pay Manning too much.

"Peyton Manning is the measuring stick for players across the NFL, especially quarterbacks," said Milt Thompson, president of locally based sports marketing firm Grand Slam Cos. and a former players' agent. "I'm sure other owners have talked to Jim [Irsay] about not setting the bar too high."

Manning's agent, Tom Condon, didn't return phone calls from IBJ.

NFL sources said Condon wanted to see what another client of his, rookie quarterback Sam Bradford, signed for with the St. Louis Rams before getting serious about Manning's contract. Bradford, from the University of Oklahoma, was the No. 1 pick in this year's NFL draft.

In late July, Condon brokered a $78 million, six-year contract, with $50 million in guaranteed money, for Bradford. Many agents think that deal increases Manning's value.

"If Bradford, who has never played a down, is worth $78 million, you tell me what Manning, who is by far and away one of the best two quarterbacks in the league, is worth?" Ganis asked.

Serious business

Polian, who declined comment for this story, told reporters during training camp he is working to get a deal done before Manning becomes a free agent.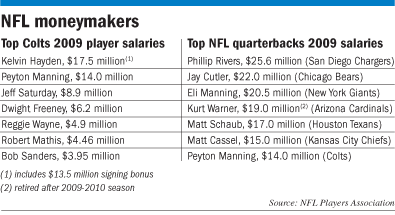 There's reason this is such a serious matter for Polian. The Colts' roster mastermind has developed a pay structure where the pay of many of the younger players and unsigned free agents the team picks up is determined by the cash flowing to the team's stars.

In Polian's system, players like Manning, Robert Mathis, Dwight Freeney, Reggie Wayne, Jeff Saturday and Bob Sanders suck up the majority of the salary cap. The rest of the money allowed under the salary cap is spread rather thinly over the 53-man roster. The more that goes to stars like Manning, the less available to supporting players.

"The Colts more than any other team in the NFL is a team of haves and have-nots," said Richard Sheehan, a University of Notre Dame sports economist and the author of "Keeping Score: The Economics of Big-Time Sports." "The Colts are a superstar-driven team, but the balance [Polian] has put together is delicate. Every piece on the roster has to fit together just so. With all the unknowns surrounding the [collective bargaining agreement], it's just a very difficult riddle to solve right now, even for somebody with the acumen of Bill Polian."

Dangerous waiting game

The logical thing for Colts management to do would be to wait for the labor agreement to get hammered out before signing Manning, Ganis said. But there might not be a new agreement before Manning becomes a free agent at the end of the season.

Typically, a team could place what is called a franchise tag on a player like Manning. When a team "franchises" a player, it agrees to pay him the average of the highest-paid players at that position for one year. The problem is, Ganis said, with no agreement in place between owners and players, there's essentially no rule in place for franchise tags.

At the root of the fight between team owners and players is the percentage of football-related revenue that goes toward players' salaries. Currently, players get 59 percent, but owners want to decrease that to 55 percent.

Owners claim that, over the long term, if they are allowed to keep more money, they can reinvest it in their teams and the league and grow the sport, driving up total revenue and, in effect, the players' pay. The players' union, naturally, is skeptical of owners' intentions.

The salary cap per team in 2009 was $128 million. If the percentage players get goes down too much, the cap would decrease and put a serious crimp in Polian's system.

Fulfilling Irsay's promise costly

Player contracts are complex to calculate and compare. One thing is certain: The $14 million annual average the Colts pay Manning now isn't going to cut it if they are to fulfill Irsay's promise of making his quarterback the league's richest player.

"He might be regretting that statement now," Ganis said.

San Diego's Phillip Rivers in 2009 signed a six-year, $92 million deal, with almost $40 million guaranteed. Pittsburgh's Ben Roethlisberger signed an eight-year deal worth $102 million, $36 million of which is guaranteed.

New York Giants quarterback Eli Manning, Peyton's younger brother, in 2009 signed a six-year, $97 million deal. And Carson Palmer in 2005 signed a deal worth $118.8 million over nine years. Palmer and Eli Manning are the two highest-paid NFL players.

The Tom Brady factor

There's one other quarterback who will play an important role in the Colts' ability to sign Peyton Manning: New England's Tom Brady.

Brady, like Manning, has only this year left on his contract. Despite having two more Super Bowl championship rings than Manning, he makes far less. Because Brady's contract was so heavily front-loaded, he's making only $3.5 million this year.

Brady has made it clear he wants a new deal before the regular season begins next month. Sports business experts said he is asking for $17 million to $20 million annually and a contract that has up to $50 million guaranteed.

"If Brady gets his wish, that will crank up the pressure on Irsay," Ganis said.

Grand Slam's Thompson isn't buying excuses for not getting a deal done.

"Saying it's all about the collective-bargaining agreement is a smoke screen," Thompson said. "It's just a way to delay contract negotiations. The [Arizona] Cardinals recently got a deal done for their star receiver, Larry Fitzgerald."

Thompson is convinced Polian and Irsay are playing a high-stakes game of poker, trying to sign their biggest star at the best value.

"Are some of these contract issues more complicated right now? Sure," he said. "Bill Polian is a smart guy. He knows just what he's doing. If teams want to get a deal done, it's certainly within the realm of possibility."•