NASA has been to the moon and back. But its latest outpost is Martin University in Indianapolis.
The federal space agency opened an academy for science, engineering, mathematics and aeronautics at the small private college
nestled under Interstate 70 off of Sherman Drive.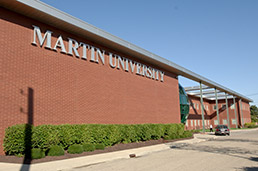 NASA opened a science and math academy for minority and low-income students at Martin University. (File photo)
The academy consists of one classroom with 10 computerized "research stations" in which students confront challenges
related to aeronautical and weightless scenarios. The idea is to have K-12 students use the lab to increase their interest
and knowledge in science, engineering and math.
The location at Martin, a historically black college, is the 14th academy opened by NASA. All are aimed at minority or low-income
students.
Please enable JavaScript to view this content.