It became clear to state leaders about 10 years ago—when Indiana was hemorrhaging manufacturing jobs—that universities, not factories, would have to be the engines of the state's economy going forward.

Since then, Indiana's major research universities—Indiana and Purdue—have nearly doubled their science-based research budgets, to a total of $895 million.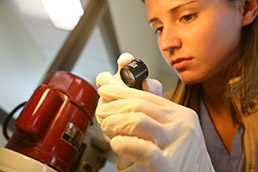 Therametric Technologies Inc.'s Katie Schemehorn files down a tooth. The company based its products on research done at Indiana University. (IBJ Photo/ Perry Reichanadter)
This "research enterprise" likely employs more than 5,000 workers, according to an IBJ estimate based on data from IU and Purdue. And it has helped fill research parks and incubation centers with fledgling companies, such as Endocyte, Therametric Technologies and Marcadia Biotech.

This growth—which has been centered in West Lafayette, Bloomington and Indianapolis—is certainly one of the decade's economic success stories. Yet even with the growth, which exceeded the national average, Indiana's public universities still run in the middle of the pack when compared with their peers nationally.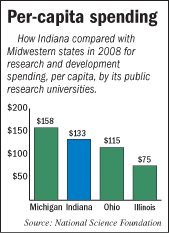 Indiana ranked No. 22 in public university research spending per person in 2008, the most recent data for which comparisons are available, up four spots from No. 26 a decade ago.

On that same per-person basis, Indiana does rank ahead of some prominent states—such as Massachusetts and New York—where older private universities churn out huge amounts of research while public universities do comparatively less.

Even so, few think IU and Purdue have grown their research enterprises enough to really turn around Indiana's decades-long decline in economic performance compared with the rest of the country.

"It's never enough," said Jorge Jose, IU's new vice president for research. He added, "You have to move very fast to stay still. Because the competition is fierce."

Indeed, in spite of IU's and Purdue's growth, average per-capita incomes in Indiana have continued to fall behind those of the rest of Americans over the past decade.

In 1998, Hoosiers made 92 cents for every dollar made by Americans as a whole. In 2008, Hoosiers made 86 cents for every dollar earned by Americans.

The decline has only accelerated since Gov. Mitch Daniels took office five years ago and made improving incomes against the rest of the country his number one priority. The average Hoosier earns $34,500 compared with $40,000 per American.

"It's a long-term process. You can't turn an economy around in a year, in five years," said Marty Grueber, a research leader at Ohio-based Battelle, an economic development advisory firm.

But focusing on university-based research is the right direction for Indiana, he said.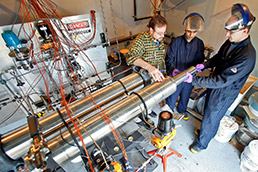 From left, Issam Mudawar, a Purdue professor of mechanical engineering, discusses a hydrogen-storage system for cars with graduate student Milan Visaria and Timothee Pourpoint, an assistant professor of aeronautics and astronautics. (Photo courtesy Purdue News Service)
"When you look at where the high-wage, high-value jobs are, they're coming from the leading-edge, innovative industries. Where that comes from is from the research and development functions of the country, both within academia and within companies."

Powering the economy

The Indiana Commission for Higher Education had the same insight as Grueber, which is why it made growing the state's public university "research enterprise" one of six goals in its 2008 strategy.

"Our universities no longer operate as isolated institutions of higher learning. In fact, Indiana's competitive economic success is largely dependent on the contributions of these essential economic engines," wrote Mike Smith, chairman of the Indiana Commission for Higher Education when the state agency issued a report on IU's and Purdue's research competitiveness last fall.

Smith, a former Mayflower and Anthem executive, spearheaded a focus on this area as part of the commission's 2008 strategy for publicly funded universities in Indiana.

The commission focused on IU and Purdue because they account for 99 percent of research spending by taxpayer-supported universities in Indiana, according to data from the National Science Foundation.

In fact, the only other university spending a meaningful amount on science-based research is the University of Notre Dame in South Bend, which is privately funded. Combined, IU, Purdue and Notre Dame account for more than 98 percent of all research spending by universities in Indiana.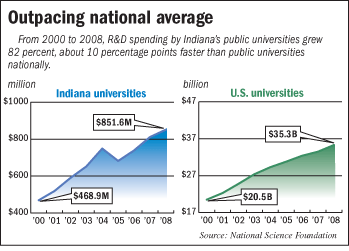 The commission is most interested in comparing Indiana's public universities with those in nine peer states: Georgia, Illinois, Iowa, Kansas, Michigan, Minnesota, Ohio, Pennsylvania and Wisconsin.

Among those states, Indiana also ranks in the middle of the pack. But its rate of growth was outpacing all others except Ohio as of 2008, the most recent year for which data exist to allow state-to-state comparisons.

In 2009, both IU and Purdue enjoyed bumps in research spending due to an influx of dollars from the federal stimulus bill.

As a state, Indiana shines in attracting research dollars from industry sources, ranking No. 4 nationally on per-person spending from that source.

But what appears to be holding Indiana back is average support from state government and struggles by IU and Purdue to attract as much federal funding as their public peers.

Indiana ranked No. 26 in state research funding per person and No. 31 in federal funding per person.

Overall, Indiana's public research universities spent $133 on research for every Hoosier in the state in 2008, compared with the national public university average of $116 per person.

"It's never going to be as good as we want. We always want to be better," said Richard Buckius, Purdue's vice president for research. But, he added, "Because we're increasing faster than those ahead of us, I think we should expect to do better going forward."

Breakthrough science

State leaders hope that new business based on breakthrough science and technology can change the trend. There are some encouraging anecdotes coming out of the university's tech parks and business incubators—even though the upstart firms clearly have not generated enough jobs to offset losses in traditional industries.

Endocyte Inc., founded on scientific discoveries made at Purdue, employs 54 well-paid workers in its efforts to launch cancer drugs. The West Lafayette company is now going public with an $86 million stock offering. (Read more about Endocyte on page 4A.)

Therametric Technologies Inc., based on discoveries made at the IU School of Dentistry in Indianapolis, recently built its own office in Noblesville to house its 19 workers and get ready for additional growth.

The company generates $2.5 million a year selling a teeth-cleaning product for pets and conducting testing services for other companies making dental products. In October, it will begin marketing a new dental instrument that allows earlier and more precise analysis of tooth decay.

The increased investment in university research "does have an impact, even at this stage, and it will have more impact as time passes," said George Stookey, who retired from the IU dental school before becoming CEO of Therametric.

Marcadia Biotech is funding a dozen researchers at IU's Bloomington campus, who have produced three promising diabetes drugs. Marcadia's 15 employees are working to develop one of those on their own, and have licensed the others to New Jersey-based Merck & Co. Inc. and Indianapolis-based Eli Lilly and Co.

"There is not enough money you can bring in to compensate for the manufacturing jobs that we've lost in the state," said Fritz French, a former Guidant Corp. executive who is now CEO of Marcadia. But, he added, "I do think it's moving in the right direction."•