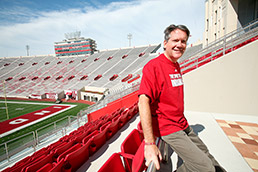 Former Baker & Daniels partner Fred Glass is leading the charge to fill IU's stadium. (IBJ Photo/ Perry Reichanadter)
As Indiana University opens its football season, there's a wave of optimism roaring through the school's athletic department.
Athletic Director Fred Glass has emphasized marketing, been the point man in radio and television commercials, and is leading the charge into a season that promises football financial gains not seen in Bloomington in a very long time.
While success on the field is not guaranteed, Glass is promising significant attendance increases and a continued rebirth of the football program that he believes will lead to critical fiscal gains for the school and its athletic department.
IU has a long way to go, and some critics wonder if it's wise for the Hoosiers to chase the likes of Ohio State University … or even the University of Wisconsin. IU's $55.7 million athletic department budget looks small compared with the Buckeyes'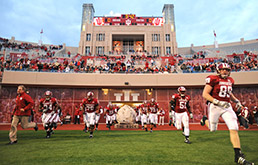 IU expanded the student section at Memorial Stadium three times to accommodate increasing demand for tickets last year. This year, IU officials are inviting the entire freshman class to lead the team onto the field for the home opener. (Indiana University Photo/Mike Dickbernd)
$119.9 million and the Badgers' $90 million budgets.
"College athletics is a very dangerous investment for schools," said David Ridpath, a professor of sports administration at Ohio University and past president of The Drake Group, a not-for-profit that bills itself as a watchdog for academic integrity in the face of big-time college sports.
"Schools can get caught up in chasing bigger programs with many more resources, and it becomes difficult to justify the expenses based on true return on investments."
The NCAA's own numbers seem to support Ridpath's claims.
The NCAA reported that, in 2008, only 25 of 120 athletic departments with NCAA Division I football programs brought in more money than they spent. In 2009, that number declined to 14.
IU was among that exclusive group, as was rival Purdue University. It was a notable feat for IU, which has scratched and clawed its way into the black in spite of big capital projects and the payment of sizable severance packages to coaches and athletic directors who were shown the door in recent years.
But IU's profit margin is thin, and Ridpath cautions that the Hoosiers' pursuit of "the big boys" could plummet them into the red if school officials are not careful.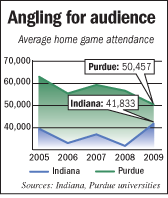 As much as some Hoosier faithful might hate to hear this, Glass said Purdue University has a blueprint worth noting when it comes to building a football program.
Glass remains undaunted.
"This David has a few rocks in its bag," Glass said.
Following Purdue's path
Purdue Athletic Director Morgan Burke has a conservative approach to building a gridiron winner.
"We put a premium on scouting talent, especially our coaching staff," Burke said. "We like to bring them in and let them prove themselves. If they produce, then we'll consider paying them in the top quartile."
That's an approach Glass seems to be taking with football coach Bill Lynch, who has a base pay—at $250,000—that is the lowest in the Big Ten.
With his broadcast and media pay, Lynch makes $600,000 annually, but that's far less than Purdue's Danny Hope, who makes a minimum of $850,000. And Lynch's salary isn't in the neighborhood of the Big Ten's highest-paid football coaches, who make $3 million to $5 million a year.
Glass said he intends to honor Lynch's contract, which runs through the 2011 season, then evaluate the situation. That could be Glass' most critical crossroads.
"The question is, should he go after a big-time coach with no guarantee that he will produce and put more fans in the stands, or does he take a more fiscally conservative route?" Ridpath said. "It's a huge fork in the road."
An expensive head coach means expensive assistants. IU currently pays its assistants high-five-figure or low-six-figure annual salaries. But top Big Ten assistants make up to $1 million annually.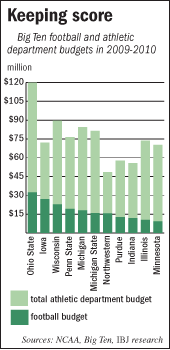 Competing for the best coaches in the Big Ten would send the football staff's pay up $5 million to $10 million a year. That's a stiff increase for a team that brings in less than $30 million in revenue.
The right focus
For now, Glass isn't worrying about changing coaches.
He has worked hard to reduce expenses where he can, cutting his senior staff by one-third, and identifying revenue opportunities. He even moved this year's Penn State game from Bloomington to Maryland for a $3 million payday.
Increasing attendance at the 52,700-seat Memorial Stadium is one of Glass' chief concerns.
"When it comes to competing in the Big Ten, we have one hand tied behind our back when it comes to revenue and resources," Glass said. "Why is that? Football. When I look outside my office and see empty seats in that stadium, I see money. It takes as much for us to throw a party for 21,000 as it does for 52,000."
Conference football revenue numbers show the steep hill the Hoosiers are scaling.
In 2008, the last year for which NCAA figures are available for all schools, IU brought in $20.8 million in football revenue, more than one-third of IU's total athletic department revenue. It was $5 million more than IU's basketball team, which has always rivaled football in the amount of revenue it produces. Still, IU brings in about one-third the football revenue of Ohio State and Penn State and about half of what the University of Iowa and Wisconsin score.
But the football team also chews up a fair bit of the Hoosiers' budget, and Ridpath said there's a real risk that could go up. While the basketball team spends only about 8 percent of IU's athletic department budget, the football team spends more than 20 percent.
"It's expensive to operate any college football team, and that cost goes up exponentially as you make a bigger charge to be highly competitive," said Andrew Zimbalist, a noted sports economist and professor at Smith College in Northampton, Mass. "It's great to be committed to winning. But in the end, you have to ask yourself, 'What's the cost? And more importantly, what's the payoff?'"
Questionable ROI
Opinions vary on how much a winning football or basketball team helps a university. The University of Cincinnati had one of its best football seasons last year, but this year hasn't seen significant increases in admissions or contributions.
Following a run to the NCAA men's basketball Final Four, George Mason University reported that applications from out-of-state students swelled 40 percent, and applications from all prospective freshmen increased 22 percent.
Unfortunately, Ridpath said, the payoff is short-lived without sustained success.
"What we find is, the next year, those numbers return to their baseline," he said.
For IU, Glass said building football is the only way to boost athletics.
"What the basketball team can do financially is about maxed out," he said. "The potential right now lies with bolstering that football program."
Glass also argues that IU students who become attached to the football program remain more active—and generous—alums.
Glass gains ground
Cost and payoff aside, there are reasons for optimism at IU. Glass was hired to replace Rick Greenspan as athletic director in October 2008. Last season, Glass' first, football attendance at IU increased 10,100 per game, to 41,833. It was the highest average attendance since 1992 and, according to NCAA records, it was the third-biggest football attendance increase among all Division I schools.
Season-ticket sales were 17,278 last year—up more than 5,000 from the previous year. This year, 19,100 have been sold. Revenue per home football game increased from $445,933 in 2008 to $698,936 in 2009.
Revenue grew even as Glass slashed ticket prices for college students and anyone under 18. In some cases, it was a $13 to $15 price reduction. He took down the nets that kept footballs from going into the stands after kicks and launched Knothole Park at the stadium's south end for kids. IU's Kelley School of Business was commissioned to do marketing studies, and Glass thinks some of the ideas that resulted will drive attendance even higher this year.
A point of emphasis is engaging incoming students. Football players helped freshmen move into their dorm rooms this year, and the entire freshman class was invited to lead the football team out onto the field for its Sept. 2 home opener. Glass unveiled a $2 million scoreboard, the second-largest and most technologically advanced in the nation, he said.
Glass, a former partner in the Indianapolis law firm Baker & Daniels, has surprised some with his creative approach. Ironically, some IU supporters have criticized him for focusing too much on the side show and not enough on the main event.
"We're not trying to create the Roman circus where people aren't paying attention to what else is going on," Glass said. "I realize winning is the most critical marketing element. But I reject that we can't do anything until we start winning."
There's a solid argument that IU should try to win, but not at all costs.
After all, the Big Ten is one of the most generous when it comes to revenue sharing. With the Big Ten Network, IU brings in $15 million annually from TV revenue alone. IU stands to make another $2 million from the conference's championship football game, which will debut in 2011 at Lucas Oil Stadium, and there are other revenue-sharing mechanisms in the conference that have helped IU and Purdue remain in the black.
While Glass said he'll be aggressive in trying to build a winning football team, he also remains pragmatic.
"Are we going to be a dominant football power in the Big Ten? Probably not," Glass said. "But can we break into a BCS bowl game? Absolutely. I wouldn't be here if I didn't believe that."•
Please enable JavaScript to view this content.