Will The Center for the Performing Arts live up to the hype?
Few would envy the task singer Michael Feinstein accepted as artistic director of Carmel's new performing arts complex. The $500,000 contract, maybe, but the pressure? Maybe not.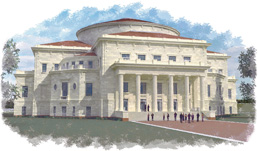 The Palladium, Carmel's new performing arts showplace, opens in 2011. (Rendering Courtesy of the Center for the Performing Arts)
Feinstein, who is in the second half of a two-year contract, was hired to fill the calendar with acts that will match the "world-class" quality of the new venues. With Carmel taxpayers footing the bill for more than $150 million in construction, plus startup costs, one can almost hear the collective thought: This had better be good.
"I think there's a lot of Missouri in central Indiana—'Show me,'" said Craig Gigax, owner of Meridian Music and a board member of several local arts groups.
Gigax, who also does business with the center, is understandably enthusiastic about the grand opening of The Palladium, a 1,600-seat concert hall. A gala fundraising concert Jan. 29 will feature Feinstein, jazz instrumentalist Chris Botti and Neil Sedaka. The grand opening week wraps up the following night with a classical concert by the Chamber Music Society of Lincoln Center and the Miro Quartet.
The Tarkington, a 500-seat proscenium theater, and a 200-seat studio theater will open next fall.
The center has already struck deals with a number of local resident companies, including Civic Theatre, which will move to The Tarkington from the campus of Marian University in Indianapolis.
The overriding sentiment among Carmel residents, however, is concern that the center will become a financial burden, Gigax said.
"Taxpayers are wondering if it's going to be a white elephant," he said.
Gigax believes his fellow residents will drop the taxpayer attitude once they start attending shows inside the grand hall.
"It is truly world-class," he said.
So, will Feinstein get them in the door? The center's managers will have an early indication in October, when they announce the lineup for the season February through June.
Center spokesman John Hughey declined to give early details but did say an orchestra will launch its national tour from the Palladium, and the lineup will include dance, country and jazz acts. Hughey also noted that NPR has announced it will tape an episode of "From the Top," which features national high school talent, on April 26.
The center is currently building its box office system and expects to begin selling tickets in November, Hughey said.
__________
Will audiences take to smaller opera?
Indianapolis Opera ended its last season on a low note by postponing "The Mikado," but that move is also what ensured IO's existence.
Opera supporters apparently agreed that, given the economy, the postponement was a wise move. Rather than demanding their money back, most season subscribers either donated the price of the ticket, or opted to have it applied to this year's season.
"We thought it was a vote of confidence," IO spokeswoman Nancy Brown said.
IO returns this fall with Gilbert and Sullivan's Mikado, as promised, plus "La Traviata." There's still more room for downsizing, though. Rather than mounting a third full-scale production at Clowes Hall, IO will stage "La Tragedie de Carmen," director Peter Brook's adaptation of "Carmen," at the Basile Opera Center next spring.
As Executive Director John Pickett explained in a letter to supporters, the chamber-size production will be a "distinctively different experience from being separated from the artists by an orchestra pit and rows and rows of seats.
"Smaller operas are successful because the audience is sufficiently close to the artists to enjoy vocal and visual nuance," he wrote.
The Tony-award-winning Carmen adaptation is the first example of IO's including a smaller-scale show on the season ticket.
If opera fans agree that the up-close experience is worthwhile, they might well see them in future seasons. As Brown noted, the average cost of production at Clowes is $325,000, but ticket sales cover less than one-third of the cost.
The Basile center, a former Greek Orthodox church slated to become IO's headquarters, means significant savings. IO's budget for the 2011 fiscal year ending June 30 is $2 million, down from $2.3 million last year.
__________
When will Indianapolis City Ballet launch its own troupe?
When it comes to bringing big names in ballet to Indianapolis, it would be hard to top the effort launched in 2009 by Jane Fortune and Robert Hesse.
Indianapolis City Ballet's first "Evening with the Stars" proved to be a spectacular event. The not-for-profit ballet group—we wouldn't call it a company, since it doesn't yet employ any dancers—continued its presence by bringing big-name instructors to local dance schools for a series of master classes.
With another "Evening with the Stars" scheduled for Sept. 11 at the Murat Theatre, Indianapolis City Ballet is shaping up as a ballet producer. Will it ever form a company and launch a tour, as Hesse originally envisioned?
Well, Executive Director Kevin Hesse (Robert Hesse's son) is working on that. The short answer is that he expects it to happen in 2012.
"We're stuck because we don't have a theater we can go to," Hesse said.
City Ballet's plans seem to change by the week because of that very problem. It's not that there are no stages in Indianapolis, but venues with the right number of seats are already booked by existing programs. The Indiana Repertory Theatre, for instance, shares its stage with Dance Kaleidoscope.
Hesse canceled his plan for a spring production in 2011 because he didn't want to overlap or crowd out events at Clowes Memorial Hall, which hosts the Butler Ballet and will present the Joffrey Ballet in early April. Plan B? Fall 2011 will bring back-to-back shows. Hesse is planning a repeat of the all-star show, followed by one featuring "stars of tomorrow."
Indianapolis City Ballet formed with the hope of bringing back professional ballet, but with a different business model. Instead of forming a resident company and expecting the local community to support it, Robert Hesse, a former Joffrey Ballet administrator, envisioned a touring group that would launch here but pay its bills on the road.
Kevin Hesse is still pursuing that model, but the details are in flux. The latest plan, he said, will be suited to the relatively large size of available venues, the Murat or Clowes. He's now planning a production with 20 to 26 dancers that would cost $1 million to $1.2 million.
To make the numbers work, Indianapolis City Ballet would then have to hit 60 to 80 cities, adapting its show to theaters ranging from 900 to 1,500 seats, Hesse said. "This has to appeal to even the college-size town."
__________
Will movie-theater mergers drive up ticket prices?
If you are used to the pricing strategy at Kerasotes theaters, the recent acquisition by Kansas City-based AMC Entertainment Inc. will bring some changes.
AMC, the nation's second-largest theater chain, isn't afraid to hit the $10 mark for weekend night shows. If you're a movie addict, and you happen to work nights, AMC has a deal for you: All shows Monday through Thursday are $5.
We're not sure how long this scheme has been running, or how long it will last. Justin Scott, a spokesman for Kansas City-based AMC, said he wasn't allowed to comment on pricing or policies, for competitive reasons.
Chicago-based Kerasotes was the dominant player in Indianapolis with four theaters. The acquisition won't give AMC, which had two theaters, a death grip on the local market, however.
According to a May order from the Justice Department, AMC had to sell its 14-screen theater in Greenwood, as well as one of two others on the north side, the 14-screen house in Castleton or Kerasotes Showplace 12 in Glendale.
Regal Entertainment Group promptly bought the Greenwood theater, where an evening show will cost an adult $9.50. As of IBJ's deadline, AMC had not decided which of the north-side holdings it would sell, and Scott did not respond to an inquiry about the company's plans.
AMC and Regal are among the companies planning price hikes nationwide, according to Richard Greenfield with the New York-based trading firm BGIT. Greenfield told CBS earlier this year that prices will rise modestly for traditional-format movies, but substantially for 3-D flicks.
__________
Will new faces at the podium excite classical music audiences?
Joana Carneiro, top, and Juraj Valcuha, bottom, are among the conductors leading ISO concerts for the first time. (Photos Courtesy ISO)
The Indianapolis Symphony Orchestra led off the announcement of its 2010-2011 season by noting that it includes appearances by 17 different conductors.
Regular concert-goers who are eager to see the ISO hire a new full-time music director might take note of who's at the podium. Will anyone choose their dates for that reason?
Retired ISO musician and historian Tom Akins thinks the ISO's management, now in its second year of the search to replace maestro Mario Venzago, has done an excellent job of putting top talent on the guest roster. For most people in the audience, he said, "Chances are, they don't know these names."
Akins said he's enthusiastic about the return appearances of Mark Wigglesworth and Jun Markl.
The season includes four first-time appearances of Joana Carneiro and Juraj Valcuha as well.
Whoever lands the permanent job, Akins hopes it's someone with a worldwide reputation that will affirm the quality of the ISO's musician talent.
"We need that here in our community," he said. "You need somebody who is a star."•
Please enable JavaScript to view this content.