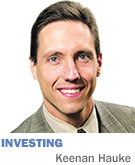 The term "guru" (originally from ancient Indian culture) has long been used as a description for someone who is at the peak of the Wall Street ladder. This person has the keys to the stock market, and owns the lock!
After 16 years in this business, I don't know anyone like that. But in the spirit of setting the audacious goal of becoming the next "guru," I looked back in history again to see if I could unearth a set of keys we can use on our journey.
I went back to ancient Greece and Rome and found long-running philosophical discussions about The Virtues. According to ancient western civilization, a virtuous person is someone who lives a life of moral excellence. The foundation of this person's character are the big four: prudence, temperance, fortitude and justice. A few additional major virtues are perseverance, tenacity, discipline, frugality, sternness and industriousness.
The Greek philosopher Plato believed that a virtuous person represented all the traits as one. A disciplined person acting without temperance is a contradiction, he thought. I believe that, for the most part, human nature is a giant contradiction, but I also think there are genuine lessons we can learn from the virtues that we can use in the stock market. After all, the ancients had everything figured out, didn't they?
The two virtues that pop out first for me are discipline and sternness. The Greeks defined sternness as self-control. These are two sides of the same coin. I believe there are several ways to skin the market cat, but when you find something that works you need to be disciplined enough to stick to it. The self-control aspect is especially true today with our hectic lifestyles. We are constantly bombarded with temptations to look at and we do something else. While flexibility and adjustments are always necessary, you should be slow to change the core of what works. Undisciplined investors are always chasing the hottest thing and usually buying at the top and selling at the bottom.
I also like tenacity and industriousness. These go along with the hard-work aspect of life. While some people create wealth at different rates than others, few people would say their road to riches was easy. You have to work hard, not just sometimes, but all the time. With investing, the hard work usually comes from long hours spent screening and reviewing investment options and studying the history and intricacies of whatever option is under consideration. We aren't talking about an impulse buy at the Gap. If I am going to get to the mountaintop, I am pretty sure I will have to work hard.
There is one more virtue that may escape a lot of attention, but it could be the one that puts everything else together. Frugality was described as economy and simplicity of style. Living a simple, unencumbered life allows you to make decisions based on the best risk-to-reward ratio possible as opposed to making an investment because you think you have to.
Combine these virtues and exercise them whenever you think about investing. Think about it from Plato's perspective and use all of them to become one complete investor.
As for a little current market action, I read last week that the number of investors who are bullish just matched the lowest level seen at the last bear market in March 2009. A famous but structurally flawed indicator called the Hindenburg Omen flashed a signal that the stock market would crash by the end of September. Day-to-day ups and downs are one thing, but I would seriously question the probability of a selloff of crash magnitude.•
__________
Hauke is the CEO of Samex Capital Advisors, a locally based money manager. His column appears every other week. Views expressed here are the writer's. Hauke can be reached at 203-3365 or at keenan@samexcapital.com.
Please enable JavaScript to view this content.