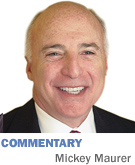 Like most veterans of the entrepreneurial wars, I have made mistakes. That propensity is magnified by the higher-risk profile I have chosen—startups and turnarounds, both treacherous undertakings.
To create a disciplined investment philosophy, I evolved from my experience, "The Ten Essential Principles of Entrepreneurship You Didn't Learn in School"—at least I didn't learn them in school. Over the course of 10 columns, I will feature each of these essential principles. This is the sixth installment.
Control
(A minority shareholder in a closely held company is lower than a snake's belly.)
A number of years ago, a close associate and I invested in a startup radio broadcasting company. We insisted upon owning a controlling interest. The minority operating partner was a brilliant and creative radio junkie. Under his leadership, the company grew and prospered, but as it did we bickered over how fast we should expand and at what risk. I was much too conservative to suit this ambitious entrepreneur. Breakups are often inevitable in business partnerships and when it became clear that we were at an impasse, we agreed to terminate the arrangement.
The operating partner offered to purchase our interest and that was satisfactory to us. After all, he had his soul in the business. It was just a matter of price. He offered half the value of what I thought our shares were worth, and if we had not controlled the majority of the stock, we would have had little choice but to take the offer. From a position of strength, I insisted that we obtain an independent appraisal. The agreed-upon appraiser then valued our stock at more than twice the offer made by the operating shareholder. We were able to derive full value for our stock and only because we owned controlling interest in this closely held corporation.
I did not learn the control principle in school. I learned it early in my legal career when a distraught lady sought my advice. She had opened a pie shop with her best friend. Their attorney suggested that for the sake of efficient governance one of them should be president and hold 51 percent of the voting stock. They flipped a coin. When the pie company started rolling in the dough, the majority shareholder gave her minority partner the boot.
Just this year, a similar tearful story was recounted by a family that accepted a minority interest in a retail franchise when they could have easily affected a 50/50 split with their business partner, a neighbor and supposed friend. If you think best friends can't have problems when they go into business, even when the business is successful, I suggest you rent a copy of Humphrey Bogart's "The Treasure of the Sierra Madre" (1948).
Lawyers will advise you that provisions can be written in documents to prevent the subjugation of the minority partner. That is true, but only to a certain extent and not without a great deal of complicated and expensive paperwork. Regardless of the competency of the attorney and the care taken to protect the minority interest, vulnerability is ever present.
If because of your inferior bargaining position you must take a minority interest, at the very least negotiate protections and ensure that either you have a right to acquire the majority interest or that your exit course is clean, fair and clearly described.
Decisions made at the organization stage of a new venture are often the most important that will be made in the entire life of the company. Make them carefully, especially regarding governance and control.
In an earlier column, I discussed the importance of the people principle in making a business decision. Even if you think you got that right, subscribe to the thinking espoused by our Arab brethren, "Trust everyone, but always tie up your camel."
Control—did you learn that in school?•
__________
Maurer is a shareholder in IBJ Corp., which owns Indianapolis Business Journal. His column appears every other week. To comment on this column, send e-mail to mmaurer@ibj.com.
Please enable JavaScript to view this content.