If anything has been a constant in the ongoing revitalization of Indianapolis' downtown, it's been growth of the convention trade.

The Indiana Convention Center has undergone a series of expansions since opening in 1984, and contractors are in the final stages of a $275 million addition that has engulfed the former site of the RCA Dome.

However, when dignitaries go their own ways after the ribbon-cutting in January, they might find themselves quietly pondering a perplexing question: What's next?

The expansion has absorbed the last of the adjoining space, leaving the convention center landlocked. If Indianapolis wants to launch another expansion, there's no obvious place for it.

But think about it, promoters must.

"In order to compete, there might be thoughts of another phase," said Debbie Locklear, president of locally based Meeting Services Unlimited Inc. "I think there is more growth potential."

Under way since the demolition of the dome in 2008, the current expansion will push the Indiana Convention Center over the 1 million mark in total square footage. Through the new entrance on Capitol Avenue attendees will have access to an additional 254,000 square feet of exhibit space, 63,000 square feet of meeting rooms, and 100,000 square feet of pre-function space. Previously, the building covered 725,000 square feet.

At the same time, the nearly completed J.W. Marriott Hotel will offer 1,005 new rooms directly connected to the convention center. When those rooms come online, Indianapolis will have 4,700 total hotel rooms linked to conventions halls.

The current expansion is the third and largest in the center's history. The original meeting space, exhibition halls and, most notably, the Hoosier Dome, were built at a cost of $94.7 million. The most recent renovation, in 1993, cost $43 million.

The latest growth spurt pushes Indianapolis beyond such Midwestern counterparts as Cincinnati, Louisville and St. Louis, and is expected to help it vie with larger destinations—Denver, Minneapolis, Washington, D.C., and even Chicago—for super-sized conventions.

But it might not be enough to stay in the game long term.

In April, the San Diego Convention Center unveiled plans for a $753 million expansion as that city works to keep its status as one of the premier convention destinations in the country. By adding 1.2 million square feet to its existing 2.6 million, the San Diego Convention Center will dwarf Indianapolis' 1.2 million square feet.

The Phoenix Convention Center recently underwent a $600 million expansion that nearly tripled its exhibit space to 880,000 square feet. Denver's Colorado Convention Center got a $310 million upgrade in 2004.

"Denver, Phoenix, San Diego, Los Angeles … every one of those cities is probably on its third or fourth or fifth generation of expansion," said Don Welsh, president and CEO of the Indiana Convention and Visitors Association.

One of the biggest selling points Indianapolis convention officials bring to the table when courting large gatherings is the compact and easily walked nature of the Hoosier capital.

Local officials are reluctant to discuss the distant future before the current expansion opens, but they don't deny that the question of another expansion will need to be addressed.

"If you look back at what Indianapolis has done with its infrastructure over the last 20 or 30 years, we keep building on things," Welsh said. "Once we get this building up and running, we're going to be directing our attention to the next phases."

Deciding where to push an expansion wouldn't be easy.

Convention centers rarely are expanded upward, and the Indiana Convention Center already stands at three stories.

To the west lies Victory Field, a 14-year-old facility often described as a jewel among the nation's minor-league baseball parks.

Looming to the north are a parking garage, the Westin and Marriott hotels, a small park and a tower, housing Simon Property Group Inc.'s headquarters.

East of the convention center is Pan Am Plaza, which includes a tower housing several amateur sports organizations, and a parking garage.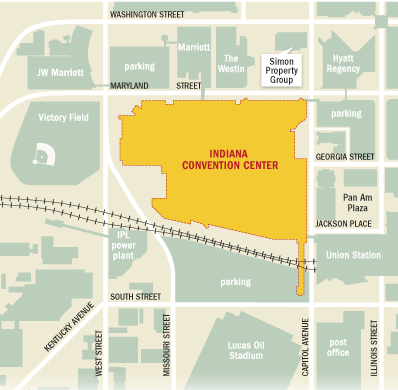 To the south lie busy railroad tracks and Lucas Oil Stadium. A triangle-shaped area now covered mostly with parking lots lies between the tracks and the stadium.

Welsh and others are unwilling to speculate if the area could serve as expansion space or if any existing structures in the near vicinity could make way for more growth.

Tamara Zahn, president of the Indianapolis Downtown Inc. promotion group, said, "The downtown community is always attempting to think strategically about how we stay competitive. In the short term, we are completely focused on getting the convention center open."

The next couple of years will be crucial in determining how quickly the increased convention space and new influx of hotel rooms are absorbed. Without knowing when the economy will recover, the success of the improved convention center remains to be seen.

"What Indianapolis needs to do is take a look at how this expansion affects economic growth before seriously considering investing this kind of money again," said Locklear, the convention planner.•