Don Lundy's first day at WRTV-TV Channel 6 started with viewers in an uproar because the station's previous general manager had axed popular weatherman Bob McLain as part of a salary dump. Nine years later, as Lundy prepares to retire, he thinks—hopes—he has a plan that leaves the local ABC affiliate far better than he found it and poised to grow.
Specifically, Lundy points to his new anchors, Chris Pisano in the morning and Todd Connor at night, and new morning meteorologist Julia Sandstrom, who he believes bring "gravitas" to their broadcasts. He cites research showing that viewers like the station's aggressive, consumer-oriented reporting, and says that after years of spending little on external promotions, Channel 6 now roughly matches its competitors.
"I do think we have a good story," the 64-year-old Lundy said, "and it feels good to retire after 30-plus years with McGraw-Hill on such a high note."
Lundy
For the first two weeks of September, at least, Lundy's right. The station's news ratings are up 11 percent to 29 percent compared with July viewership.
Competitors and observers, however, will tell you WRTV's ratings had nowhere to go but up. The station remains mired in third place during most newscasts—and sometimes fourth in the mornings. Even at 7 p.m., when Channel 6 has the only local newscast, it's far behind "Wheel of Fortune" on WTHR-TV Channel 13 and even trails "Inside Edition" on WISH-TV Channel 8.
They also will tell you that, after years of turnover—Todd Connor is the station's third male nighttime anchor since Clyde Lee left in 2001—Channel 6 has a lot of work to do to re-establish the strong identity it had in the 1990s.
"Indy is not a Sun Belt market where you have a lot of people moving into the market and an opportunity to win viewers just because they're new," said Rick Gevers, a locally based agent for on-air news people (none currently on Channel 6).
"Here, a lot of people have grown up watching particular people and like them and continue to do that. So instability has probably been one of the things WRTV has struggled with over the years."
The ratings are a drag on WRTV, since advertising during local newscasts typically generates 40 percent to 60 percent of a network affiliate's revenue. Ad rates vary based on myriad factors, including the strength of lead-in programming. But buying a 30-second spot on Channel 6's 11 p.m. news in November would cost roughly $500, the station said. The same time on market leader WTHR would cost $1,500, a Channel 13 spokesman said.
Talent exodus
Lundy said Channel 6 still has plenty of work to do, and he also looks back at work that should have been done. He took over a station that had Oprah at 4 p.m. but let her go to Channel 13.
"I wish I had been here when we had her show," he said. "I would have fought really hard to keep it." (He does have "Judge Judy," the No. 2 show from 4-5 p.m. weekdays, signed through 2013.)
Around the time "The Oprah Winfrey Show" moved across the dial, Channel 6 lost Clyde Lee, Diane Willis and sports anchor Ed Sorenson, and McLain was unceremoniously cut. That left Channel 6 with an all-new anchor team.
That was just the beginning of the turnover that saw the station swap veterans for younger, presumably less-expensive talent.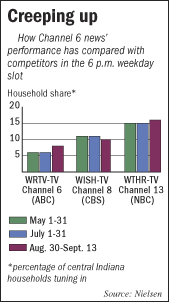 "Since 2001, WRTV has had 15 anchor changes—that includes morning and weekend anchors, sports anchors and meteorologists," Lee said in an e-mail that listed names including Paul Poteet, Martha Weaver and, most recently, Todd Wallace. "There may be more—but at least 15 changes in nine years. That is an incredible number of changes in a news operation during that time span."
While Channel 6 benefits from some of the best and best-known TV reporters in the city, including Jack Rinehart, Norman Cox and Rafael Sanchez, "the churning of personnel as 'front line' staff makes it difficult to retain loyal viewers," Lee added. "It makes it even more of a factor when you take into account that the other news operations in the market have been very stable."
Lundy acknowledged as much.
"This is a town that really values stability," he said. "That caused some issues for us."
Big-city experience
The station's new anchors all come from large markets. Todd Connor reported and anchored for Fox News and ABC News. He also has Midwestern roots: He's an Illinoisan who's worked in Terre Haute and South Bend. Morning anchor Chris Pisano comes from Kansas City, and morning weather anchor Julia Sandstrom has worked in Seattle and San Francisco.
Bringing in experienced anchors is part of the station's new aggressiveness. Lundy said that trait can be traced to the appointment of Darrell Brown as president of McGraw-Hill Broadcasting in July 2008. New York-based McGraw-Hill owns four stations—in San Diego, Denver, Indianapolis and Bakersfield, Calif.
"He brought a discipline to the station group of spending money on customer research and outside promotion to increase 'share of voice' in the market," Lundy said. "That, along with support for some personnel hires, have been positives."
Lundy said WRTV previously wasn't "as aggressive as we could have been" in doing research and "had been significantly outspent by our competitors in outside promotion.
"That's not happening anymore," he added. "I would, in hindsight, blame myself for not pushing for more research."
Research, he said, has revealed, among other things, that viewers like the "watchdog" reporting done by established veterans like Rafael Sanchez and Norman Cox as well as relative newcomers Joanna Massee and Kara Kenney.
And with strong entertainment programming throughout the day (including the addition of Oprah acolyte Nate Berkus at 10 a.m. and ABC's strong prime-time lineup), Lundy said the station is now in the midst of what it has needed to do for a while: Do the research, devise a plan, put the plan in place, and monitor to make sure it's going well.
Inside the newsroom, the staff remains hopeful.
"We embrace the changes that will make us better," said Sanchez, the union steward for the station's reporters and a 12-year employee of Channel 6. "We want to succeed. If these folks can help us, then fantastic."
Clyde Lee, who spent 25 years at Channel 6 and now owns a public relations firm with wife Diane Willis, said he hopes to see some stability at his old station. But he also expects the new general manager who takes over for Lundy early next year to have his own agenda—which could mean more change.
"Change is good, but not at the expense of viewer loyalty," Lee said. "Diane and I still have loyalty for and friendships at Channel 6, and we wish them well."•
Please enable JavaScript to view this content.