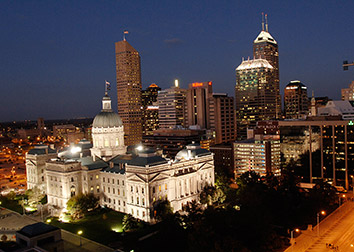 Legislators say they're ready to revamp a new law that requires everyone, regardless of age, to show a photo ID when buying carryout alcohol.
The requirement, which was included in a larger bill covering Indiana's liquor laws, has been ridiculed since it took effect July 1.
Rep. Charlie Brown, D-Gary, said he had no idea the measure was included when he voted in favor of the bill.
"We all must have been asleep at the switch on that one," Brown told the Post-Tribune for a story Monday. "Here I am 70-some-years-old and I walk into a liquor store and have to show an ID?"
The new law applies to liquor stores, convenience stores, pharmacies and supermarkets but not to restaurants, bars and other businesses where customers drink the alcohol onsite.
While the state convenience store association said the new law meant cashiers no longer had to make judgment calls about a customer's age, legislators and liquor store workers say they've heard many complaints.
"Everybody thought it was the stupidest thing they ever heard," said Connie Evans-Jenkins, an employee of Pete's Liquor Bucket in Merrillville. "They were mean. They called us names. They were very ugly."
Valparaiso liquor store owner Lucas Eleftheri said he's had to refuse service to longtime customers simply because they came into the store without their driver's license.
"In the very beginning, it was pretty bad," Eleftheri said. "Carding people in their 70s and 80s. I don't know."
Sen. Jim Merritt, R-Indianapolis, said he would propose changing the law to have clerks check the ages of customers who appear younger than 40.
The revision to the law could push that to even a younger age than that, said Rep. Chet Dobis, D-Merrillville.
"At some point a law becomes a burden," said Dobis, who has been a legislator since 1970. "This doesn't make sense. It's dumb and unintended."
Please enable JavaScript to view this content.