A Brownsburg strip center organic eatery serving llama, yak, antelope, wild boar and alligator?

The prospect of such exotic fare led us to Main Street Organic Bistro (922 E. Main St., 286-3523) as the first stop in a month of "street" restaurant reviews.

Unfortunately, the llama, yak, antelope, wild boar and alligator were apparently on the endangered food list at this new, attractive eatery (as were the organic sodas).

"We'll have the game again in a few weeks," said our server, leaving us with only familiar meats to choose from for lunch.

But there were still surprises to be had. Among the available Build Your Own Burger toppings (with no upcharge from the standard $7) were tzatziki, black olive, red peppers, cucumber and, our choice, raspberry and kiwi. To our surprise, the fruit blended nicely with the flavors of the organic, locally raised turkey. A beef burger proved delicious as well. And while the Bison Stromboli Sandwich ($6.95) was equally satisfying, we're not sure why it was labeled a Stromboli. Arriving on a long bun, it featured seared Indiana bison, provolone cheese, just enough marinara sauce to flavor and moisturize it without making it too messy, and fresh onions, all baked on a pizza stone.

The sandwiches were served with fresh potato chips—good ones—but our sense of adventure led us to supplement those with Celery Root Chips ($7), pale, crunchy discs that may not challenge potato skins and fries for munchability, but nonetheless made for a tasty change. Goat Cheese Nuggets ($7) were thick and lightly breaded and fried.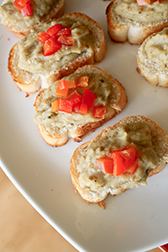 Middle Eastern favorite Baba Ganoush gets the organic treatment in Brownsburg. (IBJ Photo/ Perry Reichanadter)
The vegetarian among us took pleasure in the Baba Ganoush ($12), a plate of creamy eggplant and anisette red peppers, artfully arranged. Half the size (and price) would have made it an ideal appetizer. She sided it with our meal's only disappointment, Roasted Red Pepper Couscous, which was clumpy and unsuccessfully reheated (the plate arrived warmer than the food). If it's that far beyond repair, we should have just been told the kitchen was out of it. That wouldn't have been a shock.

Next time we visit this creative bistro, we hope the game is in play. But if it isn't, we'll happily settle for another fruity burger or, wait, how did we miss the Bacon Candy Pizza ($13) featuring maple-sugar-coated bacon?•

—Lou Harry
__________

First in a month-long series of "street" restaurant reviews.