Two weeks after graduating from Butler University in May 2009, Tom Otero moved to Los Angeles to pursue a career in the television and film industry.
He sent out 250 job applications in five months and got one call-back, which turned out to be a pyramid scheme. By then, he had exhausted his savings and was forced to return to Indianapolis.
After holding a full-time position here for seven months, he was laid off, and has since been juggling three part-time jobs—working in a bookstore, operating a camera at sporting events, and developing an interior design website—often punching consecutive 16-hour days.
"The only thing I do when I'm home is sleep," said Otero, 23, a Cincinnati native who scripted and directed a couple of films in college.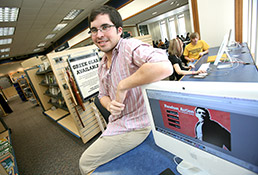 Tom Otero works at the Butler University Bookstore but also has two other jobs to help pay the bills. He graduated from Butler in 2009. Shown on the screen is his film series "Random Action." (IBJ Photo/ Perry Reichanadter)
His experience exemplifies the plight of many recent college graduates in today's labor market, haunted by the effects of the longest recession in the post-World War II era. In May, only one-quarter of 2010 college graduates who applied for a job actually received one, compared with more than half in 2007, according to a report by the National Association of Colleges and Employers.
Albeit a telling sign, the 9-percent unemployment rate among college graduates younger than 25 is just part of the story, said Kathryn Edwards, a researcher at the Washington, D.C.-based Economic Policy Institute who specializes in young adult economic issues. About as many college graduates of all ages also are plagued by underemployment, working jobs below their skill level. Still others are "malemployed"—with jobs unrelated to their studies—or "disconnected," not employed nor in school.
This disparity between workers' qualifications and their actual jobs, referred to as an "education-occupation mismatch," is more than an inconvenience, said Denvil Duncan, an assistant professor at the Indiana University School of Public and Environmental Affairs who focuses on labor economics.
"There is a penalty, basically," Duncan said. "It has an impact on wages and income, especially with bills needing to be paid off."
Delayed start
For a graduate, the years immediately following college have the most influence on lifetime earnings, Duncan and Edwards said. A recent grad often has fewer ties, such as a spouse, children or a mortgage, allowing for more job-related mobility.
Edwards' EPI research referenced a study that found, on average, workers hold seven jobs in their first 10 years in the labor market, largely fueled by opportunities to increase earnings. Yet the current environment hasn't allowed for such growth, she explained.
"If you consider the first 10 years after graduating to be a ladder, the recession ladder can move up and down," she said. "When the job market locks up, opportunities for mobility decrease, so how do you move up the ladder?"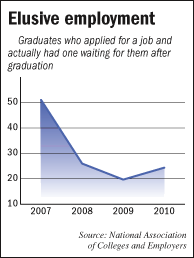 On average, recent graduates working in jobs not requiring a college education earn 30 percent to 35 percent less per year than those with jobs requiring a degree, according to research from Andrew Sum, director of the Center for Labor Market Studies at Northeastern University in Boston. Combine that with statistics from finaid.org stating that two-thirds of 2007-2008 bachelor degree recipients left school with debt—about $23,000 on average—and the uphill climb of a recent graduate, unemployed or otherwise, becomes clearer.
Those who graduate during a recession can take home lower-then-expected wages for 15 years after college, according to research done by Lisa Kahn, an assistant professor of economics at the Yale School of Management. Kahn studied the employment of white, male graduates during and after the recession of the early 1980s. Her research shows that, during a recession, wages can be 8 percent lower than "normal" the first year after graduation and remain more than 4 percent lower a decade later.
"Young people are vulnerable," EPI's Edwards said. "Not only are they some of the most indebted, but they also have some of the worst savings rates."
It's little surprise, then, that today's new graduates are part of the so-called "boomerang generation"—coined to refer to young people moving away from home for schooling, only to return upon graduation. In fact, 13 percent of parents with grown children surveyed by the Pew Research Center last year said one of their sons or daughters had moved back home in the previous 12 months. All told, 18 million Americans under the age of 30 were living with their parents in 2009, a quarter of which were unemployed, according to the Pew report.
After graduating from Hanover College this spring, 22-year-old Zach Giddens moved back in with his mother in New Palestine with few job prospects and unsettled debt.
Giddens, an exercise science major, hasn't found work within his field or gotten an interview from any of the other positions for which he's applied—at UPS, FedEx, Best Buy, Marriott Hotels and Dow Corning. For now, he fills in as a substitute teacher about once a week.
His daily routine is monotonous—looking for jobs online and helping his mother, Jenny, around the house.
"There are some days where it's just hard to get up," Giddens said. "It's like, 'Man, I'm just going to do the exact same thing as yesterday.' It's boring. I'm at the age where I'd like to live on my own, but financially, I just can't afford to do that."
What you know won't hurt you
Indeed, the economic struggles of the college-educated should be considered on a broader scale as a greater "American problem," said SPEA professor Eugene McGregor, who studies the relationship between education and economic development.
The country's long-standing reliance on manufacturing jobs has contributed to the problem, McGregor said. Although college enrollment is at record levels, the job market hasn't quite kept pace.
"Education has become the oil of the post-industrial economy, of the knowledge economy," he said.
Currently, 30 percent of the work force has graduated from college.
What McGregor sees necessary for a flourishing post-recession economy are workers with transferable skills, specifically the abilities to communicate across various platforms and media, to have a creative instinct for innovation, and to maintain global awareness.
And considering 90 percent of college graduates will work in a job not pertaining to their major, having versatile skills is vital, said Alexandra Levit, a member of the Business Roundtable's Springboard Project, which advises the Obama administration on current workplace issues.
"I don't think [taking a job away from one's degree field] is that bad of a thing," Levit said. "A recent graduate has to say, 'I'm 22 years old. I'm probably not going to find the perfect job.' It gives them the opportunity to get to know more transferable skills, and more about themselves."
Finding the right career is a process of elimination, said Gary Beaulieu, director of the Internship and Career Services office at Butler.
"It might not be your perfect job coming out of college, but it might lead you to it," he said. "It's an opportunity to learn new skills and find what jobs you like and dislike."
Changing perspective
Since the recession began almost three years ago, alternative post-graduate options have become increasingly popular. AmeriCorps, the domestic equivalent of the Peace Corps, recently received a $6 billion federal investment for the next five years, allowing the program to more than triple enrollment to 250,000, according to the U.S. Committee on Education and Labor.
Teach for America, the renowned not-for-profit educational organization that places new graduates in classrooms, had more than 46,000 applicants last year, about three times the number received in 2007. It was the No.1 recruiter on the IU-Bloomington campus this spring, said Patrick Donahue, director of the university's career development center.
Given the growth of these programs, there seems to be a movement toward public service for recent graduates, said Pat O'Donnell, executive director of Teach For America in Indianapolis, which increased its capacity to 73, up 46 percent from last year.
Lear
After graduating from Butler in May with degrees in English and Spanish, Christina Lear began teaching at Arsenal Technical High School in Indianapolis through Teach for America. It's been a challenge, but she said she has grown as a result.
"Essentially, I'm managing over 100 kids, learning organization skills, leadership, investment, working with administrators," she said. "As a recent graduate, to have that responsibility in my job is special."
Before graduating, Lear, 22, was able to gain experience, network and learn new skills by working with Nuvo newspaper and IndyFringe theater festival—exposure that Beaulieu, the career services director, said is becoming fundamental to professional success.
"It's all about changing thinking," he said. "Networking, not pointing and clicking, is so much more critical than it ever has been."
That's what 2009 IUPUI graduate Jenny Streif came to realize. Starting the job search last fall with a degree from the Herron School of Art and Design, she would submit five to 10 applications every few weeks through Internet job sites, to no avail. Either the position required years of experience, or she received no feedback whatsoever.
After a year-long search, Streif found a full-time, entry-level job designing newspaper ads for Gannett Co. Inc. Nonetheless, the job search has clearly changed, she said.
"Now it's about trying to better search for things beyond [online job sites]," said Streif, 24. "You need to get to the source."
Landing a good job—even if it's not perfect—is important since past work and school experiences largely dictate future employment opportunities, EPI's Edwards explained.
That's why the rising number of disconnected youths—those not enrolled in school and not employed—is particularly troubling. Since the start of the recession, an additional 1.2 million people ages 16-to-24 fall into that category, meaning "no progression along the employment path," Edwards said.
That period of immobility could have lasting effects, said Duncan, the SPEA assistant professor.
"In essence, it's lost time," he said. "You can't build on any sort of experience, and the question becomes, how much will employers penalize you for that gap in your curriculum vitae?"
'Don't slow down, just keep going'
All told, Edwards said what recent graduates need is simple: a real economic recovery, complete with job gains.
The federal government's economic stimulus efforts haven't created as many jobs as expected, but some signs suggest that brighter days are ahead for new grads.
Beaulieu, the career services director, said that 53 percent of Butler's spring graduating class had full-time employment. While this undeniably bucks the 25 percent nationally found by NACE in May, the organization released a report in early September indicating that college hiring is expected to increase 14 percent for the class of 2011.
Freedman
Butler grad Liz Freedman, 23, who studied Spanish and business before also receiving her degree last year, advises her unemployed peers to keep at it: "Don't slow down, just keep going."
In the months before and in the year after she graduated, Freedman took unpaid internships at WFYI radio station and the Eiteljorg Museum of American Indians and Western Art, worked at The Children's Museum of Indianapolis and as a waitress, found a three-month grant-funded position at Ivy Tech Community College, and continued to create relationships through interviewing.
Knowing that she wanted to pursue a career in higher education, she connected with people at her alma mater to learn about entering the field, and checked for job postings each week at "every college in the Midwest."
When a position opened at the Butler career services center, a recruiter remembered Freedman from an informational meeting and, after an interview for the job, she was given the position.
"Patience," said Freedman, now three months into her first full-time job. "I have a lot of it now."•
Please enable JavaScript to view this content.