Customized clothing is not a new offering for shopping malls. Airbrush and embroidery kiosks have been churning out one-of-a-kind T-shirts, sweatshirts and hats for years.

But Indianapolis-based athletic retailer The Finish Line Inc. is hoping to redefine the genre with a touch-screen T-shirt customization kiosk the chain is testing at its Greenwood Park Mall store. The company expects to roll out similar kiosks at around 20 stores in the next year.

Choose your size and color. Pick up to three graphics from a selection of: original art refreshed every 30 days; team logos including those of local high schools; and punchy slogans such as "skilled at every position" and, "Does this shirt make my butt look FAST?" Add a name or number. Touch print.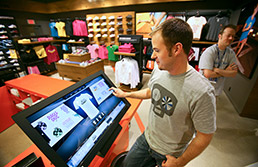 Michael Lunsford from The Finish Line in Greenwood Park Mall demonstrates how to make a custom Nike T-shirt. The kiosk is part of a new store-within-a-store concept called Nike Track Club. The shirts cost about $30. (IBJ Photo/ Perry Reichanadter)
With an assist from a Finish Line team member, your custom Nike T-shirt will be ready in 15 to 20 minutes.

The customization kiosks, which look like oversize iPads, welcome customers to a store-within-a-store called Nike Track Club that features an assortment of Nike running shoes and apparel offerings. It has walls made of gymnasium bleacher planks, and locker-room benches.

Finish Line and Nike have been working on the concept for more than a year (with help from a New York City-based creative agency called Steady) and are testing various sizes up to 1,800 square feet in seven locations. Only the store in Greenwood and another in Orlando, Fla., have the T-shirt customization kiosk so far; the chain's store at Metropolis in Plainfield has been outfitted with a smaller version of Nike Track Club.

Nike was a natural partner on the project: About 60 percent of Finish Line's inventory is adorned with the trademark "swoosh."

Finish Line and Nike do not plan to offer a similar customization experience on the web.

"This was really about us creating an experience for the customers in the mall," said Finish Line Chief Merchandising Officer Sam Sato. "E-commerce is a significant part of what we do, but the engine that drives our company is our mall stores. We felt it important to evolve and upgrade the store experience."

The initial results have been encouraging, Sato said, clinching the chain's decision to roll out Nike Track Club to 300 more of the chain's 684 stores in time for the holidays. Only the biggest 20 or so stores will get the custom T-shirt kiosk.

The Circle Centre mall store will get a midsize version of the Nike Track Club before the holidays, but shoppers at the Castleton Square and Washington Square stores will have to wait until after. Castleton and Greenwood likely will be the only local stores with T-shirt customization stations. The shirts cost about $30.

Finish Line chose Greenwood for the test early this year because the store is large and is one of the chain's top Nike producers.

Finish Line officials would not say how much the chain is spending on the revamped stores or how much the new features are generating in revenue. The company plans to use more than $250 million cash sitting on its balance sheet to invest in the core business and potential outside growth opportunities, and to return cash to shareholders.

"This is one of our largest investments inside the core," Sato said of the Nike rollout. "We're thrilled with what we are seeing both financially and with the customer response."

Finish Line's new offering shouldn't cut into business too much for West Coast Airbrush, said artist Eddie Dean Hix, who has owned the Greenwood Park Mall kiosk for four years and worked there for 13.

He can work from customers' own designs or photos and doesn't have to select from Nike-sanctioned graphics.

"I can't do airbrush on Nike stuff, anyway," he said as he put the finishing touches on a sweatshirt for an Anderson Little League coach. It has miniature versions of each team member's jersey.•