There's a song in the musical "Chicago" called "Mr. Cellophane," in which a nondescript guy sings "You can look right through me/Walk right by me/And never know I'm there."

For our final visit to a "street" restaurant this month, I thought I'd pay a visit to the dining equivalent of "Mr. Cellophane," one of those nondescript eateries with nondescript names that pop up in nondescript shopping centers and somehow manage to survive and even thrive.

106th St. Grill (4335 W. 106th St.—that's behind the Walgreen's at 106th and Michigan Road, 876-9203)—does little to call attention to itself except place a few green shamrocks around its name.

Because of those green symbols, I started with a cup of Irish Stew ($2.95/$3.95), a chunky meat and potatoes warm-up that seemed a bit on the salty side, but became more interesting the deeper I got. Not much else on the menu is overtly Irish, so I jumped nationalistic ship and also tried the Classic Nachos ($7.95), which were a bit skimpy for a sports bar (106th St. Grill is also sort of a sports bar—I almost didn't notice the Indy car hanging upside down from the ceiling). A plus is that you can upgrade with seasoned taco beef, chicken or both for only a buck.

Irish and Mexican? Why not some Far East, too? The batter that wrapped the Tempura Shrimp ($14.95) may not impress in a Japanese restaurant, but combined with a spicy-enough-without-being punishing cocktail sauce, it was an improvement on the out-of-a-bag fried shrimp most bars serve.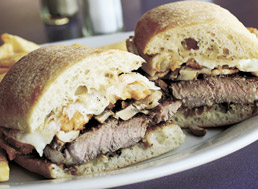 The fire-grilled Ciabata Ribeye upgrades the standard steak sandwich with a 9-ounce cut of meat. (IBJ Photo/ Perry Reichanadter)
The less said about the slathered-in-hot-sauce Buffalo Chicken Wrap ($8.95), the better (what happened to the "grilled to a golden brown" promised on the menu?). However, a Half Pound Angus Burger ($7.95) made clear that those looking for bar basics shouldn't be disappointed here (although the onion rings were only fair). Even better was a Grilled Ciabata Ribeye ($9.95)—although a little bit of trimming from the kitchen would have helped. One too many pieces of fat kept this steak sandwich variation (complete with 9-ounce, fire-grilled-to-order meat with fried onions, sautéed mushrooms, provolone cheese and garlic aioli) from being a destination sandwich.

If you're in the neighborhood though, stop in … if you don't drive right by.•

__________

Last in a month-long series of "street" restaurant reviews.