Danica Patrick was voted the most popular driver in the Indy Racing League and Pippa Mann won the honor among drivers in the Firestone Indy Lights, the IRL's primary feeder series.

The awards were determined by votes of fans at Indy Racing League events throughout the season and on indycar.com. Indy DownForce, the Indy Racing League's official fan club, facilitates the balloting.

It was the sixth straight most-popular driver award for Patrick.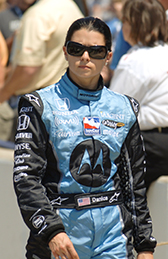 Danica Patrick has been voted the IRL's most popular driver for six straight years. (AP Photo)
"I'm very flattered that I've received this award once, let alone six times," Patrick said. "Every person has the ability to pick their favorite driver, and it can change, so it's a real honor to receive an award from the fans."

In a disappointing season on the track, Patrick, an Illinois native now living in Arizona, had just three top-five finishes, eight top-10 finishes and no victories in 17 IRL starts. She didn't qualify for any pole positions and led only one lap.

Mann was honored by the fans for the first time. Mann has been noted for her fan interaction and use of various social media platforms to gain a growing following.

"It's such an honor and such a flattering and fantastic feeling," she said. "Indy DownForce does so much to support the series, to get this award is just incredible."

The 27-year-old Brit won one race, had four top-fives and seven top-10 finishes in 12 starts. She also won three pole-qualifying positions and is one of the top Lights candidates to move up to the IRL next season.

Mann, who now calls Indianapolis home, races for Sam Schmidt Motorsports.