Brazen violations of city design guidelines and state building codes by the developer of the Di Rimini apartments cast a spotlight on what is essentially an honor system of regulation for developers once they win approval for their projects.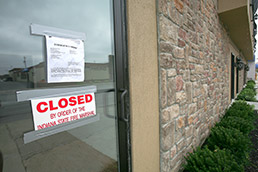 The state intervened after Di Rimini's developer illegally moved in residents. (IBJ Photo/ Perry Reichanadter)
Developers submit blueprints to secure permits for areas such as plumbing and electrical, set their own schedule for building inspections, and can obtain variances rather quickly from a state building-safety commission. Projects aren't checked for zoning violations unless a complaint comes in to the Mayor's Action Center or another city department.

It's a system that has worked without major hiccups for years since most developers play by the rules, submit blueprints that reflect their actual plans, and build projects as promised. But not in the case of the Di Rimini, a 31-unit apartment building at Capitol Avenue and St. Clair Street.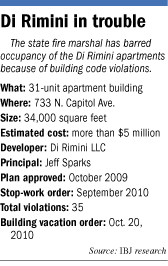 The State Fire Marshal in October stepped in and ordered residents to move out after finding multiple safety violations. Developer Jeff Sparks had moved people in without a certificate of occupancy and despite a standing stop-work order the city issued in September.

The developer managed to complete the building and move people in even though the structure lacks a working sprinkler system and fire walls between units. The project differs in at least 35 ways from the approved plans.

Even though a building inspector cited the project for multiple violations in June, zoning inspectors—those responsible for ensuring the building is built according to plan—did not visit the site until the Near North Development Corp. on Sept. 2 asked the city to take a look.

"Unfortunately, any process can be abused if someone is so inclined," the city's planning administrator, Mike Peoni, said. "It is very unusual for a developer to make this size of investment and intentionally not play by the rules."

Sparks did not reply to repeated phone messages.

Building inspectors and zoning inspectors both fall under the city's newly independent Department of Code Enforcement. But a separate department—Metropolitan Development—was responsible for reviewing and approving the plans for Di Rimini.

Peoni said that, despite appearances to the contrary, the departments of Metropolitan Development and Code Enforcement have been "working well together" on addressing the violations at 733 N. Capitol Ave.

"Yes, it is difficult and confusing to sort out the issues and responsibilities, but we are all willing to learn from this experience and work together to improve as we move forward," Peoni wrote in an e-mail.

The Di Rimini incident suggests there is plenty of room for improvement. Case in point: Code Enforcement Inspector Reggie Wade on June 8 cited the developer for constructing a mezzanine level above the fourth floor that was not allowed under state building codes.

The violation was logged into a system shared by the city's departments of Code Enforcement and Metropolitan Development. But the violation did not prompt a zoning inspection that would have turned up dozens of other violations.

That's because Code Enforcement doesn't proactively check on zoning violations. Rather, the city's 14 zoning inspectors spend most of their time addressing nuisance violations, like tall weeds and illegal signs, phoned into the Mayor's Action Center.

"The Department of Code Enforcement was not made aware of zoning violations," said Emily Mack, the deputy director of inspections. "They don't have the time to just randomly drive around and look at that stuff."

City ordinances don't even require building inspectors to visit construction sites in person, only that developers make their properties available for 48 hours.

Di Rimini's developer did not call in all inspections as required and submitted plans that do not match what it actually built, said Kate Johnson, a spokeswoman for the Department of Code Enforcement.

"At the end of the day, it falls to the builder that they meet code," she said. "Things like this very rarely ever happen."

After the Department of Code Enforcement cited Di Rimini for its mezzanine-level violation, the developer asked for a variance from the state's Fire Prevention and Building Safety Commission. The Commission granted the request July 7. The commission's stated mission is to balance public safety with "undue hardship" that could be caused to a developer.

Once again, the Di Rimini developer presented the commission with blueprints and plans that do not match what he was actually building, said Emily Norcross, a spokeswoman for the Indiana Department of Homeland Security.

"Such a variance is not necessarily an unusual thing," Norcross said. "What was represented was that the building had a full fire suppression system with fire separation walls and multiple exits from the mezzanine area. The problem is what they represented to the commission, they falsely represented."

In a follow-up report, Wade noted that "owner has terminated his contract with architect of record and hired another architect for inspections of the project."

The next step for Sparks is to file a "plan of correction" explaining what will be done to address the problems, Norcross said.

The Di Rimini debacle could highlight ways the city can tighten up the building and zoning inspection process and maintain standards, said Michael Osborne, executive director of Near North Development Corp., the group that first voiced concerns over Di Rimini.

"You don't find ways the process needs to be improved until you stumble across something that doesn't work," Osborne said. "For the most part, developers are without a lot of heavy enforcement and constant oversight, and they're building what they submitted to build."

But learning lessons won't solve the problem with the Di Rimini itself. Osborne and others are eager for the city to take an aggressive stance.

"It's very distressing that the ultimate product missed the mark by a mile," he said. "What is the city going to do about it?"•