New recruiter compensation rules adopted by the U.S. Department of Education could be one more thing that slows or even reverses the torrid growth of Carmel-based ITT Educational Services Inc.

The rules are designed to keep for-profit college operators honest in their pursuit of students—who can borrow federal money to pay the schools' pricey tuition—after a government investigation found a swath of deceptive presentations by recruiters at unnamed for-profit schools.
Modany
But for ITT CEO Kevin Modany, who has always maintained that his company is honest in its recruitment and compensation, the new rules are a blunt instrument that will cause many more problems than they seek to fix.

"This is using an absolute bazooka to kill an ant," Modany said.

Publicly, Modany shrugs off the impact of the new rules on ITT's ability to sign up new students. But in ITT's most recent securities filing, the company says the new rules could "adversely affect" its ability to attract the best recruiters and could "also impair our ability to sustain and grow our business."

Modany, however, says his bigger worry is that the rules will create an avalanche of lawsuits for an already heavily litigated company.

"The plaintiffs' attorneys are just licking their chops. This is a home run for them," Modany said, adding, "You're going to see a bunch of lawsuits. And you're going to see schools like us not use any of these [enrollment] measures."

One reason for his fear is that the new rules apply not only to anyone involved in admitting students—that's recruiters and financial aid counselors—but also to anyone involved in seeing them graduate.

In Modany's mind, that could apply to all teachers and counselors that try to encourage students not to drop out. ITT would have to avoid basing their pay on student performance, he said, or else be prepared to fight over it in court.

For-profit colleges have been livid at the Obama administration's new regulations, particularly new standards for "gainful employment" that would restrict access to federal loans for schools whose alumni do a poor job repaying their loans.

The industry has promised to sue the administration over those rules. And with Republicans soon to take control of the U.S. House of Representatives, the industry may have a chance to get presumptive Speaker of the House John Boehner—a longtime industry friend whose daughter graduated from a for-profit college—to use political horse-trading to alter the new regulations.

But the compensation rules are here to stay, according to Washington lobbyists and industry officials.

Wall Street analysts are still waiting to figure out what the new pay rules will mean for ITT. But already, the company's incredible growth, driven by workers displaced by the recession seeking new skills, has started to slow.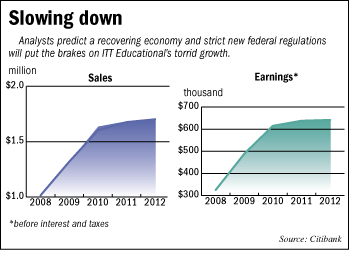 ITT's new student enrollment declined 3.9 percent in the third quarter—the first quarterly decline in eight years. Profit for the quarter soared 25 percent, to $93 million, on total sales of $400 million.

With the recession over and new regulations looming, analysts are predicting a leveling off for ITT.

"We don't think it is 'business as usual,'" wrote J.P. Morgan analyst Andrew Steinerman in an Oct. 22 research note, after Modany presented an upbeat report on the company's finances. He added, "D.C. concerns are starting to impact the fundamentals of education services companies."

History of abuse

The new pay rules were adopted Oct. 29 by the Education Department, mainly by eliminating some old rules. The new regulations strike 12 George W. Bush-era "safe harbor" provisions—which critics called loopholes—that clarified what kinds of incentive compensation were allowed for recruiters and financial aid personnel at colleges.

The safe harbors maintained a 1992 law that forbids college recruiters or financial aid counselors to be paid commissions or bonuses based on the number of students they sign up or get approved for federal loans.

However, the safe harbors did allow schools to pay recruiters and financial aid counselors a salary, and adjust it at least twice per year based at least partly on their success with signing up students. The key provision was that recruiters and counselors could not have their pay or raises determined "solely" by their enrollment stats.

Even Modany acknowledges that the "solely" provision got abused, with some schools making enrollment count for 99 percent of a recruiter's compensation. And ITT is being accused of the same thing in a pending lawsuit by one of its former employees.

Debra Leveski was an ITT recruiter in Troy, Mich., from 1996 until 2002 and then a financial aid administrator at the Troy campus until 2006. She then sued on behalf of the U.S. government, saying ITT's compensation practices broke the law because performance criteria not based on enrollment—like appearance, attitude, cooperation and professionalism—went up or down in unison with her enrollment stats.

"It was emphasized to me by every ITT supervisor that the only factor that matter[ed] regarding pay raises was success in meeting sales targets," Leveski wrote in an affidavit filed in March 2009 with her lawsuit, which is pending in U.S. District Court in Indianapolis. "In fact," she added, "to my knowledge, ITT did not keep track of any nonrecruitment criteria."

Modany would not comment on the lawsuit, which is set to go to trial in November 2011. He acknowledged that enrollment is still a "primary factor" in determining pay for recruiters and financial aid counselors. But there are about five other factors that also count significantly, he said, such as customer satisfaction scores, observations by supervisors, and tests to ensure a recruiter or counselor is sticking to ITT's basic script.

"Even if you knock it out of the park on enrollment, if you get bad scores on all your others, then you're going to get a lower score," Modany said.

Industry investigation

That's not good enough, however, for David Hawkins, director of public policy at the National Association of College Admission Counseling. In August testimony before a Senate committee investigating for-profit colleges, he urged the government to take a hard line on recruiter compensation based on enrollment.

"Reducing the basis for compensation to the number of students enrolled in any circumstance introduces an incentive for recruiters to ignore the student interest in the transition to postsecondary education," Hawkins said.

Indeed, Hawkins argued, there have been so many abuses documented within the for-profit industry that it suggests widespread abuse of the 1992 law that banned outright incentive compensation for college recruiters and counselors.

The results of an investigation by the U.S. Government Accountability Office, released in August, lent support to Hawkins' fears. The GAO sent staff to pose as student applicants at 15 for-profit colleges. At four of them, financial aid counselors encouraged the applicants not to disclose their $250,000 in savings so they could instead use federal loans to cover the school's tuition.

Recruiters at all 15 schools made deceptive or questionable statements to applicants, such as overstating potential earnings after graduation, failing to disclose the school's graduation rate, or quoting prices for nine months of classes in a year while signing up students for 12 months.

How the new pay rules affect ITT and its for-profit peers is hard to say.

One analyst, Alex Paris Jr. of Barrington Research, thinks ITT and the industry will weather the changes just fine.

"This is a regulated industry. There's been lots of changes in regulation over the last 20 years that I've been covering the companies, and they always manage to modify their business model and continue to grow," he said. "This time is going to be no exception in regards to incentive comp."

But Kelly Flynn at Credit Suisse predicts that over the next two years, ITT's revenue will drop 20 percent and its profits will be chopped in half. And the new compensation rules could make it even worse, she wrote in an Oct. 22 note to investors.

"We see recruiter compensation changes, other regulatory issues and counter-cyclicality as sources of downside risk to our estimates," she wrote.•