Not long ago, going out for Mexican food in Indianapolis meant a trip to El Sol on the east side or Acapulco Joe's downtown. These days, though, grabbing a cheap Mexican lunch is nearly as common as picking up a $5 foot long.

Is there a dramatic difference between these inexpensive taquerias? I'm not sure, even though the preponderance of Mexican eateries has led to a territoriality once exclusively the domain of Chinese restaurants. Like those, everyone seems to have a favorite Mexican joint—and that place conveniently happens to be near one's home or workplace.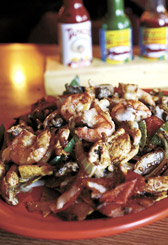 Yes, there are chips somewhere under the mound of beef, chicken and shrimp in Puerto Vallarta's Nachos Locos. (IBJ Photo/ Perry Reichanadter)
So when I tell you that Puerto Vallarta (multiple locations, including 5510 Lafayette Road, 280-0676) is my go-to spot, I don't mean to imply that it's better or worse than others of its kind. I only mean to make clear that I'm hooked on the Nachos Locos ($8.75), a meal that seems to never be completely devoured no matter how hungry I am. The nachos themselves are basically irrelevant, buried as they are under a massive pile of beef, chicken and shrimp, prepared fajita style with sautéed onions, jalapenos (PV isn't shy about spicing it up) and tomatoes in a creamy cheese sauce. Inevitably, I finish the rest the next day for lunch.

At such places, it's easy to fall back on the familiar combination plates—of which PV has 30 on the dinner menu. We haven't gone wrong yet with any of these, which are priced in the $7 range and are a mix of tostadas, burritos, tacos, chalupas, etc. (although the salsa is a bit on the thin side).

On my most recent trip to PV, though, I tried to push into some less familiar territory, including the Ismael Special ($9.99) which proved a bit too similar to the Nachos Locos, only without the nachos and the steak. Still, a pleasure. If you really want to stretch beyond the standard fare, the El Burrito de la Roqueta ($6.99) packs in chunks of beer-simmered pork while the Mojarra Dorada ($8.25) features deep-fried tilapia with fried rice, avocados and the usual Mexican toppings.

And although I've never had a problem with service, it's nice to see a note on the menu that patrons should allow ample time to prepare the food. There's a fine line between efficient and too fast: The speedier the food is served elsewhere, the less I'm convinced anyone in the kitchen cares a whole lot about the quality.

Desserts? We usually pass—instead investing spare change in the ubiquitous plastic jars of Canel's Chiclet chewing gum. We're not sure if that's part of the "authentic Mexican food" promised by Puerto Vallarta, but it works for us.•

__________

Second in a month-long series of consecutive-letter-restaurant reviews.