A new kind of competition is playing out at big-time sports venues here.

The omnipresence of electronic devices in today's society has changed the rules of the game for operators of stadiums, triggering an arms race to see who can have the biggest jumbotron, the longest ribbon board and the most eye-popping digital displays.

Since 2008, area teams have invested $17.2 million in their rush to attract and retain fans and sponsors with video board gadgetry that can't be experienced from a La-Z-Boy at home. Some sports teams now have game-day staffs of more than two dozen to man the video boards.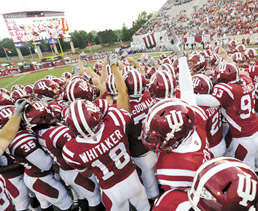 The video board installed at Indiana University's Memorial Stadium this year cost $2 million. School officials think it will bring in an additional six-figures annually in sponsorship and ticket sales starting as soon as 2011. (Photo courtesy Indiana University)
The battle is not just among major-league teams. Minor-league franchises and colleges also are entering the fray.

Since March, $4.3 million worth of high-tech video boards have been installed in Conseco Fieldhouse, Victory Field and Indiana University's Memorial Stadium.

IU paid $2 million for its scoreboard, the Indiana Pacers used $1.6 million in financial aid from the city's Capital Improvement Board to install new electronic boards at the Fieldhouse, and the Indianapolis Indians used $650,000 in reserves to put in a second outfield video board at Victory Field.

Lucas Oil Stadium, which opened in 2008, was built with some of the highest-tech ribbon boards and scoreboards in the National Football League. The stadium's 1,700-foot circular ribbon board and two 97-feet-by-53-feet jumbotrons cost $12.9 million.

"Along with the new stadium in Dallas, Lucas Oil Stadium is cutting-edge in terms of new technology, including their electronic boards," said Marc Ganis, president of Chicago-based SportsCorp Ltd., a professional sports franchise consultancy. "When fans and sponsors see what that facility has to offer, it puts pressure on the other venues in the market."

Battling the couch potato

Long gone are the days when attending live games was the ultimate sports experience. High-definition televisions and improved broadcasting techniques have made the stay-at-home experience more alluring than ever. That trend, sports marketers said, has put pressure on sports teams to preserve ticket and in-stadium sponsorship revenue.

"It's almost as if the in-game experience is being constructed to replicate the in-home experience," said Larry DeGaris, director of academic sports marketing programs at the University of Indianapolis. "It used to be the other way around. Now, it's a whole new ballgame."

Scoreboards, which used to merely keep score and display statistics, are now connected to video games and plugged into Internet social networks, allowing fans to be engaged with one another, sponsors and the game in an all new ways.

In-stadium technology hitting the market in the last two years has better clarity than the best high-definition television and better sound than movie-theater-quality surround-sound speakers.

Stadium operators are acutely aware that today's fans, used to carrying iPods and smartphones, expect to be entertained by more than action on the field or court, and sponsors demand high-tech ads in can't-miss locations.

Blame the Cowboys

NFL teams and venues have spearheaded the competition, sports marketers said.

"To a large degree, this is about keeping up with the Jerry Joneses," DeGaris said, referring to the Dallas Cowboys owner. "The bar has been raised, and these things are the standard now for a quality facility. This is a big expense, and the trend—the pressure—to install them has spread beyond the major leagues to the minor leagues and colleges."

Not only are the video boards expensive to buy, operating them isn't cheap, either. It requires 26 people to operate IU's new behemoth football scoreboard. The staff includes producers, directors, computer programmers and camera operators.

Yet the new breed of stadium video and scoreboards are survival tools for any money-driven sports operation in an ever-changing entertainment landscape, said Patrick Kraft, IU senior assistant athletic director of marketing.

"The days of merely coming to the stadium and watching a game are over," Kraft said. "It's no longer enough for people with an increasingly short attention span."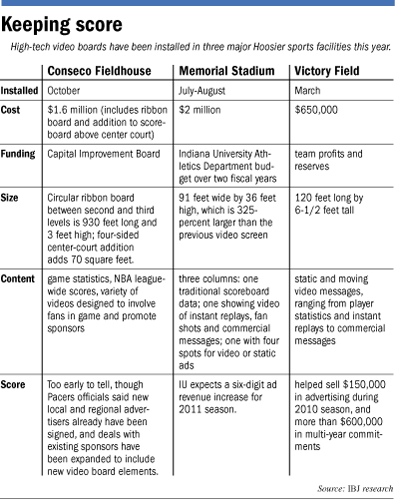 The Pacers were keen to include money for new video boards in a request to the city's Capital Improvement Board for financial assistance. CIB allocated $3.5 million in capital improvements for the fieldhouse, which was one of only two NBA arenas—along with Arco Arena in Sacramento—not to have a ribbon board encircling the interior of the facility.

"We saw what they had down the street at Lucas Oil Stadium, and so did our sponsors," said Rick Fuson, executive vice president of Pacers Sports & Entertainment and executive director of Conseco Fieldhouse.

IU's Kraft noticed, too. "I'd be naïve to say we're not looking over our shoulder at what the professional teams in the market are doing."

In March, the Indianapolis Indians installed a 120-foot-long, 6-1/2-foot-tall video board on the left-field wall costing $650,000. It supplemented a $1.2 million video board installed seven years ago.

In July, Indiana University installed its three-section video and scoreboard, touted by school officials as one of the two most technologically advanced scoreboards in all of college athletics.

The high-definition, 91-foot-by-36-foot video screen at the south end of Memorial Stadium is a whopping 325-percent larger than the old scoreboard, installed in 1999, and has clarity that would make an HDTV blush.

IU sank another $1 million this summer and fall into five smaller electronic scoreboards at other campus venues, including the Counsilman-Billingsley Aquatic Center; Armstrong Stadium, where IU plays soccer; and the IU Tennis Center.

Financial reward

Though the new video boards are expensive, in most cases they're turning out to be solid investments, even for teams with smaller budgets.

Despite annual revenue of less than $10 million and profit of just under $460,000 last year, Indians officials said their video board investments have paid off.

The Indians brought in $150,000 in new sponsorship revenue for the 2010 season and have signed more than $600,000 in multiyear deals just for the left-field video board, said Indians General Manager Cal Burleson.

IU officials said an annual six-digit sponsorship spike is possible with its new video board.

The Pacers' Fuson said it's too early to tell what financial gains will be scored with the team's video boards, but early signs are encouraging. He said several new local and regional advertisers have already signed deals to appear on the board, and deals with existing sponsors have been expanded to include video board elements.

"It's real simple why advertisers like these new boards, especially the ribbon board," Fuson said. "They're engaging and captivating and highly visible. No matter where you are in the arena, you can't help but see it, and that helps sell it."

Sports teams aren't the only ones prospering. South Dakota-based Daktronics, the firm that installed video boards at IU, Lucas Oil Stadium and Victory Field, saw its revenue grow from $309 million in 2006 to $581 million in 2009.

"Corporate sponsors value the flexibility these systems provide, including the flexibility to change their message, animate their message, and interact with the crowd in different ways," said Daktronics spokesman Mark Steinkamp.

Fans love the boards, too, Fuson said, and there have been no complaints that the digital devices hurt the retro atmosphere that has become the fieldhouse's trademark. New York-based ANC Sports installed the video boards at Conseco Fieldhouse.

The board at IU's football stadium is so popular, Kraft thinks it will also help sell tickets.

"It's incredible how hooked in to our video board people are," Kraft said. "There are times when people are looking at the screen rather than the game. That's how impactful it is."

The video boards carry an array of content, including game statistics, video replays, league-wide scores, video of action in the stands, and, of course, static and video commercial messages.

But these high-powered, computer-driven devices do much more. IU connects its board to a Wii video game and selects a fan to play as the entire stadium follows along.

"The board in so many ways allows the fans to become part of the game experience," Kraft said. "I can't tell you how big of a deal it is for students and other fans to be shown on the board. They absolutely love it. And the Wii feature has become a very saleable piece of inventory."

The Indians this off-season are upgrading their video board to connect it to social media such as Twitter and Facebook.

"People will be able to send messages to the teams and players in a very immediate and interactive way," Burleson said. "We think we're going to be one of the first teams to do that."•