Just a couple of years ago, Indianapolis was a backwater in the eyes of the nation's largest hotel workers union, New York-based Unite Here.
That's changing thanks to the imminent opening of the JW Marriott hotel and the Indiana Convention Center expansion, which will push Indianapolis into competition with such convention heavyweights as Chicago and Orlando, Fla.
Unite Here in recent months has turned up the heat to organize the Westin and Hyatt Regency downtown and the Sheraton Hotel & Suites at Keystone Crossing in the hope other local hotels eventually will fall like dominoes.
Unite Here has staged eight demonstrations and boycotted the Hyatt. The union also has called on the Indianapolis Convention & Visitors Association, which promotes the city, and the Capital Improvement Board, which owns and manages the convention center, to take a stand in its favor.
In April, Unite Here picked up a high-profile ally in the National Football League Players Association, whose local player representative is Indianapolis Colts center Jeff Saturday.
Both the union and the hotels say the stakes are high.
Unite Here contends it can lift meager wages and improve sweatshop conditions, while the hotel operators fear a union victory would undermine the industry as it struggles to survive the worst economy since the Great Depression.
"This city sells itself on its central location and affordability," said Tim Worthington, a 35-year industry veteran who is president of locally based Platinum Hotel Solutions. "If we have unions here in this industry, the rates would totally change.
"It could kill the hotel industry here."
Virgin territory
Unlike such cities as Chicago and Columbus, Ohio, Indianapolis has no hotels with employees represented by a union. Hotels have sprung up, and workers have been hired, as the city attracted ever-larger conventions and trade shows since the industry was tagged as an economic development driver in the early 1980s.
Indianapolis has grown to 66,000 hotel and hospitality employees serving 21.9 million visitors who generate $3.6 billion in economic impact into central Indiana annually, according to the ICVA.
Those numbers are likely to swell when the convention center opens its 254,000-square-foot expansion in January, bringing the total to 979,000 square feet, and the 1,005-room JW Marriott swings wide its doors the following month.
To the chagrin of hotel operators, the growth hasn't gone unnoticed by Unite Here.
"These hotels, because they've been allowed to operate unchecked, are cash cows owned by out-of-state conglomerates," said Unite Here spokeswoman Becky Smith. "They often take the profits they reap in this market and plow them into other markets or ship them back to the corporate headquarters."
Unite Here is a union to reckon with. It has 265,000 members predominantly at hotels, food services, laundries, warehouses and casinos.
The only places in Indiana where hotel unions have a presence are four casino hotels.
Unite Here's push into Indianapolis dates to 2007, but the effort ramped up this year with the demonstrations and the NFL union's endorsement.
Saturday and NFLPA Executive Director DeMaurice Smith sent letters to the parent companies of the Westin, Hyatt and Sheraton calling for a "fair process, free from employer intimidation, to allow [hotel workers] to choose whether or not to join a union."
The letter, signed by Smith and Saturday, pointed out how much business NFL-related events, the annual NFL Combine in particular, bring to Indianapolis.
Unite Here officials said they targeted Indianapolis only after being summoned by area hotel workers, who union officials claim make 50 percent to 75 percent of what workers at union hotels in some other Midwestern cities earn.
For instance, union officials say, starting housekeepers in Indianapolis typically make $7.25 to $8 an hour and are required to clean as many as 30 rooms a day, while housekeepers at unionized hotels in Chicago and Detroit make $11 to $14.60 an hour and are required to clean no more than 16 rooms.
In addition to low pay, Unite Here's Smith said local hotel workers are provided meager or no health care benefits and poor work conditions and are having their jobs taken away via outsourcing.
The Westin had no comment, and telephone calls placed to the Sheraton were not returned. Also declining to comment was ICVA CEO Don Welsh.
Hotel operators warn that if Unite Here's push into the burgeoning Indianapolis hotel and convention market succeeds, it could cripple the growth by driving up workers' wages and benefits, thereby raising hotels' overhead and causing increased room rates. That, hotel operators said, would cost the city a crucial competitive advantage—affordability.
Hotel pushback
Brian Comes, general manager of the downtown Hyatt and incoming president of the Greater Indianapolis Hotel and Lodging Association, a hotel trade group, said he is mystified by the union's claims.
Unite Here's push into Indianapolis is more about generating revenue through dues for the union than any problem between hotels and their workers, Comes said.
"In my opinion, most of our associates don't have any interest in joining a union," he said. "We're a wage leader, provide great benefits and have an open-door policy with our associates. If you do the right things for associates, I don't think there's a need for them to be represented by someone else."
Worthington also scoffs at the union's claims, saying Unite Here actually wants to pick up members who can produce revenue for the home office of the union.
"The only reason the union wants in this market is, they see growth in this industry here, and they want a part of it," Worthington said. "They derive their revenue through membership dues, and in this market, they think they can gain a lot of members."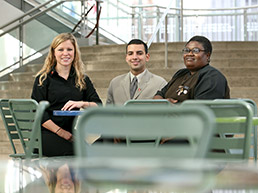 Hyatt workers Jessica Ham, a cocktail server; Eric Gomez, who works the front desk; and Jackie White in housekeeping want to organize. (IBJ Photo/ Perry Reichanadter)
Unite Here officials said membership dues vary by market and employees' salaries, but that the health care benefits alone the workers would reap from unionization would outstrip the few hundred dollars they would pay each year in union dues.
In addition to the protests and boycott, Unite Here has circulated a petition asking the hotels to allow a so-called "card signature" vote instead of anonymous balloting. In a signature vote, employees who want the union add their names to a voting card until a majority is reached.
Local hotel operators have declined the idea, preferring secret votes because a card vote leaves too much room for union backers to pressure workers.
Comes denies he's doing anything to stop a vote.
"We don't think a card check is a fair process," Comes said. "Hyatt wants a secret ballot where all employees can vote 'yes' or 'no.' We've never swayed from that position."
Unite Here claims Hyatt officials are the most resistant of the hotels it's trying to organize. Unite Here has launched a boycott by asking the hotel's own workers to ask visitors not to patronize the hotel until they allow the unionization vote.
"Unite Here is calling our customers, and suggesting that our associates have declared a boycott, and that's not true," Comes said. "The average tenure of our associates is eight-plus years and we have 27 associates who have been with us 20-plus years. Does that sound like an unhappy work force?"
Some workers said that if the Hyatt is a wage leader, the wages need to increase at all area hotels.
Eric Martin, a 12-year banquet steward veteran of the Hyatt, said he makes just over $10 an hour.
"I just want what every parent wants," Martin said, "a decent life for my daughter."
Managers at several other local hotels declined comment or did not return calls.
When Westin workers asked for a meeting with Mayor Greg Ballard to discuss unionization, they said he declined to meet.
Ballard said he referred a request for a meeting from a Westin employee this year to Deputy Mayor Olgen Williams. Ballard added that Williams met with the Westin employee in June, but offered no other details from that meeting. Ballard said he had no record of a formal request from a larger group of Westin employees.
City councilor joins fray
City-County Councilor Joanne Sanders is calling on ICVA and city officials to take a stand supporting the workers and the union. She points out that city hotels get tax incentives for construction and renovations and are aided by the ICVA, which is funded in part by a variety of tax dollars.
Sanders thinks hotels, by not allowing an unobstructed card signature vote, could be violating workers' rights as spelled out in the National Labor Relations Act.
"I find this situation abysmal," she said. "These hotels are run by out-of-town multinational companies, and they're taking our tax money, they're getting support from the ICVA and, in many cases, they refuse to pay workers a wage which allows them to live in the city where they work."
Sanders, a Democrat, works full time for the International Alliance of Theatrical Stage Employees, a New York-based union representing workers in the entertainment business.
As the council's Democratic minority caucus leader, Sanders' sway locally is considerable, and she's been outspoken in trying to rally support on both sides of the aisle for local hotel workers and their attempts to vote on unionization.
Sanders said she is appalled when she sees city officials boasting about job creation in the hospitality industry, when the wages are so low.
What comes next is not clear, but Unite Here officials promise to turn up the heat.
"This is a hard fight," Unite Here's Smith said. "But we think the support for these workers is increasing. And we're in it for the long haul."•
 
Please enable JavaScript to view this content.