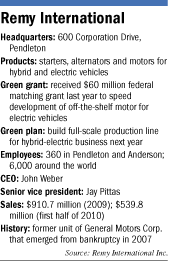 Motor maker Remy International will embark on a major expansion next spring to satisfy growing demand from makers of hybrid and electric vehicles—and Madison County officials think they're well positioned to land the jobs.
The Pendleton-based company will build a full-scale production line for a new generation of motors it unveiled in October 2009. The manufacturing facility, the location of which hasn't been chosen, will be Remy's first in the United States devoted to the electric-vehicle business.
"We see the potential of up to a $500 million business," Remy Inc. President Jay Pittas said. That would represent a huge leap above current sales of $60 million for the electric motors business unit and an increase of more than 50 percent of the company's total revenue, which was $910 million in 2009.
The company has not said how many jobs will be associated with the production facility. Pittas said Remy is considering locating the new line in existing buildings near its headquarters, but it's also considering sites in Indianapolis, Kentucky and Tennessee. Madison County officials are eager to hear the particulars.
"We've been in constant contact with Remy executives and expressed our interest in having the opportunity to compete for their production facility," said Linda Dawson, economic development director for the city of Anderson.
Remy, a former General Motors unit whose bread-and-butter business is making starters and alternators, employs about 360 people between its headquarters and a product-launch facility in Anderson.
Pittas expects to hire 85 people in Pendleton and Anderson next year, and he said many of those hires will be engineers.
Dawson thinks Madison County has a strong chance to land an even bigger Remy presence because of the wealth of talent and experienced labor GM left behind as it gradually pulled the plug on its Anderson operations.
The potential for jobs exceeds the new production line itself, Dawson said. As Remy grows, she said, "There's a certain amount of spin-off companies that could be lured to Anderson."
While Remy makes promising revenue projections, Pittas admits the time line for growth is still unclear. The company's performance will depend to a large degree on tax incentives and the price of gas.
In the meantime, the U.S. Department of Energy is assisting Remy's electric motor developments with a $60 million matching grant. Because of the grant, all of Remy's production for the North American market will take place in the United States.
The new facility will have capacity to produce 60,000 to 100,000 motors a year, Pittas said. That will bring total global capacity to about 200,000 units.
The company already produces motors in Hungary and Mexico. A small number are made at the Anderson center.
Remy developed its "high-voltage hairpin" hybrid/electric motor design while working on customer projects, such as GM's hybrid Denali and Cadillac SUVs.
As more vehicle makers and startups entered the hybrid and electric arena, Remy realized it could save customers money by offering a standardized platform.
Remy has announced a series of deals since unveiling the new product line just more than a year ago. The latest came Nov. 4 at an exhibition in China attended by Remy Electric Motors General Manager Kevin Quinn. Remy was named motor supplier to ZAP, a California-based electric-vehicle maker that also owns a majority stake in a Chinese company. The deal gives Remy access to a potentially huge market.
Remy has also announced deals with Oregon-based Motoczysz, a motorcycle maker that hopes to sell an electric-drive system for cars, and Cincinnati-based Advanced Mechanical Products for an all-electric version of the Chevrolet Equinox.
In January, Remy announced a contract to supply Daimler AG's Mercedes ML-450.
None of the new standard-platform, or "off-the-shelf" motors are in full production yet, but that hasn't stopped Pittas from going after more business.
Remy wants to be the go-to motor maker for a range of applications.
"I don't know of any of the top 20 players in the world that don't have either a hybrid vehicle already in production or plans to release one over three to five years," he said. "Any of them could be a potential customer for us."
But many of those potential customers are also competitors. GM announced in January that it planned to take electric motor development in-house, prompting Quinn, Remy's electric motors manager, to send a reassuring letter to suppliers.
Because of the threat of in-sourcing, Remy is focused on selling its motors for use in commercial vehicles. The sector, which could include anything from delivery trucks to buses, produces more variety at lower volumes. So manufacturers have a greater incentive to outsource to a specialist such as Remy.
Pittas said one of Remy's biggest opportunities lies with Indianapolis-based Allison Transmission, another former GM unit and longtime customer. The first electric motors Remy built were for Allison's systems in hybrid buses.
In a more recent deal, Allison is using Remy motors for a hybrid truck.
"They have a commanding share of the market," Pittas said. "Their hybrid transmission will be as exciting and own as much of the marketplace as their automatic transmission does today."
As in the passenger-car market, hybrids represent a tiny fraction of sales in the commercial vehicle market, said Steve Tam, commercial-trucking analyst for Columbus-based ACT Research.
So far, the industry lacks cost incentives and regulations, Tam said. Hybrid trucks for telephone and electric utility work, for example, could easily reduce their emissions because they don't idle while operating their bucket lifts. Yet hybrids cost about $150,000, or 50 percent more than conventional vehicles, Tam said.
"Do you recoup that cost by not sitting there idling? Not with diesel at $3 a gallon, you don't."
New regulations could change that scenario in a few years, he said.
"Commercial vehicles just got hit with the first proposed fuel-economy standards," Tam said. "In fairly short order, we're going to have to start making some improvements."•
Please enable JavaScript to view this content.