John Goss wasn't taking the bait. Asked what it's like to work with bottom-feeders, the Indianapolis man hired by the federal government to create a plan to stop Asian carp from infiltrating the Great Lakes chuckled, paused and said, "The carp are at the very lowest level of the food chain and they're threatening the whole ecosystem."

Exactly the kind of diplomatic answer you'd expect from someone who made his reputation in Indiana for 30-plus years as a government servant and environmentalist who works well with all political parties and points of view.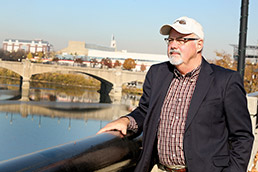 John Goss, pictured at the White River, has held a string of Indiana government jobs. His new federal position focuses on keeping Asian carp out of the Great Lakes. (IBJ Photo/ Perry Reichanadter)
Since the second week of September, Goss, the nation's Asian carp czar, has been splitting his time among an office in Washington, D.C., near the Old Executive Office Building; the Nature Conservancy office in Indianapolis; and the road around the Great Lakes region. His goal for the next year (and beyond, if necessary): coordinate the state and federal efforts to keep the carp from altering the food chain and causing a potential $7 billion in damage to the fishing industry.
The carp, which can grow to 4 feet long and 100 pounds, escaped from Southern catfish farms in the early '90s, and have been swimming their way north through the Mississippi River watershed since.

In Indiana, the fish has moved into the Wabash and White rivers. It hasn't reached Indianapolis, but already is in southeastern Indiana.

"Surprisingly," Goss said, "almost everyone is familiar with Asian carp, particularly from the videos of the jumping carp and even the Wabash River video. It's a pretty well-recognized problem. I'm very optimistic that with the aggressive strategy that the federal agencies have already begun—and we're going to be adding the assistance of the states around the Great Lakes next year—that we will be successful in keeping Asian carp from establishing a permanent population."

Goss, 59, a Columbus native, got the job based on his previous position as executive director of the Indiana Wildlife Federation. When a number of organizations around the Great Lakes talked about the need for someone to coordinate their efforts, the White House asked for a recommendation, and Goss was nominated for the job working for the White House Council on Environmental Quality.

"The minute he told me that someone had suggested him for the position, I knew that he'd get it," said his wife, Tonya Galbraith. "He has every single credential that makes sense for him to have this job. He gets along with everybody in both parties, always has, and he's well-thought-of by the people he works with."

Goss' consensus-building skills have been evident throughout his career, particularly in his work ushering in the Great Lakes Compact, the agreement among eight states protecting 20 percent of the world's freshwater. He worked with business, industry, environmental and conservation groups to gain their support, and Gov. Mitch Daniels signed the accord in 2008.

"I'm looking at this project as a similar challenge," Goss said. "We need to involve all of the stakeholders around the Great Lakes in the evaluation of all the options for stopping the carp and also for the longer goal of keeping aquatic invasive species from moving from the lakes to the rivers or from the rivers to the lakes. If we can get all of those people working together, then we need to get an agreement on the best solutions. That's really what the project is all about."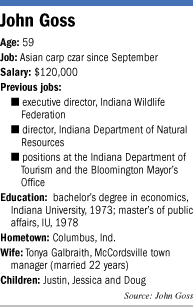 Goss grew up loving the outdoors, hunting and fishing with his father and brother. From the creeks of southern Indiana to the lakes around Angola, in northern Indiana, where his aunt and uncle had a cottage, "we fished every day and it became a very important part of my value system."

He joined the Boy Scouts, but stopped two merit badges short of Eagle Scout because he got a job at Otter Creek Golf Course as an assistant in the pro shop and stopped going to scout meetings.

"I'll forever wish that I had become an Eagle Scout," he said.

But the golf course job earned him a scholarship—the same one caddy Danny Noonan (Michael O'Keefe) won in the movie "Caddyshack," Goss notes—that helped him pay for Indiana University. There, he earned his undergraduate and graduate degrees at the School of Public and Environmental Affairs.

After college, he worked in the Bloomington Mayor's Office, then moved into the Indiana Division of Tourism, where his greatest success occurred in helping create a cooperative advertising program that enabled large and small businesses to promote themselves more affordably. The Indiana tourism campaign leveraged $3 million of state money into $12 million of advertising each year using co-op purchasing projects, he said.

"That also taught me about working with all types of people and finding ways that we could get them to join into the big project, which was to promote Indiana," Goss said.

State tourism also focused on getting people to Indiana parks and outdoor activities, "which gave me a good connection to people all over the state."

Gov. Frank O'Bannon asked Goss to direct the Department of Natural Resources in the midst of the economic crunch of 2001. Goss worked with legislators, the DNR Commission and constituent groups to develop support for increasing park fees. The plan generated several million dollars that offset state cutbacks.

"I think Indiana has benefited from John," said Goss' friend Chuck Brinkman. "There's not too many people you can say that about."

Brinkman, a retired IBM consultant and avid fly fisherman who lives in Zionsville, became friends with Goss about five years ago when Brinkman volunteered at the Indiana Wildlife Federation. After a few months, Goss asked him to join the federation board.

They became fishing buddies, going after small-mouth bass.

"He's a very relaxed fisherman and he relishes the environment and the outdoors as much as he does catching fish," Brinkman said.

He called Goss "laid-back, but an intense thinker. His brain is intense."

To understand just how intense, Goss' wife, Tonya, tells this story:

In 1991, two years after they were married, Goss was diagnosed with testicular cancer. He underwent a year and a half of treatment and surgeries.

"He was the most positive person I could even imagine, going what he was going through," she said. "His fight and his attitude show the underlying nature of John. He's a very positive person and he's able to work through things.

"If he was able to work through chemotherapy and major surgery and coming back, he can deal with Asian carp."•