About a dozen years ago, I dined at Broad Ripple Steakhouse where, as our dessert was delivered, our server said, "Don't take too long, I have people waiting for the table."

As a diner who holds a grudge, I never went back.

BRSH is gone now (not because of the lack of my business, I'm sure) and, in its stead, is The Ripple Inn, a handsome eatery with a creative menu. Unfortunately, the ghosts of bad customer service haven't been completely exorcised.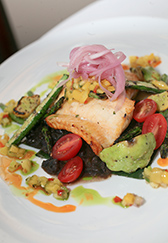 Strawberry Grouper shines at the new Ripple Inn. (IBJ Photo/ Perry Reichanadter)
The staff gave my guest a hard time when she requested that our reserved table not be right by the kitchen. Rather than accommodate, the host tried to negotiate ("You won't even notice the kitchen")—not the best approach for building repeat business.

We stayed, though, and were happy we did. The initial glitch gave way to a beautifully presented parade of dishes delivered to a table not so close to the kitchen.

Carving a memorable dining identity is difficult, and the Ripple Inn manages that right off the bat with an almost-mandatory selection of Ripple Skins. Yes, they are potato skins, but it's what's atop them that counts. We dove right in and went for the Lobster ($9), which brought five skins with oven roasted tomato/arugula/goat cheese/crème fraiche along with the crustacean pieces. As good as one should expect from a signature offering.

The Parmesan-Pink Peppercorn Potato Dumplings ($9), also on the appetizer menu, were subtle nearly to a point of inconsequence. On the other hand, if there's a better Lobster Bisque ($8) in the city, point me there. The delicious Ripple Inn version comes complete with a lobster-scallion wonton that takes it over the top.

For entrees, Porridge of the Gods ($14) may not reach the heights of Mount Olympus, but it is a risotto-done-right with butternut squash, Indiana sweet corn and more. The highlight of the Duo of Duck ($20) was its shallot bread pudding base and lingonberry sauce. And the Strawberry Grouper ($22) was a full-of-flavor preparation as artful as it was delicious.

And while nobody encouraged us to leave in any hurry, our own timetable forced us to depart before we could indulge in Peanut Butter Pie ($6), Lemon Meringue "Baked Alaska" ($8) or tableside-prepared Bananas Foster for Two ($17).•

__________

Fourth in a month-long series of reviews of double-letter restaurants.