A convenience-store chain called Turkey Hill Minit Markets—sister company to the maker of Turkey Hill ice cream, milk and iced tea—is expanding into central Indiana.

The chain opened its first Indianapolis store in October and plans to add at least five more by the end of 2011, said Denise L. Clark, a company spokeswoman.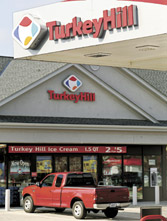 The new Turkey Hill Minit Markets store on Madison Avenue at Thompson Road is the first in Indianapolis for the Pennsylvania chain, a subsidiary of The Kroger Co. (IBJ Photo/ Perry Reichanadter)
The subsidiary of Cincinnati-based The Kroger Co. operates a dairy in Lancaster County, Pa., along with a chain of more than 250 convenience stores, mostly in Pennsylvania.

Turkey Hill is entering one of the nation's most competitive convenience-store markets and a Great Lakes region with razor-thin fuel margins, said Jay Ricker, chairman of Anderson-based Ricker Oil Co. and a former chairman of the Association for Convenience and Petroleum Retailing.

"It's a crowded market," said Ricker, whose company owns more than 50 BP and ampm convenience store locations, about half of them in the Indianapolis area.

Ricker said more convenience store chains are getting in the food business, which keeps prices on most items competitive. He said he hasn't been in a Turkey Hill store and was surprised the company is taking such a big geographic jump away from Pennsylvania, where it has 245 stores. Turkey Hill also has 11 stores in Ohio, all opened since 2009.

The largest player in the Indianapolis market is Speedway SuperAmerica LLC, a subsidiary of Marathon Oil Corp., which operates 57 convenience stores in the city and another 20 or so in surrounding areas. The company is based in Enon, Ohio.

Another big player in the Indianapolis convenience-store market is Village Pantry, which has more than 40 locations around town.

The chain, formerly a part of locally based Marsh Supermarkets Inc., now operates as VPS Convenience Store Group and is based in Wilmington, N.C., after a spinoff from Marsh by parent company Sun Capital Partners of Florida.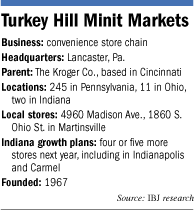 Turkey Hill Minit Markets chose Indiana for its first store outside of Pennsylvania, opening in Martinsville in 2008. But the company didn't open a second Indiana store until October when it unveiled a location at the northwest corner of Madison Avenue and Thompson Road.

Now Turkey Hill is working on a flurry of new locations, including on undeveloped property at the southeast corner of Emerson Avenue and Shelbyville Road in Indianapolis, and to replace a former Pizza Hut at the northeast corner of Rangeline Road and Carmel Drive in Carmel.

The company is scouting for three more central Indiana sites, including at least one more in Carmel, to open by the end of 2011, Clark said.

Turkey Hill ice cream and beverages already are sold at local Kroger stores, but the eponymous convenience stores boast a more extensive selection of Turkey Hill ice cream flavors. The stores also include standard convenience store fare including subs, burgers, pizza and salads.

The chain will piggyback on its parent company's supply chain to offer grocery staples such as milk, bread and eggs at prices comparable to those of a full-size grocery store, said John Elliott, a regional spokesman for Kroger.

The expansion of Turkey Hill supports Kroger's growth plans for the market, providing coverage in geographic areas that can't support a full food store, Elliott said. The new convenience stores also will tie into the Kroger fuel rewards program.

The man who has led the Indianapolis-based Central Division for Kroger since 2006, Robert Moeder, previously led Kroger's convenience-store division and Turkey Hill Dairy.

The dairy, founded in 1931, is named for what was a popular hunting spot for the Susquehannock Native American tribe.•