Well-known in commercial trucking, Speedway-based Allison Transmission could become more of a household name, thanks to heavy advertising by Chevrolet.
In a new series of prime-time television ads, actors Patrick Warburton and Craig Robinson (Darryl Philbin on "The Office") play "Max" and "Al," who represent the Duramax diesel engine and one of the transmission systems Allison produces, both of which are in the heavy-duty versions of the Chevy Silverado.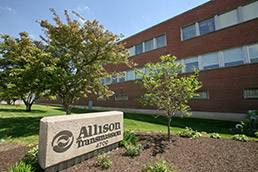 New ads play up the Chevy Silverado trans-mission designed by Allison Transmission. (IBJ File Photo)
Allison designed and built the 1000 series transmission from 2000 to 2007. When General Motors spun off Allison in a sale to private-equity buyers in 2007, it kept that product and the right to use the name, Allison spokeswoman Melissa Sauer said.
GM makes the A-1000 in Baltimore, but Sauer said Allison keeps close tabs on its performance and any changes to the design. (GM has the right to use the Allison brand, as long as it doesn't make substantial changes to the transmission.)
"We want our name attached to a quality product," Sauer said. "So far, they're doing very well."
Chevy's new campaign isn't the first to make reference to Allison, but it's the first where an actor personifies the brand. In the past, Chevy used actor/comedian Tim Allen as a spokesman.
The reaction at Allison headquarters to Max and Al has been mixed, Sauer said.
"I think Chevrolet was going after the younger crowd," she said. "Some of the older ones like the more traditional advertisements."
Please enable JavaScript to view this content.