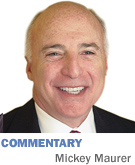 Like most veterans of the entrepreneurial wars, I have made mistakes. That propensity is magnified by the higher-risk profile I have chosen—startups and turnarounds, both treacherous undertakings.
To create a disciplined investment philosophy, I evolved from my experience, "The Ten Essential Principles of Entrepreneurship that You Didn't Learn in School"—at least I didn't learn them in school. Over the course of 10 columns, I will feature each of these essential principles. This is the ninth installment.
Give back
(Didn't your mother teach you to share?)
The obligation of entrepreneurs to give back to their community was not taught in any of my business school classes. That essential principle was not learned in school but rather learned at school.
Upon returning to classes for my second year of law school, I discovered I was the recipient of a law-firm-sponsored merit scholarship of $1,500. I immediately endeavored to employ that windfall in an attempt to create fabulous wealth—in a hurry. I had read of an investor who left a series of detailed instructions for his broker to play the commodities market. After a month on a remote Pacific island, he returned to find himself a multimillionaire. I made a quick study, prepared my own set of broker instructions, and dumped all the money in corn futures. By the time the law firm received my thank you letter, the money was lost. I felt lower than a pork belly. I never invested in the commodities market again.
The scholarship made me understand for the first time that there were good people in our profession who were giving something back. I began to recognize the obligation of successful people to make their resources—including money and energy—available to the community in which they live. I vowed that, if I ever had an opportunity, I would give back to the law school that cared about me, and that I would be one of those people who cared about the community.
Business, not to mention society in general, requires a stable, orderly community in order to thrive—one that takes care of all its citizens. Moreover, for those of us in racial or religious minorities, the breakdown of community can be especially onerous. Giving back, particularly to social service agencies, helps maintain an environment in which we can succeed in business and in life.
Your community needs you. Be charitable, but give wisely. Many bright and wealthy people have lamented the fact that it is far more difficult to intelligently give money away than to earn it in the first place. Share your time and talent as well as your money. It is often of greater value and will be appreciated more. Give anonymously once in a while. All your major gifts do not need to bear your name. Even better, let them bear someone else's name. Take care to avoid the purchase of disproportionate influence. Win your place by virtue of the application of sound reasoning and passionate advocacy rather than by force of dollars. If you have amassed a fortune, you have an obligation to share it with the society that enabled you to be successful.
Share your wealth with your family but take care not to present your children so much of it as to destroy their ambition. Allow your children to make their own way and enjoy pride in their own accomplishments. Remember, when you're too busy adding to this fortune, the gifts of time and love are much more important to your family.
Here is a corollary: As for friends, your money will buy you many new ones. Keep the old ones. If you liked yourself before you became successful, always be that person.
As often as you ask, "How can I be successful?" ask what kind of successful person you want to be.
Give back—did you learn that in school?•
__________
Maurer is a shareholder in IBJ Corp., which owns the Indianapolis Business Journal.  His column appears every other week. To comment on this column, send e-mail to mmaurer@ibj.com.
 
Please enable JavaScript to view this content.