Magna Machine has its roots in Indiana's automotive industry, but over the past 35 years has diversified and grown to a 46-employee shop with $5 million in annual revenue.
Through relationships with U.S.-based engineers, Magna has shipped its custom-built machines and parts from New Castle to factories as far away as Puerto Rico and England. General Manager Kirk Robbins can see how ramping up exports would lead to more growth, but it's a daunting task.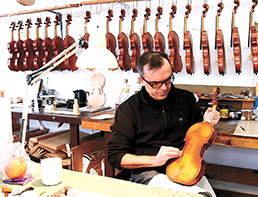 Indianapolis-based Consort International sends its violins around the world. Above, Zlatko Karabegovic puts finishing touches on a violin. (IBJ Photo/ Perry Reichanadter)
"We're just a little old machine shop sitting out in the cornfield," Robbins said. "How can we sell to Singapore?"
If the Eastern Indiana Development District, headquartered in New Castle, has its way, Magna's owners will be on a plane in March for the group's first export-focused trade mission. The group plans to stop in three regional trading hubs—Germany, the United Arab Emirates and Singapore.
The economic development organization is encouraging small firms to develop an export strategy to benefit their bottom lines as well as rural Rust Belt towns.
"We're not producing enough professional and white-collar jobs to keep our university graduates," said Nate LaMar, a district commissioner who is the international regional manager for Spiceland-based Draper Inc. He is also a member of the federally appointed Indiana District Export Council.
LaMar wants to see more homegrown companies follow the example of Draper, which employs about 400 people making vinyl
projection screens, shades and athletic equipment. Since beefing up its international staff in the late 1990s, LaMar said, Draper has grown exports to about 10 percent of revenue. (Draper doesn't disclose revenue figures.)
Firms that export pay higher-than-average wages and enjoy greater stability, said Jeffrey Schott, senior fellow at the Peterson Institute for International Economics in Washington, D.C.
"That's logical when you think about it," he said. "If you could compete abroad, you're probably pretty competitive and profitable."
LaMar believes those are two qualities the Indiana Economic Development Corp. overlooks in its foreign-trade effort, which focuses on recruiting companies to set up factories here.
Although Gov. Mitch Daniels' administration has brought some huge, new manufacturing operations to Indiana, including Honda in Greensburg, LaMar dismisses the IEDC's work as a "numbers game" that fails to address so-called "brain drain."
"We're left with a Japanese-owned branch plant," said LaMar, a member of the Henry County Council and, like Daniels, a Republican. "There's no staying power to a branch plant."
To be sure, Daniels' work on foreign investment isn't hurting exports. In the first half of this year, Indiana was one of 14 states where the value of exports surpassed pre-recession levels, according to data compiled this fall by the Indiana Business Research Center at Indiana University's Kelley School of Business.
The state's $14.6 billion in exports was up 36.8 percent from the same period in 2009.
Indiana exports fell 13.6 percent to $22.9 million in 2009. That was better than the nation as a whole, for which export value declined 18 percent.
At the same time, the IEDC continued to make headway on foreign investment, announcing 36 deals in 2009. That was the largest number since IU researchers began keeping track in 2003.
The announced foreign investments were worth $2 billion. More than 20 of the 2009 announcements were in manufacturing, and a few were for headquarters. Data on resulting jobs wasn't available.
Welch
If small firms want help with exports, they'll get plenty of attention from the U.S. Department of Commerce.
Along with setting the lofty goal of doubling the nation's exports in five years, President Obama has placed a renewed emphasis on the thousands of small and medium-size companies shipping their goods across borders. In Indiana alone, there were more than 7,000 exporters, according to 2008 U.S. Census data.
That effort probably won't make a dent in export values, the bulk of which are attributable to the largest companies (think Eli Lilly and Co.), Schott said.
"Even if you add many, many more small and medium-size firms, you're not going to make a huge change in the aggregate number of exports from the U.S."
But Schott agrees that it makes sense to focus on smaller firms.
"That can have an impact at the local level," Schott said. "Over time, it can make a difference."
Overlooked opportunity
One of central Indiana's most successful small exporters ships concert-quality violins around the world from Indianapolis.
"Our nickname is 'the Steinway of violins,'" said John Welch, chairman and CEO of Consort International, the maker of Sofia violins.
This year, Consort derived 62 percent of its revenue, which Welch did not disclose, from exports. Although the company downsized during the recession, Welch said it still enjoys good cash flow and profitability.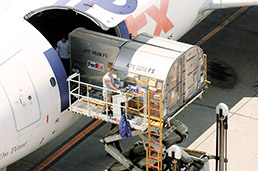 Companies that export are more stable and pay higher wages than counterparts that operate only domestically. Exporters also tend to be stronger and more profitable. (IBJ File Photo)
"All of our international dealers pay much faster than domestic dealers," Welch said. "They have a franchise for Sofia violins, and they don't want to lose it."
Consort occupies an unusually specialized niche, but Welch thinks any American company making a high-quality product can find overseas customers. He thinks the real hurdle for business owners is their mind-set.
"These company owners don't realize what a good market it is for them. And, they can get it."
Ralph Meyer, president of Tedco Toys, has no doubt the company could sell more of its scientific and educational toys overseas.
The Hagerstown-based company, a sister to Indianapolis-based Meyer Plastics Inc., already does 15 percent of its sales in England, Germany, France, South Africa, Japan and Australia.
"We don't do a whole lot of overseas marketing," Meyer said. "I certainly think there's more opportunity than what we're getting."
Tedco has always picked up overseas customers through a New York trade show or its website. Meyer would like to join the trade mission, but he worries about taking time away from running his companies.
David Williams Russell, chairman of the business services group at Harrison & Moberly LLP in Indianapolis, said, "Trade missions of this sort are expensive. They're logistically difficult. It may be a big step for a lot of companies to do."
There are a lot of other steps, such as going to trade shows, that a company can take before it invests in a trade mission, said Russell, who advises clients on international trade.
"Whether or not it's good for participants, it may be good for the region to show people, 'You can do this,'" Russell said of the EIDD's pending trip.
Grass-roots energy
That's exactly the message LaMar wants to send. When it comes to promoting export activity, he thinks local groups have to make up for a lack of grass-roots presence on the part of larger government agencies.
LaMar notes that the U.S. Commerce Department's Export Assistance Center in Carmel is a small, four-man office tasked with serving the entire state.
Indiana eliminated its own international trade division as part of a reorganization in which the IEDC absorbed the Commerce Department in 2005.
"There's lots of non-profit groups and for-profit groups that help companies export," said Chad Pittman, executive vice president at the IEDC. "Instead of focusing on duplicative efforts, it was a deliberate decision to complement each other's services."
Pittman noted that IEDC still has overseas employees, who support trade missions such as Daniels' trip to China in November. The agency also offers small companies grants of up to $5,000 to attend international trade shows. At the same time, Lt. Gov. Becky Skillman's office supports a major source of Indiana exports, agricultural products.
LaMar, a former Army languages expert, is eager to see the EIDD complete its mission, which was delayed once because of personnel changes at embassies.
"We believe it can be done, especially while the U.S. dollar is relatively low," he said. LaMar said working around Anderson, Muncie and Marion—cities hit hard by the loss of automotive companies—gives him a sense of urgency. Small firms that used to serve the auto industry have maxed out their domestic markets, he said.
"They have nowhere to go but overseas."•
Please enable JavaScript to view this content.