Someone has to change the filters on Fountain Square's namesake landmark.

For now, that task falls to Paul Baumgarten, the main street manager at Southeast Neighborhood Development, which has spearheaded the neighborhood's redevelopment efforts since 1991.

SEND has invested millions in the neighborhood to date and raised $130,000 for the fountain alone, but that level of support won't last forever, Baumgarten said.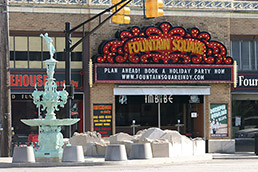 The neighborhood southeast of downtown could use money the tax would raise for anything from marketing and litter removal to capital improvements. (IBJ Photo/ Perry Reichanadter)
"We need to start planning for the future," he said. "How's the neighborhood going to maintain the fountain?"

With new shops and restaurants opening in the neighborhood at a rapid clip, some key property owners are ready to shed the philanthropic training wheels. A group led by Murphy Arts Center owner Craig Von Deylen and Fountain Square Theatre owner Linton Calvert hopes to create an "economic improvement district," where additional tax revenue could be used for everything from litter cleanup and marketing to capital improvements.

A majority of commercial property owners in the district would have to agree to petition the City-County Council to create the district.

"People have been saying Fountain Square is the next up-and-coming neighborhood for quite a while," said Von Deylen, who bought the Murphy building in late 2009 with his business partner Larry Jones.

In the past year, Von Deylen said, the formerly crime-ridden area southeast of downtown has drawn visitors from around the metro area for art exhibits and concerts.

"The impression is, it's getting better," Von Deylen said. "It's still not to where we think it should be, as far as cleanliness."

The economic-improvement district, or EID, would be a first for Indianapolis. Across the country, such districts are common, said Bill Taft, executive director of Local Initiatives Support Corp. in Indianapolis.

The idea gained traction in Fountain Square after Von Deylen took over the Murphy, a former five-and-dime at 1043 Virginia Ave. that houses artists' studios on the upper floor and restaurants on the first floor. Von Deylen, an architect and developer, added the Indianapolis Museum of Contemporary Art as a tenant, spurring more traffic for First Friday gallery walks.

"It's a significant crowd," Von Deylen said. "It's kind of amazing."
Meanwhile, work on the triangle-shaped intersection of Virginia Avenue, Prospect and Shelby streets came to a close, and the fountain got a new statue, "Lady Spray."

Tax revenue raised would be spent only on the district in accordance with a business plan laid out by the EID board.

"I would equate it a lot more to common-area maintenance charges in a mall than the usual services you expect from property taxes," Taft said.

The Fountain Square district would generate an estimated $93,000 in its first year. That's a pittance, compared to what a city like Carmel can spend on its downtown, but it would go a long way in one Indianapolis neighborhood, Baumgarten said. Currently, Fountain Square businesses rely on a website he maintains, plus whatever advertising the merchants' association can pull together with a few thousand dollars.

Under an Indiana law passed last spring, EIDs also can use their revenue as matching funds for larger capital projects, or to support bond issues.

The proposed district runs along both sides of Virginia Avenue from Interstate 70 to the fountain, and extends three blocks east on Prospect Street and south on Shelby Street as far as the Fraternal Order of Police headquarters, just before the interstate underpass.



The district includes 71 commercial property owners, which represent $11.7 million in assessed value. (Residential properties are not affected.) Dawn Crowe, a landscape architect who owns a building at 1104 Prospect St., said she and the other EID directors are hand-delivering the petitions.

"We're kind of like a small town down here," she said. "We don't want to force it down anybody's throat."

A majority of the owners who also represent 51 percent of the property value must sign on before the district can go before the City-County Council for approval. Crowe said a majority have previously indicated they would support the EID.

The proposed tax rate is $12.28 per linear foot, or $8.18 for tax-exempt organizations. The biggest bills would go to the properties with the longest storefronts. That includes the Murphy, the White Castle regional headquarters on Virginia Avenue, and Calvert's vintage theater building, which also houses two restaurants, a bar, an inn and duckpin bowling.

Local Initiatives Support Corp. has been the driving force behind introducing EIDs to Indianapolis. The neighborhood next likely to start a petition is Irvington, Taft said.

LISC first floated the idea to Fountain Square and Massachusetts Avenue in 2007. But that was the year tax assessments spiked, and the initiative fizzled.

The first-round response was more positive in Fountain Square, Baumgarten said, and a change in state law last spring lowered the hurdle for the petition process.

The fact that Fountain Square property owners are willing to consider taxing themselves is a sign of the area's success, Taft said. "You have to have enough healthy businesses for them to see the value and support it, and collect enough funds from that to make it worthwhile."

Fountain Square is one of four neighborhoods where LISC pays the salaries of people like Baumgarten to support and promote local businesses. Taft said LISC is eager to spread those benefits to other parts of the city.

"We feel like there's a point when there's enough success in a commercial district that the businesses should be supporting their joint marketing and improvement efforts, rather than philanthropy," Taft said.•