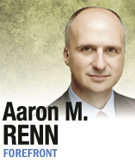 America continues to suffer the effects of the Great Recession, but there's reason to believe this troubled period may actually strengthen Indiana's and Indianapolis' positions for the long haul. That's because not only has Indiana earned a well-deserved reputation for fiscal management, it has actually been able to accelerate infrastructure investment at a time of historically low cost when other states have been dramatically cutting back.
Perhaps nothing illustrates this better than the state's Major Moves program. Indiana leased the Toll Road, which hadn't produced a nickel for the state in 50 years, for $3.9 billion to finance the largest road construction program in state history. Not only is this a lot of money in its own right, it probably generated additional billions in effective construction by avoiding years of inflation that would have resulted from doing these projects on the old schedule. And while the state leased the toll road at the peak of the bubble for way more than it was worth, it is spending the money during a recession when construction prices are at historic lows.
It also shows a big difference between Gov. Mitch Daniels and many other fiscal conservatives. Daniels understands the difference between operating costs and investment and about managing operations, not just finances.
Consider New Jersey Gov. Chris Christie. He campaigned in favor of a set of new rail tunnels to New York City, then scrapped that decades-in-the-making project after taking office by saying it was running over budget. Christie made no effort to re-scope or manage the cost of the project down, preferring simply to kill it.
By contrast, when Interstate 69 and other projects started running over budget, Indiana didn't simply cancel them, but implemented an aggressive cost-reduction program. Some Major Moves projects did get deferred or down-scoped, but many of the changes reduced costs significantly at fairly low impact.
Beyond Major Moves, there has been plenty to celebrate at the local level. Last year's JD Power and Associates survey of the traveling public rated the new Indianapolis International Airport terminal as the best in the United States. This airport is the first in the country designed from the ground up for post-9/11 security, and is arguably the most environmentally friendly terminal in the world, too.
Indianapolis is also building the world-class Indy Cultural Trail, which is a unique urban trail experience. The trail is taking nearly eight miles of lanes away from cars and giving them to people, dramatically improving the quality of space downtown and linking its dispersed cultural districts. The new Georgia Street redesign between Conseco Fieldhouse and the Indiana Convention Center continues in this tradition.
One key gap for the city has been a huge backlog in street and sidewalk projects. The current $400 million Rebuild Indy program will be a start at addressing this, but the needs are overwhelming. One particular challenge is that the streets of Indianapolis are not designed to meet the needs of 21st century urban neighborhoods. Simply repaving them as-is and pouring new sidewalks may make things seem new for a while, but is unlikely to prove a catalyst for redevelopment or materially change the trend lines in most neighborhoods.
Rather, the key challenge here is to follow the lead of the airport, Cultural Trail and Georgia Street by re-imagining and re-thinking what we need our streets to be before rebuilding them. This requires an innovation mind-set, as well as the courage to do something different and a willingness to take the time to do things right by undertaking projects that, unlike simple resurfacings, may not be "shovel ready." Fortunately with projects like Georgia Street, Mayor Ballard has shown he gets this.
As America slowly claws its way out of this economic mess, this type of major infrastructure investment at the state and local level is a significant reason for optimism for the long-term competitive positioning for the city and state.•
__________
A former Indianapolis resident now living in Chicago, Renn writes the Urbanophile blog, one of the nation's leading urban policy websites. He and his work are frequently featured in media including Forbes, Newsweek, The Oregonian in Portland and The Atlanta Journal-Constitution. His innovative ideas for public transit were honored by the Chicagoland Chamber of Commerce. He has worked more than 15 years in management and information technology consulting.•
Please enable JavaScript to view this content.