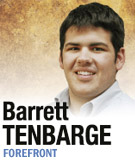 This past semester at Indiana University-Bloomington has been a "themester" with the theme of sustainability, a semester-long examination of the economic, social and political issues surrounding how we can thrive in the face of increasing environmental vulnerability. Sustainability is a popular word on a college campus, and is largely based on idealistic concern for the environment.
This naive desire for "going green" is rarely if ever paired with the kind of sober realism needed to create effective policy. Rather than an umbrella of issues dealing with the environment, true sustainability is pragmatic and focused on providing concrete and lasting solutions to our problems.
This upcoming session of the General Assembly should focus on sustainability above all other considerations, and the advantage on this issue goes to Gov. Mitch Daniels and like-minded reformers.
The definition of sustainability is the ability to meet the needs of the present without compromising the ability to meet the needs of the future. In short, it is the capacity to hold up, to endure.
We are on an unsustainable path here in Indiana. We have a system of local government that was created in the 19th century, riddled with nepotism and inefficiency. We have layers of unnecessary bureaucracy that are the ineffective relics of an earlier time, and have yet to require performance reviews for our government employees.
We have a business climate that, despite the enormous progress Daniels has made, still deserves big changes to help Hoosiers create more jobs and wealth. We have an unemployment insurance fund that is going broke and threatens both businesses and employees.
We have a criminal justice system that imposes unnecessary costs on taxpayers. And we face a budget situation that threatens to reverse the past six years of responsibility and jeopardize the long-term fiscal health of the state.
Most important, we have an education system that puts needs of adults ahead of the students they serve. We unnecessarily tie up money in administration and bureaucracy instead of driving dollars to the classroom and helping teachers and students succeed. We limit the number of charter schools and consequently opportunities for innovation.
Across our education system, we see mediocrity and rules that hamstring teachers and administrators from doing their job to the best of their ability. Collective bargaining agreements protect teachers with seniority, not ability, and make it nearly impossible to reward the best teachers and get rid of the worst.
The problems we face are too important to let political posturing or partisan agendas get in the way of governing, and this warning is for both parties.
The message House Speaker Brian Bosma should send to his Democratic counterparts: Join us. Help us enact the recommendations of the bipartisan Kernan-Shepherd Commission to streamline and modernize local government. Help us reform education and pave the way for a smart system of performance-based pay for teachers. Help us fix a broken unemployment insurance to protect employees and businesses alike.
Republicans need to be mindful that the mandate we received on Election Day was for the Party of Purpose, an approval of our track record of fiscal responsibility and a desire for reform. It would be a shame for divisive issues like marriage and illegal immigration to take center stage when Indiana has the opportunity to put itself on a long-term sustainable path.
These problems, far from being driven by partisanship or ideology, are first and foremost questions of sustainability. We as a state are not meeting our current needs, and in failing to do so are jeopardizing the future of this great state.
A delegation of Hoosiers led by Daniels was in Asia last month, and I am sure they have seen firsthand the competition our state is up against. Indiana cannot endure without serious reform, and this session must be approached with the urgency it deserves.•
__________
Tenbarge is a sophomore business student at Indiana University studying business economics, public policy and entrepreneurship. He is active in IU's student government and the IU College Republicans. In the community, he is a Big Brothers Big Sisters mentor and serves on the Indiana Commission for Community Service and Volunteerism.•
Please enable JavaScript to view this content.